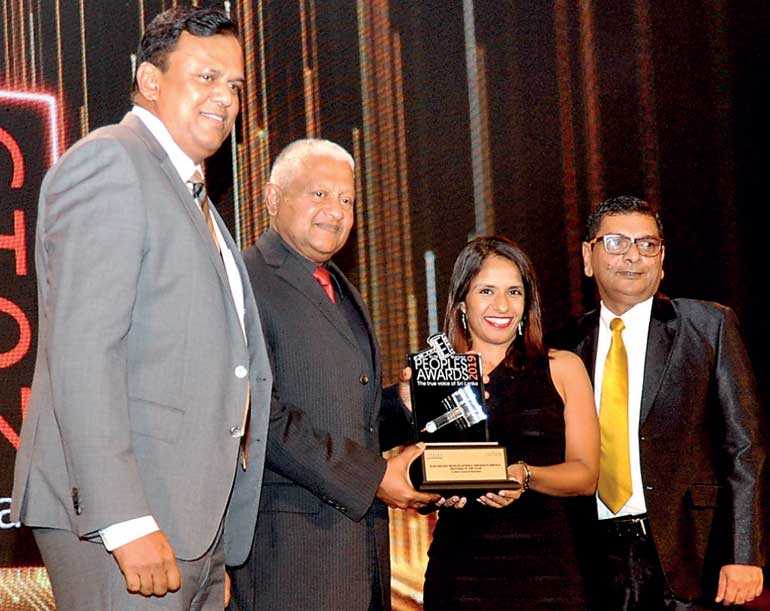 Ceylinco General Insurance Head of Finance Nihal Peiris accepting the award together with Director Rex Gunatileke and Director Ajith Perera
---
Delighted to be chosen as the 'People's Insurance Brand of The Year' at the 2019 SLIM Nielson People's Awards, for an unprecedented 13th consecutive year, Ceylinco General Insurance expressed its deepest gratitude to Sri Lankans, one and all, for selecting the company as their number one choice for this prestigious accolade.

At the forefront of the insurance industry in Sri Lanka, this award reflects the company's close relationship with people and the brand's strength for having won each year since the awards were instituted 13 years ago.

Commenting on the achievement, Managing Director/Chief Executive Officer Patrick Alwis said, "We cannot thank the people of Sri Lanka enough for this accolade. Ceylinco General Insurance is led by a strong customer-centric culture and this public vote of confidence in us is a testimonial to this claim. This award belongs to all the people as well because they understand that delivering protection and satisfaction to customers is the bedrock on which our company is founded. This award is a terrific morale booster for our entire team and inspires us to work harder to deliver best-in-class insurance solutions to cater to every need of customers from all walks of life."

The People's Award is the most coveted award for corporates because it reflects the voice of the people and indicates the brand they love and respect. With these awards, the Sri Lanka Institute of Marketing (SLIM), in association with Nielsen Lanka Ltd., is creating a platform where companies can gauge public acceptance of their brands in a fair and transparent manner. A nation-wide survey is conducted covering all nine provinces with over 5,500 respondents interviewed one-to-one making it representative, unbiased and relevant. Therefore, the winners of the People's Awards reflect the true voice of Sri Lankans from across communities, regions and social strata.

During 2018, Ceylinco General Insurance recorded a premium income of Rs. 19.1 billion and paid claims to the tune of Rs. 9.3 billion. The unprecedented amount of money provided in lieu of claim settlements and benefits reflect the company's continuing commitment to ensuring timely claim settlements to all customers, as Ceylinco Insurance has always maintained an undisputed and unsurpassed reputation for speedy settlement of claims, most of them On The Spot.

Ceylinco General Insurance, over the last three decades, pioneered many innovations, spearheading the growth of the insurance industry towards a brighter future, while raising the bar and setting new benchmarks for service excellence and product innovation to ultimately benefit the people of Sri Lanka.