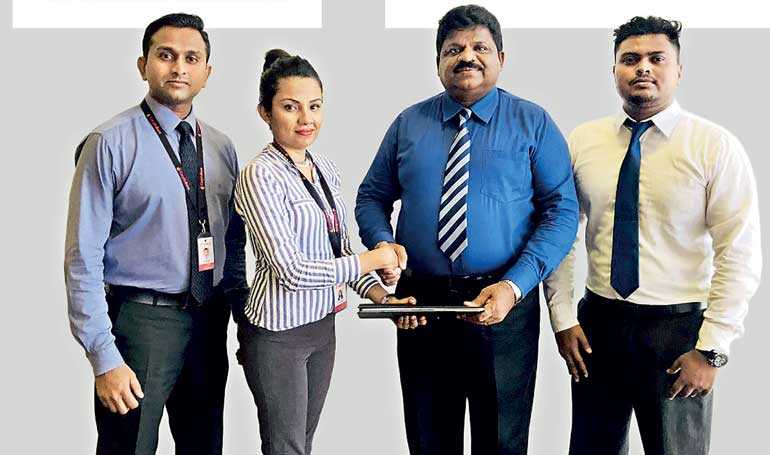 From left: Cargills Bank Marketing Manager Renuka Hettiarachchi, Cargills Bank Manager Alternate Channels Pramuditha Kalani, Cheapefares.com Director Thanaraj Mylvaganam, Cheapefares.com Head of Operations – OTA Ruchira Lakmal
Cargills Bank has partnered with Cheapefares.com to further expand its merchant network, enabling greater convenience for regular shoppers.
The partnership would entice customers to make their ticket payments at any Cargills Food City outlet island-wide from 8 a.m. to 10 p.m. 365 days of the year. Upon reserving the hotel or flight booking through cheapefares.com, customers will be given a reference code which they can provide to their preferred Cargills Food City outlet to process the payment through Cargills Cash facility. The real time payment update will create more convenience in the post booking process.
The latest tie-up encourages bank's digital drive towards offering an array of augment financial services to customers and thus proves its goal to create financial inclusion to every Sri Lankan.
Cargills Bank Head of Retail Banking Buddhika Perera said: "Travelling and holidaying has become a key part of modern consumer's lifestyle. Our commitment is to make life simple to every Sri Lankan through our sphere of digital initiatives and our partnership with Cheapefare.com will further strengthen our service to regular shoppers in paying their merchants at Cargills Food City outlets that operates from 8 a.m. to 10 p.m."
Cheapefares.com Director Thanaraj Myilvakanam said: "We are pleased to have partnered with Cargills bank and we are confident that this would create better convenience to our consumers on their payments in the aftermath of a booking or a reservation. Despite the credit card plays a key role in the ticket booking industry which predominantly works online in the modern market, there are many customers who prefer alternatives to settle their payments. The capability of simply being able to pay your ticket at the nearest Cargills Food City will no doubt creates a better customer experience."
Cheapefares.com Ltd. is an Online Travel Agency (OTA) which is the Online Travel Brand website of Metro Travels & Tours Ltd. The company established in 2000 and obtained IATA accreditation in 2007. The company now has offices in Colombo, Jaffna, Trincomalee, Vavuniya and Mannar. Cheapefares.com offers Flight bookings, Hotel and Holiday Packages, visas, Insurance and other travel related services. The online website enables to book flights with the best travel solutions and go beyond customer expectations.
Cargills is a brand that has been faithfully serving Sri Lankans for 174 years, built on a foundation of values and ethics. True to this heritage and the ethos of 'Banking on the Human Spirit', Cargills Bank is taking banking to the masses by being inclusive and accessible. The amazing Cargills Cash Savings Account is available at over 350 Cargills Food City outlets, open between 8am and 10pm, 365 days of the year – allowing you to do grocery shopping and banking at the same place at your convenience.
Cargills Bank's Head Office is in Colpetty with branches at Maitland Crescent, Maharagama, Old Moor Street, Wattala, Rajagiriya, Kandy, Peradeniya, Nuwara Eliya, Ratnapura, Thanamalwila, Matara, Galle, Kurunegala, Kaduruwela, Vavuniya, Chunnakam and Jaffna.