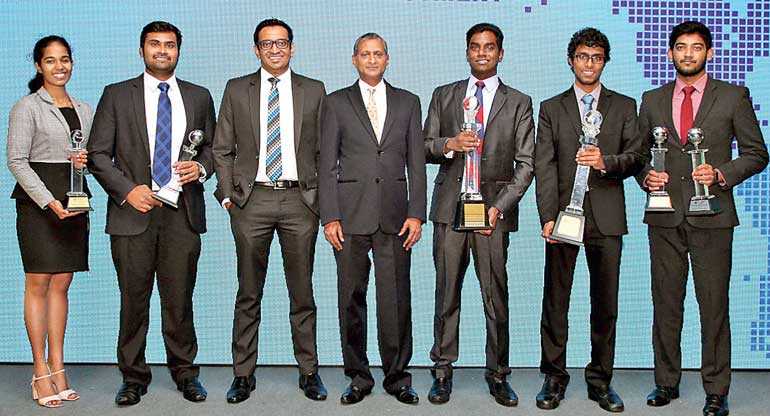 The Equity Research arm of Sri Lanka's No. 1 investment banking firm and preferred partner in financial markets, Capital Alliance (CAL), won top accolades at the 6th Annual Capital Market Awards organised by the CFA Society Sri Lanka recently. The team won four out of the five individual research awards on offer, whilst also winning the Silver award for the Best Equity Research Team – the first time this feat has been achieved in the history of the awards.

CAL won the Gold award for Best Equity Research Report (by Udeeshan Jonas and Amila Perera on Dialog Axiata PLC); the Gold award for Best Sector report (on the Insurance Sector); the Silver award for Best Equity Research Report (by Mahesh Udugampala on Access Engineering PLC); the Silver award for Best Equity Research Team; and Certificate of Commendation for Best Equity Research Report (by Umanga Kariyawasam on Lion Brewery Ceylon PLC).

CAL Research is an integral part of CAL's Securities vertical, which aims to provide its clients a value proposition built on the pillars of unique fundamental insights, full-fledged corporate access and best-in-class execution. Winning these key awards reflects CAL Research's in-house expertise as an independent research unit that provides comprehensive research and analysis of Sri Lanka's equities and the economy.

The Annual Capital Market Awards has become an integral feature of the calendar of events pertaining to the financial sector, encapsulating the various sectors of the capital markets industry at a single forum. The objective of these coveted awards is to encourage firms in the capital markets to engage in best practices and to recognise research teams who produce best-in class fundamental research on companies and critical sectors. It also recognises research teams that aim to provide high quality and timely research to create an efficient capital market.

Commenting on the accolades, CAL Securities Managing Director Harinlal Aturupane said: "We are delighted to have won so much prominence on the occasion of CFA Society's 6th Annual Capital Market awards. These awards are all the more meaningful because the year was marked by significant changes to regulations, and required our research team to be at the top of their game in understanding market nuances. Our investment recommendations follow a robust research process and are based on fundamental valuation techniques, enabling investors to benefit from the process of investing for long-term sustainable gains. We focus on guiding investors to build the right equity portfolio that is aligned to their risk profiles and long-term investment objectives. Our goal is to provide our clients with leading macro, sector and company research in order to enable effective investment decision making."

As a full-service investment bank including equity brokering, treasury, asset management, origination and financial advisory, CAL is uniquely positioned to offer Sri Lankan corporates the opportunity to leverage on its expertise and impeccable credentials to meet their financial objectives. CAL's extensive portfolio of services encompasses every expert requirement for a successful transaction, placing it distinctly at the forefront of the industry.