Three members of the Institute of Chartered Accountants of Sri Lanka (CA Sri Lanka), Nishan Fernando, Sanjaya Bandara and Ajith Ratnayake have been appointed to top international and regional accounting bodies to offer their expertise in helping develop the accounting profession further.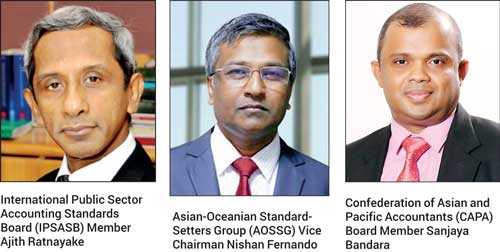 Fernando, a Past President of CA Sri Lanka, was appointed as Vice Chairman of Asian-Oceanian Standard-Setters Group (AOSSG), a grouping of accounting standard-setters in the Asian-Oceanian region. The group has been formed to discuss issues and share experiences on the adoption of International Financial Reporting Standards (IFRS) and to contribute to the development of a high-quality set of global accounting standards.

Incumbent Council Member Bandara has been appointed a Board Member of the Confederation of Asian and Pacific Accountants (CAPA), a regional organisation representing 33 national professional accountancy organisations (PAOs) which represent close to two million accountants across the Asian and Pacific region.

Meanwhile, Ratnayake was appointed a Member of the International Public Sector Accounting Standards Board (IPSASB) based in New York. IPSASB works to improve public sector financial reporting worldwide through the development of IPSASB, international accrual-based accounting standards, for use by governments and other public sector entities around the world.