By Wealth Trust Securities

The secondary bond market opened the week on a sluggish note as yields were seen increasing and widening yesterday as activity moderated considerably.

Limited trades were seen on the seven year maturity on 15.10.25 and the 10-year maturity of 01.09.28 as its yields increased to trade at highs of 11.24% to 11.26% and 11.36% respectively against its previous day's closing of 11.10/30 and 11.25/40.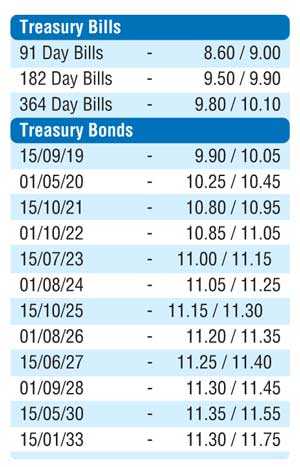 In addition, on the shorter end of the yield curve 2019 maturities (i.e. 01.05.19, 15.09.19, 01.07.19 and 01.11.19) were seen changing hands within the range of 9.50% to 10.10% as well.

Meanwhile, April and August 2019 maturities in the secondary bill market were seen changing hands within the range of 9.75% to 9.95%.

The total secondary market Treasury bond/bill transacted volumes for 5 October was Rs.7.37 billion.

In the money market, the overnight call money and repo rates averaged 8.39% and 8.33% respectively as the net liquidity shortfall in the system stood at Rs. 10 billion yesterday.

The OMO Department of the Central Bank of Sri Lanka injected an amount of Rs. 6 billion on an overnight basis by way of a Reverse Repo auction at a weighted average rate of 8.25% while a further amount of Rs. 8.37 billion was infused by way of a 14 day reverse repo auction at a weighted average of 8.26%, valued today.

Rupee losses further

The USD/LKR rate on spot contracts depreciated further to close the day at levels of Rs. 170.65/80 against its previous day's closing levels of Rs. 170.35/55 on the back of continued importer demand and a globally strengthening dollar.

The total USD/LKR traded volume for 5 October was $ 26.00 million.

Given are some forward USD/LKR rates that prevailed in the market: one month – 171.85/00; three months – 173.70/95; six months – 176.60/95.