By Wealth

Trust Securities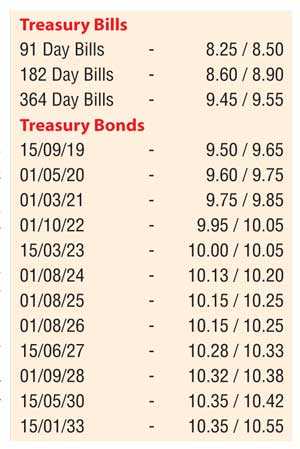 The secondary bond market yields were seen increasing marginally yesterday on the back of profit taking with the liquid maturities of 15.03.23, 01.08.24 and 01.09.28 hitting intraday highs of 10.02%, 10.20% and 10.35% against its previous day's closing levels of 9.95/00, 10.10/15 and 10.28/34 respectively. In addition, activity was witnessed on the 2019 and 2021 maturities within the range of 9.35% to 9.70% and 9.73% to 9.93% respectively.

Today's bill auction will have on offer a total amount of Rs.28 billion consisting of Rs.5 billion of the 91 day, Rs.7 billion of the 182 day and Rs.16 billion of the 364 day maturities. At last week's auction, the weighted average on the 364 day increased by 22 basis points to 9.91% while all bids received for the 91 day and 182 day maturities were rejected. The total secondary market Treasury bond/bill transacted volumes for the 06th of April 2018 was Rs.13.05 billion.

In money markets, the overnight call money and repo rates remained mostly unchanged to average at 7.92% and 7.95% with no Open Market Operations (OMO) being conducted yesterday. The net surplus liquidity in the system increased to Rs.40.97 billion.


Rupee depreciates marginally

In the Forex market, the USD/LKR rates on spot contracts were seen depreciating marginally yesterday to close the day at Rs.155.50/60 against its previous day's closing levels of Rs.155.35/45 on the back of importer demand.

The total USD/LKR traded volume for 6 April was $ 63.55 million.

Some of the forward USD/LKR rates that prevailed in the market were one month – 156.20/35; three months – 157.70/85; and six months – 160.00/15.