---
By Wealth Trust Securities

The upward momentum in secondary market bond yields continued yesterday on the back of persistent selling interest.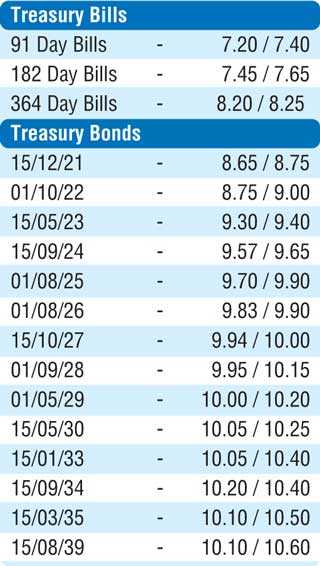 The yields on the liquid maturities of 2023s (i.e.15.07.23, 01.09.23 and 15.12.23), 2024s (i.e. 15.03.24, 15.06.24 and 15.09.24), 01.08.26 and 15.10.27 were seen hitting intraday highs of 9.22%, 9.35%, 9.45%, 9.55%, 9.60%, 9.62%, 9.85% and 9.98% respectively against its previous day's closing level of 9.12/20, 9.15/30, 9.20/30, 9.45/55, 9.50/53, 9.47/55, 9.80/90 and 9.80/85. In addition, maturities of 01.03.21, 01.06.26 and 15.01.27 were traded at levels of 8.45% to 8.50%, 9.78% to 9.85% and 10.00% respectively as well.

In secondary market bills, the 20 November 2020 bill maturity changed hands at 8.20%.

Given below are the closing, secondary market yields of the most frequently traded T-bills and bonds.

Meanwhile in money markets, the overnight call money and repo rates averaged 7.53% and 7.54% respectively as the overnight net liquidity surplus in the system increased to Rs. 35.44 billion yesterday. The Open Market Operations (OMO) Department of the Central Bank refrained from conducting any auctions yesterday.
Rupee dips further
In the Forex market, the USD/LKR rate on spot contracts was seen depreciating further yesterday to close the day at Rs. 180.85/00 against its previous day's closing levels of Rs. 180.00/15 on the back of buying interest by banks.

The total USD/LKR traded volume for 22 November 2019 was $ 102 million.

The following are some forward USD/LKR rates that prevailed in the market: one month - 181.25/40; three months - 182.30/50; six months - 184.05/25.