---
The secondary bond market yields were seen fluctuating yesterday on the back of moderate activity with yields decreasing during the first half of the day and increasing during the second half of the day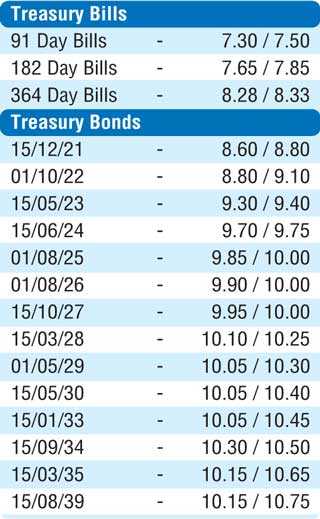 ahead of the much anticipated monitory policy announcement due at 7.30 am today. The Central Bank of Sri Lanka kept policy rates unchanged at the last announcement on 11 October.

The fluctuation was mainly witnessed on the 15.12.23, 2024's (i.e. 15.06.24, 15.09.24) and 15.10.27 maturities from intraday lows of 9.35%, 9.60%, 9.58% and 9.90% respectively to highs of 9.40%, 9.75%, 9.69% and 9.95%. In addition, the maturities of 2023's (i.e. 15.03.23 & 15.07.23), 01.08.24, 01.08.26 and 15.09.34 were seen changing hands at levels of 9.20% to 9.25%, 9.20%, 9.83% to 9.87% and 10.40% respectively.

The total secondary market Treasury bond transacted volume for 27 November was Rs. 24.55 billion.

In money markets, the Open Market Operations (OMO) Department of the Central Bank of Sri Lanka drained out an amount of Rs.21.4 billion on an overnight basis at a weighted average yield of 7.50% as the net liquidity surplus increased further to Rs.45.98 billion yesterday. The overnight call money and repo rates averaged 7.39% and 7.50% respectively.
Rupee appreciates further
In the Forex market, the USD/LKR rate on spot contracts was seen appreciating further to close the day at Rs. 180.60/70 against its previous day's closing levels of Rs. 180.80/00 on the back of continued selling interest by banks.

The total USD/LKR traded volume for 27 November was $ 88.87 million.

Some forward USD/LKR rates that prevailed in the market were: 1 month - 180.95/10; 3 months - 181.85/95; 6 months - 183.70/90.