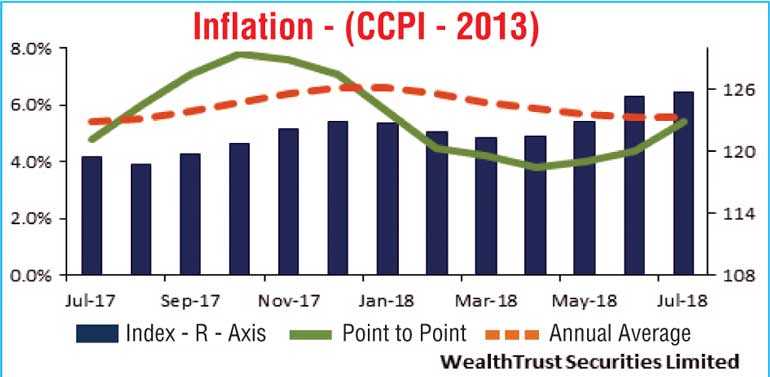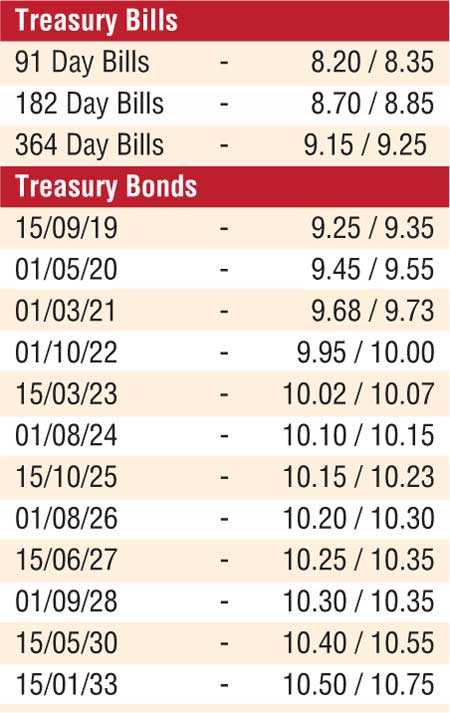 Inflation increases for the third consecutive month
By Wealth Trust Securities

Activity in the secondary bond market picked up considerably yesterday as yields decreased on the back of considerable buying interest, ahead of the weekly Treasury bill auction due today.

The short end of the curve saw yields on the liquid maturities of 2021's (i.e. 01.03.21, 01.05.21 and 15.12.21), 01.10.22 and 15.03.23 hitting intraday lows of 9.70%, 9.75%, 9.85%, 10.00% and 10.02%, respectively against its previous day's closing levels of 9.73/78, 9.77/85, 9.85/95, 10.03/08 and 10.15/18.

On the belly end of the curve, 01.08.24, 15.10.25, 15.06.27 and 01.09.28 were seen dipping to lows of 10.10%, 10.20%, 10.33% and 10.35% respectively as well. In the secondary bill market, July 2019 maturities were traded at a low of 9.20%.

Today's bill auction will have on offer a 10-week high total amount of Rs. 24.5 billion, consisting of Rs. 4 billion of the 91 day, Rs. 5 billion of the 182 day and Rs. 15.5 billion of the 364 day maturities. At last week's auction, the weighted average on 364 day deceased by four basis points to 9.27% while weighted averages on the 91 day and 182 day maturities dipped by one basis points each to 8.24% and 8.74% respectively.

Inflation on its point to point was seen increasing for a third consecutive month to record 5.4% for the month of July against its previous month of 4.4%. Nevertheless, its annualised average remained steady at 5.6%.

The total secondary market Treasury bond/bill transacted volumes for 30 July 2018 was Rs. 3.33 billion.

In money markets, the net surplus liquidity increased to Rs. 39.31 billion, with no Open Market Operations auctions being conducted yesterday. The overnight call money and repo rates decreased to average 8.46% and 8.26% respectively.
Rupee depreciates further
The USD/LKR rate on spot contracts deprecated further yesterday to close the day at Rs. 159.70/80 against its previous day's closing levels of Rs. 159.60/70 as importer demand was seen picking up.

The total USD/LKR traded volume for 30 July 2018 was $ 61.70 million.

Some of forward USD/LKR rates that prevailed in the market were one month - 160.55/75; three months - 162.05/25 and six months - 164.55/85.