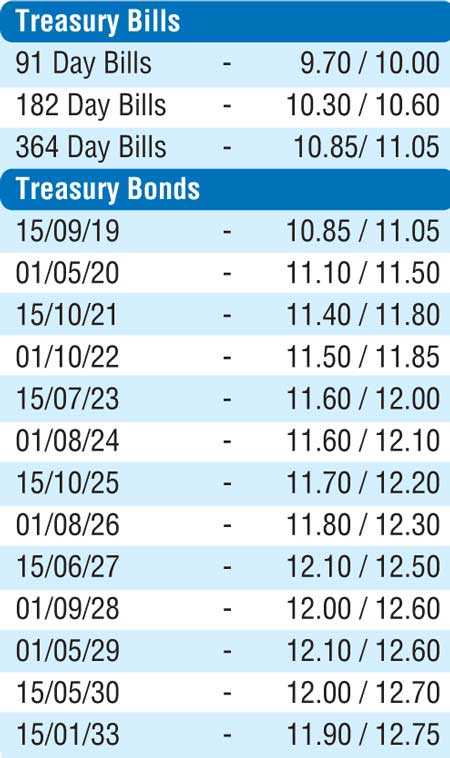 Eight-year trades above 12% for the first time in over 18 months
Rupee dips below Rs. 176
By Wealth Trust Securities

The Rs. 98 billion on offer at the two Treasury bond auctions conducted yesterday was successfully taken up at its Phase One stage with the eight years and seven months maturity of 15.06.2027 recording a weighted average of 12.16% while the 10 years and six months maturity of 01.05.2029 recorded a weighted average of 12.23%.

Activity in the secondary bond market remained at a standstill yesterday. Following the bond auction outcome, two-way quotes were seen but within a wide range as the eight-year maturity was quoted above 12.00% for the first time in over 18 months.

Furthermore, today's Treasury bill auction will see a total amount of Rs. 14 billion on offer, consisting of Rs. 3 billion on the 91 day, Rs. 2 billion on the 182 day and Rs. 9 billion on the 364 day maturities. At last week's auction, the weighted average yields of the 91day, 182 day and 364 maturities increased to 9.65%, 9.99% and 10.89% respectively.

The total secondary market Treasury bond/bill transacted volumes for 12 November 2018 was Rs. 4.6 billion.

In the money market, the OMO Department of the Central Bank was seen infusing liquidity by way of an overnight and seven-day term repo auction for successful amounts of Rs. 32.22 billion and Rs. 11.30 billion respectively at weighted average yields of 8.43% and 8.47% as the net liquidity shortage in the system stood at a high of Rs. 84.86 billion yesterday. The overnight call money and repo averaged 8.49% and 8.50% respectively.
Rupee hits Rs.176
The USD/LKR rate on spot contracts depreciated further to close the day at Rs. 176.15/25 against its previous day's closing levels of Rs. 175.70/78 on the back of importer demand.

The total USD/LKR traded volume for 12 November was $ 112.55 million.

Some of the forward USD/LKR rates that prevailed in the market were one month - 177.20/50; three months - 179.25/55 and six months - 182.25/55.