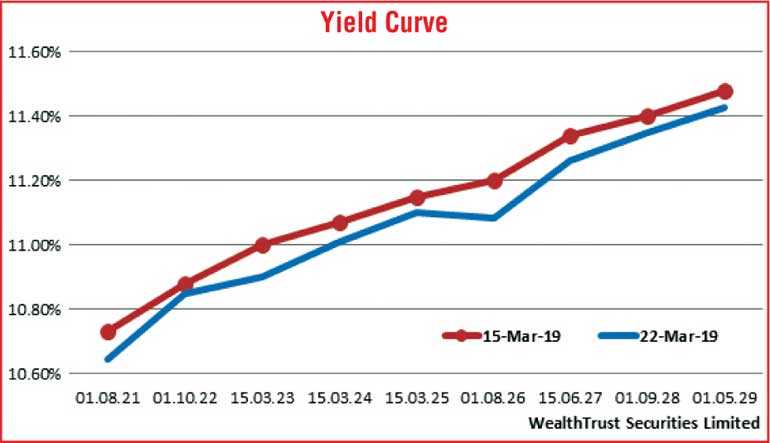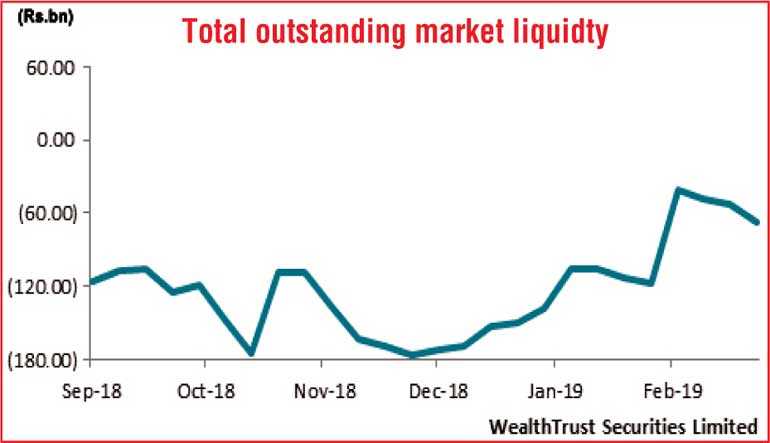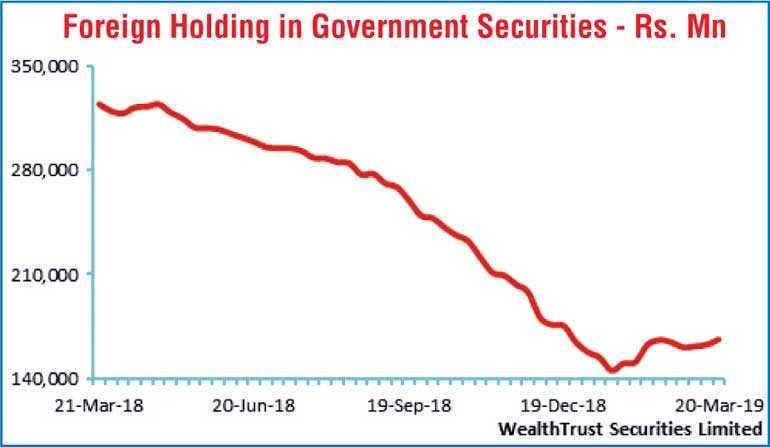 Foreign inflow for a third consecutive week


By Wealth Trust Securities

The shortened trading week ending 22 March witnessed a positive rally with yields decreasing during the second half of the week driven by the outcome of the weekly Treasury bill auction and renewed foreign and local buying interest.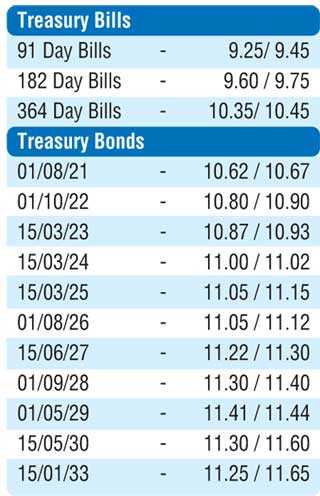 A majority of activity was witnessed on the maturities of 15.03.24 and 01.05.29 as its yields were seen dipping to weekly lows of 10.95% and 11.35% respectively against its weeks opening highs of 11.08% and 11.48%.

This was closely followed by the maturities of 01.05.20, three 2021's (i.e. 01.03.21, 01.08.21 and 15.12.21), 15.05.23, 01.08.26, 15.06.27 and 01.09.28 as its yields were seen dipping to weekly lows of 10.40%, 10.55%, 10.60%, 10.61%, 10.85%, 11.05%, 11.20% and 11.30% respectively as well. However, yields were seen edging up marginally from its weekly lows on the back of selling interest at the end of the week. The overall yield curve, which measures the spread between short and long dated maturities, reflected a parallel shift downwards, week on week.
Furthermore, continued buying interest in the secondary bill market saw January bills changing hands at a weekly low of 10.30% while March bills were traded at a low of 10.40%.

The foreign holding of rupee bonds was seen continuing its increasing trend for a third consecutive week, this time around by an amount of Rs. 3.49 billion for the week ending 19 March.

The daily secondary market Treasury bond/bill transacted volume for the first three days of the week averaged Rs. 8.47 billion.

In money markets, the downward trend in overnight call money and repo rates continued as it was seen dipping further to average 8.84% and 8.86% respectively for the week. The Open Market Operations (OMO) Department of Central bank was seen injecting liquidity during the week on an overnight basis at a weighted average rates ranging from 8.72% to 8.82% in addition to injecting funds by way of seven and 14-day reverse repo auctions at weighted average yields ranging from 8.67% to 8.86%. The total outstanding market liquidity shortfall increased to Rs. 67.61 billion.


Rupee appreciates during the week

A globally weakening dollar along with export conversions and bond inflows led to the USD/LKR rate on spot contracts appreciating during the week to close the week at Rs. 178.00/15 against its previous weeks closing levels of Rs. 178.45/55. The daily USD/LKR average traded volume for the first three days of the week stood at $ 66.44 million.

Some forward USD/LKR rates that prevailed in the market were: 1 Month – 178.95/10; 3 Months – 180.80/00; 6 Months – 183.70/00.