---
By Wealth Trust Securities

The secondary bond market activity moderated yesterday, while activity in the secondary bill market picked up.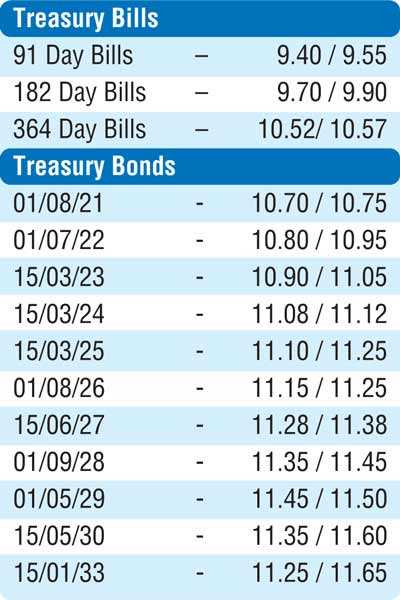 Limited trades on the bond maturities of the three 2021's (i.e. 01.08.21, 15.10.21 & 15.12.21) and 15.03.24 were seen taking place at levels of 10.73% to 10.90% and 11.10% to 11.11% respectively while yields were seen increasing marginally on the 15.06.27 and 01.05.29 maturities to change hands at levels of 11.35% and 11.48% to 11.52% respectively as well.

In the secondary bill market, considerable volumes were seen changings hands on January and February 2019 maturities within the range of 10.45% to 10.50% while March 2019 maturities changed hands within the range of 10.40% to 10.59%. The total secondary market Treasury bond/bill transacted volumes for 13 March was Rs. 11.05 billion.

In money markets yesterday, the OMO (Open Market Operations) Department of the Central Bank of Sri Lanka was seen injecting an amount of Rs. 3.2 billion on a seven day term basis by way of a Reverse Repo auction at a weighted average rate of 8.76%. It further injected an amount of Rs. 11.10 billion on an overnight basis at a weighted average rate of 8.80% as the overnight call money and repo rates averaged 8.90% and 8.91% respectively. The overnight net liquidity shortfall stood at Rs. 12.85 billion.
Rupee remains mostly unchanged
In the Forex market, the USD/LKR rate on spot contracts remained mostly unchanged for a second consecutive day to close the day at Rs.178.80/95 on the back of an equilibrium market.

The total USD/LKR traded volume for 13 March was $ 94.80 million.

Some forward USD/LKR rates that prevailed in the market were: 1 month - 179.70/80; 3 months - 181.55/85; 6 months - 184.55/85.