By Wealth Trust Securities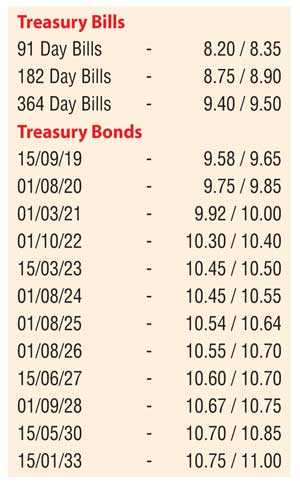 Activity in the secondary bond market moderated yesterday, ahead of today's weekly Treasury bill auction, where a total amount of Rs. 12 billion will be on offer, consisting of Rs. 2 billion on the 91 day, Rs. 4 billion on the 182 day and Rs. 6 billion on the 364 day maturities. At last week's auction, the weighted average yields of the 182 day and 364 maturities decreased to 8.87% and 9.49% respectively, with the 91 day bill remaining unchanged at 8.34%.

In the secondary bond market, limited volumes of the 2019 maturities (i.e. 01.05.19, 01.07.19, 15.09.19 and 01.11.19) were seen changing hands at levels of 9.45%, 9.55%, 9.60% and 9.68% to 9.75% respectively, while in the secondary bill market August 2018 and February 2019 bills were traded at levels of 8.25% and 9.10% to 9.20% respectively.

The total secondary market Treasury bond transacted volume for 8 June was Rs. 6.80 billion.

In money markets, the OMO Department of the Central Bank of Sri Lanka were seen infusing an amount of Rs.8.00 billion at a weighted average of 8.49%, by way of an overnight reverse repo auction as the net deficit in the system stood at Rs.8.42 billion. The overnight call money and repo rate averaged at 8.34% and 8.35% respectively.

Rupee losses further

The USD/LKR rate on spot contracts depreciated further to close the day at Rs. 159.50/90 against its previous day's closing levels of Rs. 158.95/10, on the back of importer demand.

The total USD/LKR traded volume for 8 June was $ 77.00 million.

Some of the forward USD/LKR rates that prevailed in the market were: 1 Month - 160.30/60; 3 Months - 161.90/40 and 6 Months - 164.20/60.