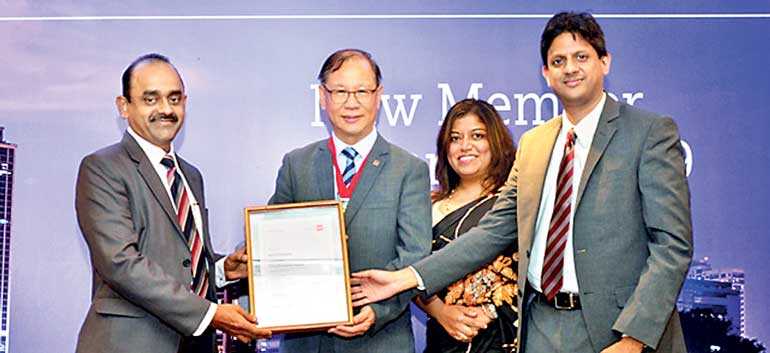 From left: BDO Sri Lanka Managing Partner Sujeewa Rajapakse, ACCA Immediate Past President Leo Lee, ACCA Sri Lanka Head Nilusha Ranasinghe and BDO Sri Lanka Deputy Managing Partner Ashane Jayasekara
---
The global professional accounting body, Association of Chartered Certified Accountants (ACCA) recently awarded BDO Sri Lanka platinum-level Approved Employer status in recognition of the organisation's high quality training and development given for aspiring and ambitious professionals in accountancy and finance.
The approved employer certificate was awarded by Immediate past President of the ACCA Global Council Leo Lee to BDO Sri Lanka's Managing Partner Sujeewa Rajapakse and Deputy Managing Partner Ashane Jayasekaraat a ceremony held on 28th February 2019 in Colombo, which was attended by new approved employers of the global body.

Speaking on the recognition, Rajapakse said that his organisation was thrilled to receive the platinum level approved employer status by ACCA. He said the certificate was testament to the high quality training and development both students and members of ACCA receive while working for BDO Sri Lanka.

"Being recognised by ACCA also means that we have been recognised at a global level, because the program standard in the approved employer status is the same globally. As a platinum approved employer, we are certain that BDO Sri Lanka will continue to attract some of the best talent from the accounting and finance field. Furthermore, this status also certifies that we have and offer exceptional staff training and development with special focus on competence and ethics at BDO Sri Lanka," Rajapakse said. Jayasekara said that BDO Sri Lanka has always focused on ensuring the highest standards for its employees, including trainees. "Being recognised by ACCA at a platinum level therefore demonstrates that BDO Sri Lanka is an organisation that not only provides excellent training and development for its staff, but it is also an organisation built on the highest professional ethos which gives precedence to ethics and integrity," he added.

The ACCA Approved Employer Program recognises employers' high standards of staff training and development, which have consistently shown commitment in ensuring ACCA students, affiliates and members have the right skills, ethics and competencies to add value and drive business forward.

As an ACCA Approved Employer, organisations can enjoy a host of benefits including to attract and retain staff, receiving preferential rates on additional qualifications offered by ACCA as well as access to the global professional accounting body's professional insights work.

Furthermore, based on the approval of BDO Sri Lanka, ACCA trainees studying towards the ACCA qualification can also claim exemptions from the performance objective component of their practical experience requirements (PER).

As the world's fifth largest network of accounting, tax and advisory firms, BDO is home to some of the most talented professionals from the accounting and finance domain. BDO extends across 162 countries and territories, with 73,854 people working out of 1,500 offices.