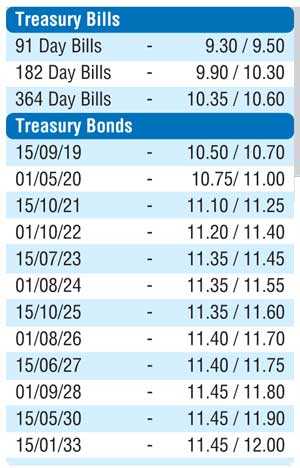 Spot light on Rs. 40 b in Treasury bond auctions
By Wealth Trust Securities

The 364 day bill weighted average was seen jumping above the psychological level of 10.00% for the first time in over 15 months or 62 weeks at its weekly auction yesterday, registering an increase of 68 basis points to 10.19%.

The 91 day bill followed suit increasing by a higher difference of 72 basis points to 9.28%. The total offered amount of Rs. 11 billion was fully accepted as the bid to offer ratio dipped to a sixty weeks low of 1.57:1.



The secondary bond market yields increased following the outcome of the weekly bill auction as the liquid two maturities of 01.03.21 and 15.07.23 was seen increasing to intraday highs of 11.15% and 11.40% respectively against its days opening lows of 10.85% and 11.18%. Activity on the rest of the yield curve remained muted.

This was ahead of the Treasury bond auctions due today, where a total amount of Rs. 40 billion will be on offer consisting of Rs.20 billion each on a four years and nine month maturity of 15.07.2023 and a 14 years and three month maturity of 15.01.2033. This is in lieu of a Treasury bond maturity of Rs. 36.5 billion due on 15 October.

The previous Treasury bond auctions conducted on 13 May for the maturities of 15.10.2021 and 15.10.2025 recorded weighted averages of 10.03% and 10.32% respectively.

The total secondary market Treasury bond/bill transacted volumes for 9 October was Rs. 6.6 billion.

In the money market, the overnight call money and repo rates averaged 8.44% and 8.48% respectively as the net liquidity shortfall in the system stood at Rs. 20.04 billion yesterday. All attempts to inject liquidity by way of reverse repo auctions were unsuccessful yesterday with the overnight auction rejected while no bids were received for the seven and 14 days.


Dollar continues to strengthen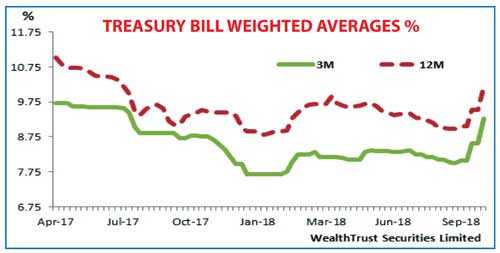 A globally strengthening dollar coupled with importer dollar demand saw USD/LKR rate on spot contracts losing further yesterday to close the day at Rs. 171.20/40 against its previous day's closing levels of Rs. 171.00/30.

The total USD/LKR traded volume for 9 October was $ 34.75 million. Given are some forward USD/LKR rates that prevailed in the market: one month – 172.40/90; three months - 174.40/90; six months – 177.40/90.