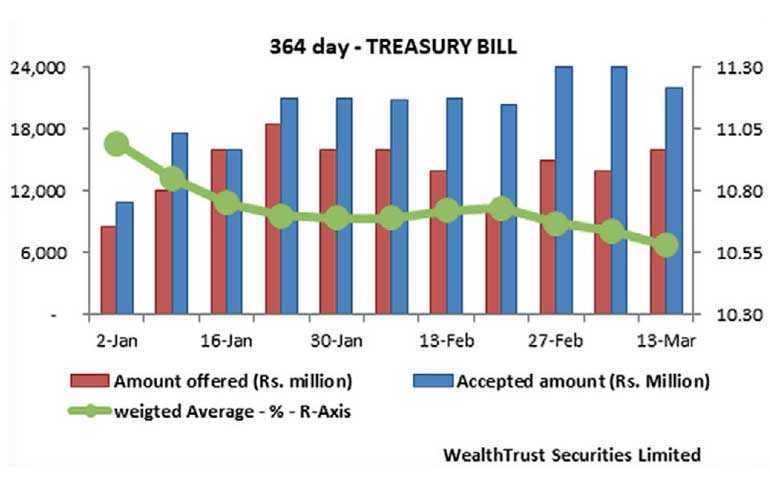 91 day and 182 day bills accepted subsequent to a lapse of 3 weeks and more
Bond yields increase for a second consecutive day


By Wealth Trust Securities

The weighted average of the 364 day bill decreased for a third consecutive week at the weekly Treasury bill auction conducted yesterday, registering a drop of 06 basis points to 10.58%. The 91 day bill which was accepted after a laps of 05 weeks, recorded a weighted average of 9.55% while the 182 day bill which was accepted after a laps of 03 weeks, recorded a weighted average rate of 9.87%. The total offered amount of Rs.24 billion was fully met as the bids to offer ratio stood at 2.58:1.

The secondary bond market yields were seen increasing marginally for a second consecutive day with the liquid maturities of 01.08.21, 15.03.24, two 2027's (i.e. 15.01.27 & 15.06.27) and 01.09.28 hitting intraday highs of 10.75%, 11.10%, 11.27%, 11.30% and 11.37% respectively against its previous day's closing levels of 10.65/75, 11.05/09, 11.15/30, 11.20/30 and 11.30/40 on the back of selling interest.

The total secondary market Treasury bond/bill transacted volumes for 12 March was Rs. 18.43 billion.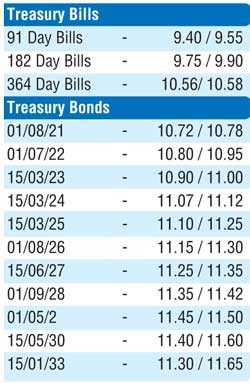 In money markets, the overnight call money and repo rates averaged 8.90% and 8.92% respectively as the OMO Department of the Central Bank injected liquidity for durations of 1 and 6 days, for amounts of Rs. 10.00 billion and Rs. 7.6 billion at weighted average yields of 8.88% and 8.95% respectively. The overnight net liquidity shortfall decreased further to Rs. 13.65 billion.
Rupee remains mostly unchanged

In the Forex market, the USD/LKR rate on spot contracts remained mostly unchanged yesterday to close the day at Rs. 178.80/90.

The total USD/LKR traded volume for 12 March was $ 72.58 million.

Some forward USD/LKR rates that prevailed in the market are: 1 month - 179.75/90; 3 months - 181.65/85; 6 months - 184.50/80