Bond market activity dries up
By Wealth Trust Securities

The weighted average on the 364 day bill was seen dipping for a third consecutive week, recording a slide of 14 basis points to 10.85%. An amount of Rs.17.55 billion was accepted on the maturity against its offered amount of Rs.12 billion while the total offered amount of Rs.20 billion was fully subscribed to, with the 182 day bill contributing for the balance. The 182 day bill dipped by 1 basis point to record a weighted average of 9.94%.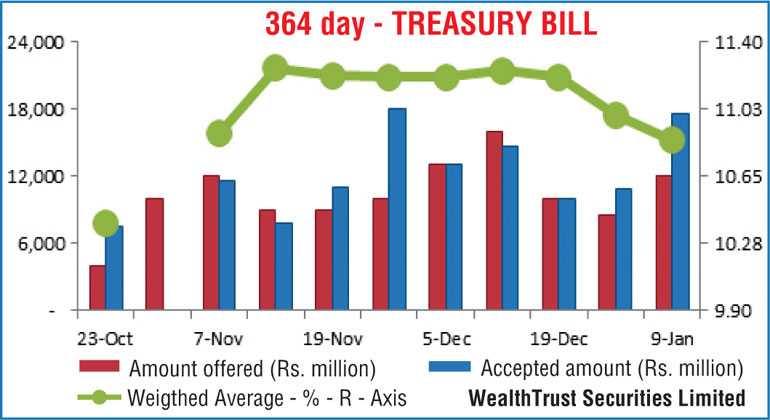 In the secondary bond market, selling interest on the 01.05.20 and 15.12.21 maturities saw its yields increase to daily highs of 10.95% and 11.38% respectively against its opening lows of 10.90% and 11.33%. In addition, the 01.03.21, 01.08.21, 15.07.23 and 15.03.25 maturities were seen trading at levels of 11.25%, 11.28%, 11.50% to 11.55% and 11.75% respectively, while overall activity dried up considerably.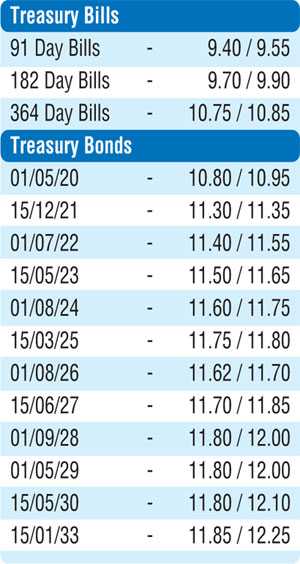 The total secondary market Treasury bond/bills transacted volume for the 8 January was Rs.11.64 billion. In the money market, the OMO Department of the Central Bank infused liquidity by way of an overnight and a seven day term reverse repo auction for successful amounts of Rs.18.7 billion and 15 billion, at weighted average yields of 8.99% and 9.00% respectively as the net liquidity shortfall stood at Rs.78.58 billion yesterday. The overnight call money and repo rates averaged 8.99% and 9.00% respectively.
Rupee appreciates
In the Forex market, the USD/LKR rate on spot contracts appreciated yesterday to close the day at Rs.182.40/50 against its previous day's closing levels of Rs.182.55/70 on the back of selling interest by banks.

The total USD/LKR traded volume for 8 January was $ 85.75 million.

Some of the forward USD/LKR rates that prevailed in the market were 1 month - 183 30/60; 3 months - 185.10/50 and 6 months - 188.10/50