Bid to offer ratio increases to 21-week high
Bond market continues positive momentum
By Wealth Trust Securities

The first Treasury bill auction subsequent to the Presidential Election saw the 364 day bill weighted average record a steep dip reversing an upward trend witnessed over the past three weeks. It recorded a drop of 29 basis points to a 12 week low of 8.22% while the 91 day and 182 day maturities dipped by 09 basis points each to 7.47% and 7.58% respectively. The total offered amount of Rs.19 billion was successfully subscribed as the bid to offer ratio increased to a 21 weeks high of 4.11:1.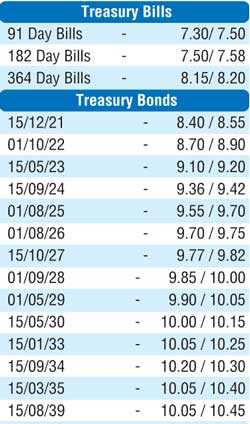 The positive momentum in the secondary bond market continued yesterday as well, with yields decreasing further across the curve, backed by steady buying interest. Yields of the 2023's (i.e. 15.05.23, 15.07.23 and 15.12.23), 2024's (i.e. 15.03.24, 15.06.24 & 15.09.24), 15.10.27 and 15.09.34 were seen declining to intraday lows of 9.12%, 9.15% each, 9.35%, 9.33% 9.35%, 9.68% and 10.20% respectively against its previous day's closing levels of 9.20/26, 9.22/25, 9.30/40, 9.48/50 each, 9.48/52, 9.82/87 and 10.22/30. In addition the maturities of 2021's and 01.08.26, changed hands at levels of 8.35% to 8.70% and 9.70% to 9.71% respectively. However, selling interest at these levels curtailed the downward trend as activity moderated towards the latter part of the day.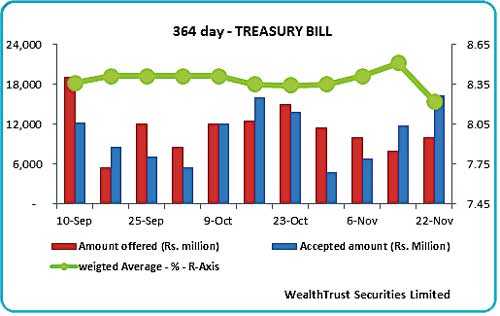 In secondary bills, October and November 2020 maturities changed hands at 8.10% to 8.15% and 8.15% to 8.20% respectively.

The total secondary market Treasury bond/bill transacted volumes for 19 November was Rs. 23.17 billion.

In money markets, the overnight call money and repo rates averaged 7.54% and 7.57% respectively as the Open Market Operations (OMO) Department of Central Bank was seen injecting an amount of Rs. 15 billion by way of an overnight Reverse repo auction at a weighted average rate of 7.53%. The overnight net liquidity surplus in the system stood at Rs. 12.70 billion yesterday.
Rupee fluctuates

In the Forex market, the USD/LKR rate on the spot contracts were seen trading within the range of Rs. 178.98 to Rs. 179.35 yesterday before closing at levels of Rs. 179.20/35 against its previous day's closing levels of Rs. 179.30/40.

The total USD/LKR traded volume for 19 November was $ 106.99 million. Some of the forward USD/LKR rates that prevailed in the market were one month - 179.65/80; three months - 180.50/80 and six months - 182.30/60.