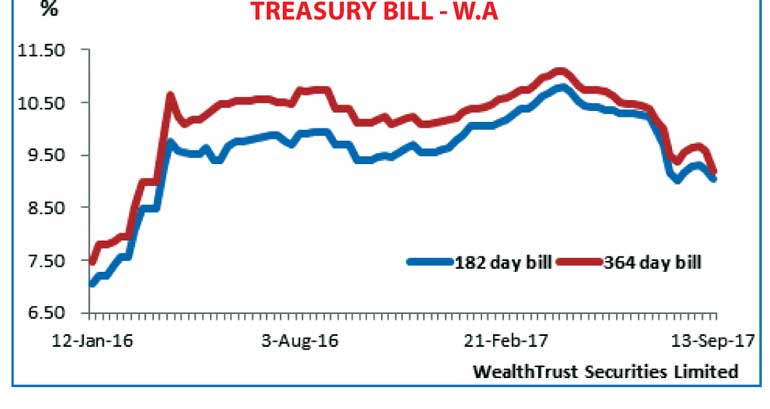 By Wealth Trust Securities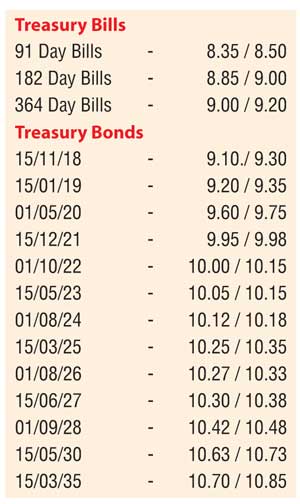 The decreasing trend in weekly weighted averages continued at yesterday's weekly Treasury bill auction with the weighted average on the 364 day bill decreasing by 38 basis points to a 17-month low of 9.20%. This was closely followed by the 182 day bill as it was seen decreasing by 18 basis points to 9.05%. The exact offered amount of Rs. 23 billion was all but met at the auction as the bid to offer ratio increased to nine week high of 4.37:1.

In the secondary bond market, continued buying interest mainly from foreign market participants saw yields decrease further on the liquid maturities of the three 2021's (i.e. 01.03.21, 01.08.21 and 15.12.21), 15.05.23, 01.08.24 and 01.08.26 to 9.94%, 9.98%, 9.93%, 10.12%, 10.13% and 10.22% respectively.

In addition, the yields on the maturities of 15.11.18, 15.09.19, 01.05.20, 01.07.22, 01.08.25, 01.09.28 and 15.05.30 were seen dipping to lows 9.25%, 9.39%, 9.60%, 10.00%, 10.25%, 10.40% and 10.64% respectively as well.

However, selling interest subsequent to the release of auction results curtailed the downward trend as yields were seen closing marginally higher in comparison to its intraday lows. The total secondary market Treasury bond/bill transacted volumes for 12 September 2017 was Rs. 16.67 billion.

The overnight call money and repo rates dipped marginally to average 7.95% and 8.07% respectively while the surplus liquidity dipped to Rs. 25.92 billion yesterday. The OMO department of Central Bank drained out Rs. 17.91 billion on an overnight basis at a weighted average of 7.27% by way of a Repo auction.


Depreciating trend

in rupee continue

In the Forex market, the USD/LKR rate on the spot rate depreciated further yesterday to close the day at Rs. 152.95/05 against its previous day's closing levels of Rs. 152.85/90 on the back of importer demand outpacing inward remittances.

The total USD/LKR traded volume for 12 September 2017 was $ 54.00 million. Some of the forward USD/LKR rates that prevailed in the market were one month - 153.55/75; three months - 155.10/20 and six months - 157.45/55.