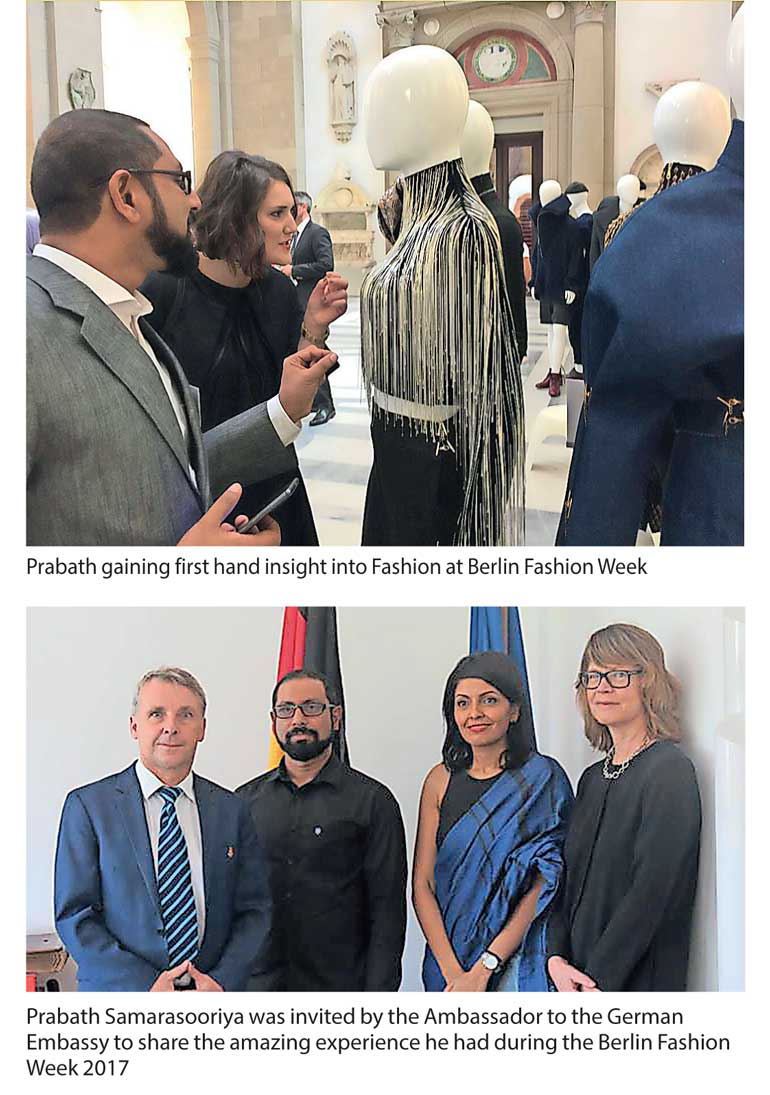 AOD represents Sri Lanka at Berlin Fashion Week 2017; marks the beginning of exploring German fashion links in collaboration with the German Embassy Sri Lanka with its nominated attendee, Prabath Samarasooriya at Berlin Fashion Week
Marking the beginning of yet another powerful international relation fuelled by the creative energy of design and fashion, AOD ventured out to explore the German fashion industry and its potential to collaborate and share new opportunities with local businesses and talent; this was as AOD nominated its award-winning alumni Prabath Samarasooriya at Berlin Fashion Week, with the support of the German Embassy of Sri Lanka.

AOD, a dynamic nucleus for design and innovation, has spearheaded many fruitful international relations based on using creativity for cultural diplomacy. Among these are the many projects and design education links it has set up with the world's creative hub Britain, plus its work with other highly innovative nations like the Netherlands and those with a rich creative heritage like Italy. The new links with Germany sets out to explore the potential to collaborate with yet another influential fashion and design industry in Europe to present new opportunities to Sri Lankan designers, mainly in the fashion and apparel industry.

The plans to collaborate with German fashion and design industries have been mapped out by AOD including its longstanding industry partners at DIMO who are the custodians of the iconic German brand Mercedes-Benz that has a long legacy linked to innovation, fashion and style. The much talked about Mercedes-Benz Fashion Runways held in Sri Lanka for the past two years was a joint initiative between AOD and DIMO will expand with the oncoming links with the German fashion industry and will provide incredible new opportunities to fashion brands, designers and most importantly the apparel industry in Sri Lanka which is set to take its all inspired journey to a new, design innovation led progressive dimension this year.

Prabath Samarasooriya who represented Sri Lanka at Berlin Fashion Week recently, is the precursor to this exciting series of events and international opportunities to come. Prabath is a fashion designer from Matale, Sri Lanka whose incredible talent was identified and mentored by AOD. He then graduated with a first class degree from the Northumbria University UK through AOD and went on to showcase his talent in Colombo, Austria, Cochin and at London Fashion Week International Showcase.

A multi-award winner, Prabath is currently part of the AOD/Northumbria fashion faculty and an independent designer with his own brand Prabath Smarasooriya. He is among the many talented designers who will be pushed forward among many more new opportunities that are to come about from the German-Sri Lanka creative collaboration soon to be spearheaded by AOD and the German Embassy in Colombo.

Speaking about the experience, Designer Prabath summed up his comments that the trip was an outstanding experience and even much more than attending Berlin Fashion week itself but that there was so much more and a wider knowledge exposure and experiences under a variety of areas and levels were given via workshops, talks and other opportunities. "Exploring German Creative industries, special heritage, culture, aesthetics, creative presentations and how the German government supports creative skills was very useful and value adding. The program covered new German fashion brands alongside exciting big names. There was also an amazing insight given to the German Creative Education System."

The Ambassador for the Embassy of the Federal Republic of Germany, Joern Rohde shared thoughts on supporting the next phase of the development of Sri Lanka's fashion and apparel agenda.

"We are delighted to have given Samarasooriya the opportunity to travel to Berlin, as a part of our themed-trip program, and gain firsthand experience and understanding about Fashion Designing in Germany and most importantly to make contacts with many influential designers in the industry. We hope that through the vast knowledge and information he gathered during the tour, AOD could give birth to many creative collaborations, infusing the various modern aspects of Fashion in Germany. We look forward to extending our support and guidance in collaborating with the AOD to intensify its contacts with the German fashion industry and respective events."

AOD's founder Linda Speldewinde who is behind many visionary initiatives that have significantly developed the course of Sri Lankan fashion, stated that it is crucial for Sri Lanka in the next phase of its journey to establish key diplomatic links and that Sri Lanka sees Germany as an important partner in this new journey, to capitalise on its GSP Plus and alongside to develop its creative talent and make it contribute to the national economy by propelling our industries with design innovation.

"AOD was founded with the vision to use design for economic growth. With the kind of talent we have nurtured and educated within the past decade, 'Sri Lankan creativity' has the potential to become a top export for our nation and position us as the hub for South Asia. By collaborating with nations like Germany where there is not only the availability of massive platforms that help us reach global markets plus international know how, we also get to learn many lessons in capitalising on our creative talent and culture. Prabath, who is one of the best modern ambassadors of Lankan creative talent, being at Berlin Fashion Week is only the very beginning of this collaboration. We're quite excited to be working with Germany with the fantastic support of the German Embassy here; it will definitely be a big one for Sri Lanka."

More details of the collaboration and what it sets out to deliver for Sri Lanka will be announced by AOD with International partners and its industry partners like DIMO, in the near future. For more information and inquiries on international design collaborations, reach AOD on 011 5867772 or visit AOD at 29, Lauries Road, Colombo 04.