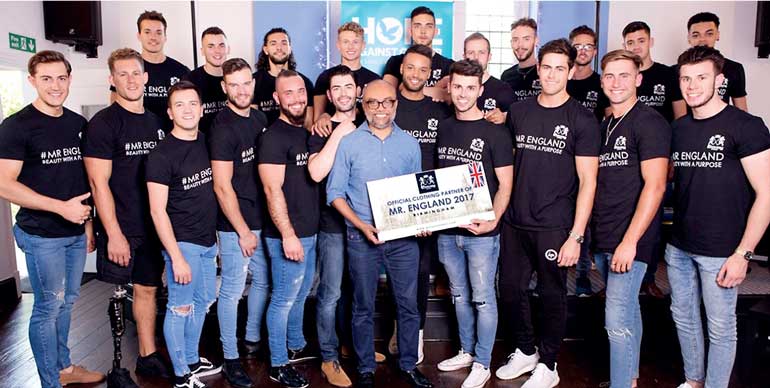 Leading men's wear brand Envoy London was appointed as Official Clothing Partner of the highly contested Mr. England 2017 pageant for the second consecutive year.

The contestants, all winners of their respective regions will be clothed by Envoy London as they battle it out at the Mr. England 2017 finals. Viewed as Britain's biggest competition to find the nation's representative for the prestigious Mr. World 2017 contest, this year's Mr. England finals will be held at Vox Resorts World Birmingham on 13 and 14 July.

Sri Lankan fashion guru with over two decades of experience in the men's fashion industry and the creator of the Envoy London brand, Fouzul Hameed says: "Envoy London, the premier brand of Hameedia is proud to be the Official Clothing Partner for Mr. England 2017. Our brand has gone above and beyond the local arena and makes its presence felt at events of international acclaim such as Mr. England. Envoy London has achieved its goal in creating a wearable range equaled with style to suit the modern man and his multi-faceted roles. It reflects our ultimate purpose, which is to make men look extraordinary."

Reigning Mr. England and the official Brand Ambassador for Envoy London, Christopher Bramell said: "It gives me great pleasure to be associated with this luxurious range of clothing. The attire suits us well and is created to maximise our natural desire to be unique and trendy. It further caters to the multiple roles of a man from the well-suited to cool and casual look among others. Clothing should make a statement and Envoy London allows us to display our individuality with élan and panache."

Established in 1949, Hameedia has continued hold sway as the unparalleled leader in men's fashion wear in Sri Lanka and continues its quest to marvel the world with its exquisite designs.

Envoy London inculcates a sense of unmatched style for its wearer through the personal touch given by a dedicated and passionate team of individuals who strive for perfection. Designed and tailored according to foremost standards using the most exquisite fabrics and embellishments, it portrays the true essence of the individual donning the suit.

With a keen eye for fashion and all things fashionable Fouzul Hameed and his committed team have raised the bar and set the industry standards for men's wear through Envoy London. From inception to completion the customer is given royal treatment, as Envoy London provides an extremely personalised service through its Made-to-Measure and Bespoke Tailoring services. With a strong emphasis on quality, Envoy London pursues its inherent drive to achieve perfection.

Each customer is assured of receiving a masterpiece which is an extension of his personality, style and taste for the finer things. Along with tailor-made suits Envoy has a range of ready-to-wear garments crafted with care and dedication by its very own master cutters and fashion designers.

This truly world class product which redefines elegance, caters to the most sophisticated clientele, combining elegance with timeless tradition and offering its customers a range of products of the highest calibre.