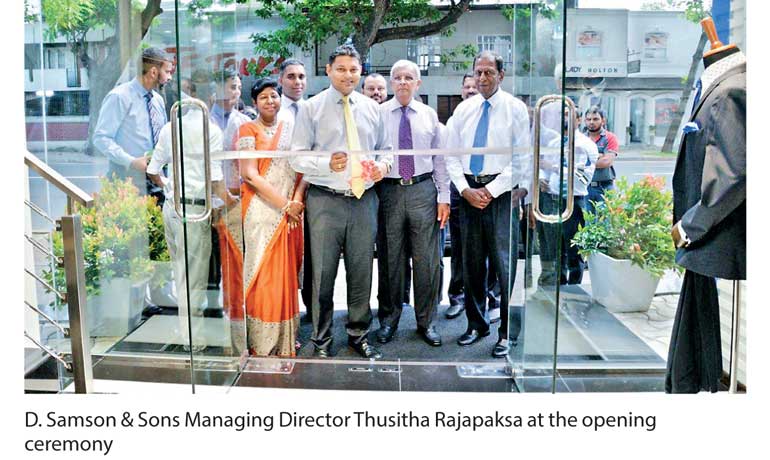 D. Samson & Sons Ltd. celebrated the opening of the first exclusive Arrow store in Sri Lanka at 160/1, Bauddaloka Mawatha, Colombo 04.

D. Samson & Sons Ltd. Chairman Nandadasa Rajapaksa, D. Samson & Sons Ltd. Managing Director Thusitha Rajapaksa and D. Samson & Sons Ltd. Director Kaushalya Perera graced the opening ceremony along with members of the organisation's senior management.

Measuring up to 2,400 sq. ft. in size, the store features a large variety of apparel and accessories for men, presenting customers with a wide range of choices. Opening with the SS'17 collection, the store offers a range of formal, semi-formal and casual menswear, including varieties of shirts, such as 4-in-1, seamless shirts and anti UV. The store will feature Arrow Sport, the brand's leading smart casual wear and legendary Arrow Formal wear. The designs have been created specifically to suit the needs of the modern Sri Lankan. The brand is manufactured and retailed by Arvind Fashion, a part of India's largest fashion conglomerate, the Arvind Group.

Following a stroke of genius by a housewife, Hannah Montague in 1820, Ebenezer Brown recognised the possibilities in the detachable collar industry and began manufacturing collars in the back of his general store in Troy, NY. This little spark of ingenuity led to the introduction of the Arrow brand in 1885 as a pioneer in men's fashion.

D. Samson & Sons Ltd. is one of the largest retail networks in the country, providing footwear, accessories and apparel to the local customer, and is the main marketing and distribution sector of the DSI Samson Group. The organisation is the sole distributor of local footwear brands; DSI, Ranpa, Samsons, Jessica, Waves, Beat, Supersport and AVI whilst also distributing popular international brands such as Reebok, Puma, Fila, Clarks, Florsheim, Redtape, W, Aurelia and US Polo. The network of the organisation spans more than 200 company outlets and 4,000 dealers and 39 sales representatives island wide.