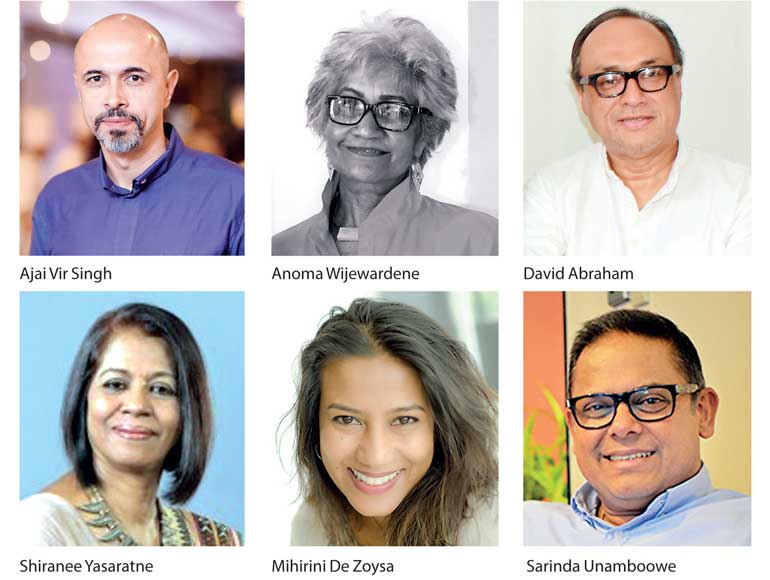 Multidisciplinary expert discussion at TrendSwim presented by Swim Week Colombo
The second session of TrendSwim focused on 'Good and Sustainable Fashion – Earth Conscious Future'. With the exponential growth in the global swimwear market, trends are changing at a faster pace than ever. TrendSwim's first session focused on the key aspects surrounding this rapidly-evolving industry. The second session focuses on good and sustainable fashion, building an earth conscious future, sustainability practices and industry perspective.

Speakers were Ajai Vir Singh, President/Founder of Colombo Fashion Week, Designer for Conscience; Sarinda Unamboowe, CEO/Managing Director at MAS Kreeda; David Abraham, Creative Director, Abraham and Thakore, design resources for fashion, accessories and home textile products; Shiranee E. Yasaratne, Advisor to Bio Diversity Sri Lanka; and Anoma Wijewardene, Artist.

Following are excerpts:
Q: Ajai, this is the third edition of swim week and the second TrendSwim discussions. But you have a stronger, deeper commitment to this year's Swim Week. You've discussed about wanting to create a new normal in design and manufacturing of the fashion industry here. What is the difference and what's your vision for swim week going forward?
Ajai: The statistics associated with the apparel industry are staggering. Beginning 15 years ago with the Garments without Guilt campaign. Policing does not work, while the research is available, a conscious change of heart is required in order to create this new normal. All designers showcasing this year have a green impact story which will be created into an awareness campaign. If you can change the heart, make it greener, the impacts will be viable. We intend to create a platform which is an ecosystem for fashion and apparel in Sri Lanka – designers, manufacturers, suppliers who all share the same vision. If we start now, in five years or so, the results will be visible.
Q: Recently I was reading that we need to move from just being sustainable to being regenerative. It seems as if MAS is trying to do just that. Can you tell us a little bit about the macro large scale efforts that MAS is spearheading and how it has also become possible to do this?
Sarinda: Our industry is one of the biggest polluters in the industry and if action is not taken now to mitigate these impacts, the repercussions will be catastrophic. Even as designers, try and utilise as much of the fabric as possible. What we don't consider is the amount of waste which adds to landfills. Be conscious of your waste produced.

Recently, MAS has tied up with the Biyagama zone to implement a material recovery centre. A collection point for separation – fabric, perishable waste, etc. will be separated and incinerated as necessary and recycle what can be. Innovations have allowed to produce yarn from recycled fabrics. We have also begun mining existing landfills to reduce and plant a green cover over it

The SL Navy shredders are collecting marine pollution which is crushed and brought to a company which produces yarn, currently used in paint brushes but will be made into fabric in the very near future in the island itself.

Sustainable fabric is no longer an unaffordable commodity. Commercially viable fabrics now exist which can be created 100% recyclable fabrics. MAS occupies a large acreage of land in Sri Lanka, all the roofs are being converted to solar roofs within the next two years. For every acre, 1:10 and then 1:100 reforestation by 2025.
Q: Can you give us an overall view of how Sri Lanka as a whole is responding to the environment, climate, social sustainability agenda?
Shiranee: Over the years, people's perception of environmentalists have changed. The private sector is now volunteering. Biodiversity financing study looking at the amount of financing that the State is putting into conservation. There is no enabling environment for biodiversity conservation in Sri Lanka despite being a world biodiversity hotspot.

Although we work with high end companies who already established environmental responsibility.

70% of industry are SMEs which don't understand the impact of environmental responsibility. Therefore, it is necessary to handhold these companies to guide them in the right direction.
Q: We have been talking largely about ecological and environmental aspects. But our footprint, our impact is much more complex. It's social and cultural too. You want to preserve and nurture your cultural heritage. Your design and fashion philosophy is built around classicalism rather than being trendy. You want to create fashion that lasts than are short lived. How does this speak to the sustainability agenda?
David: The quicker, shorter and more wasteful the consumption cycle is, we are not going to be sustainable. We try to incorporate longevity and quality to make a product last longer. Lower quality is associated with faster, cheaper fashion. We work with small craftspeople and look at the cultural aspect of sustainability. I think it is imperative that we sustain these livelihoods and make better the living situation of the craftspeople by ensuring sustain of their craft. Sustainability has a very wide definition.
Q: How do you see the claims made by some, that big fashion brands are guilty of cultural misappropriation?
David: Capitalises ideas from everywhere and anywhere without much conscience. It is interesting that people are more aware of this. One of the key ingredients of fashion is the cannibalism of ideas. We live in a time where ideas spread within seconds. Ideas are shifting. Enforcement may not be possible but important that these issues are raised, addressed and acknowledged by the large brands. Creation does not have a geographic or political boundary. We are well within a digital space which inspires everything around us.
Q: So I am going to ask the simple question... in times like these, how can art save us? Or how is art saving you?


Anoma: I've used poetry, art, books I've read in the past, what people have been talking about for years, celebrating nature. Accept that we are fundamentally a part of nature and we are not able to see this and associate ourselves with it, and so we continue to degrade and destroy the environment because of human greed, remind ourselves that we are nature and we destroy ourselves if we carry on this path. It is my passion to get this to people and to move and inspire people to change their hearts. Diversity in collaboration to celebrate and love nature.