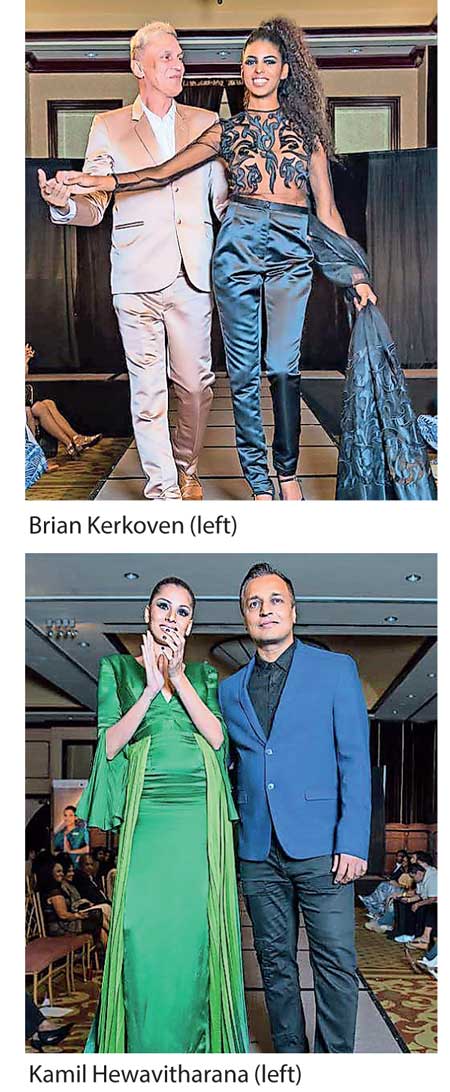 Kamil Hewavitharana and Brian Kerkoven, who showcased two of their latest collections at the Hilton Garden Inn Hotel, in Staten Island recently, wowed a gathering of Colombo's elite ladies at a special viewing of their breathtaking collection at the Blue, Hilton Colombo.

Kamil who recently launched his label 'Limak by Kamil' at the Costa Blanca Fashion week, in Alicante, Spain, has been invited to showcase again in September in New York and November in France, an honour indeed.

Among, the models were Sri Lanka's super model Dannielle Kerkoven, Angelo Barnes and Sajith Dilsanka, while the hair and make up for the 20 models was handled by Romesh Atapattu and Sujee of Capello Salons.

Kamil's two collections were very flowy, flirty and fun; in pleated chiffon, satin and silk, in beige and orange for his first collection of 12 pieces, while his signature collection was in beautiful colours of shaded chiffon, of bright yellow, pink, dark green and blue.

Both collections were literally mind blowing and were received enthusiastically by the audience and photographers alike.

'Simply Brian' the collection was all in Emerald green and nude/gold bridal satin. All items were hand cut and appliquéd. The collection started off with a jacket and shorts, ultra mini skirt, suits jackets with pants and pencil line skirts, jump suits and evening dress. The suits were done for him by Lakshman Guruge of Pettah Tailors, his first venture in to ladies suits....and they are now planning to work together on a special range of ladies suits. Special earrings and tie pins for the boys were designed by Brian and made for him by Deemal Jayasuriya of Stone n String.

The signature collection of the 'Brian Kerkoven collection' was the all black bridal satin and beautifully hand appliquéd net shawls. An exquisitely appliquéd black on black Kandyan saree, a black pant and net top, a micro mini dress and two evening dresses completed Brian's mini Signature collection. All the fabric used in Kamil and Brian's collections, were sponsored by Eastern Silk Gallery.

Brian was fervent in his thanks to Purni and Rienzie Edwards, Lakshman Guruge who sponsored all the tailoring of the suits, Stone n String who sponsored his jewellery and Nalini Amarasekera and her team who sponsored the Kanyan saree and did all the cut work and appliqué for the collection; and his friends in the US who put their work on hold to help them – Pinto, Nirosha, Dushmantha, Malmi and Romesh. Romesh Atapattu for giving them the opportunity and Chitral de Mel, for making it happen.

Kamil's thanks go out to the directors of Romafour, Nishadi and team from Sanchia Garments, Rhona, Monthila Gurusinghe and Shanika Jayarathna, while both Kamil and Brian affirmed the fact that if not for God, his inspiration and guidance, this would not have happened!