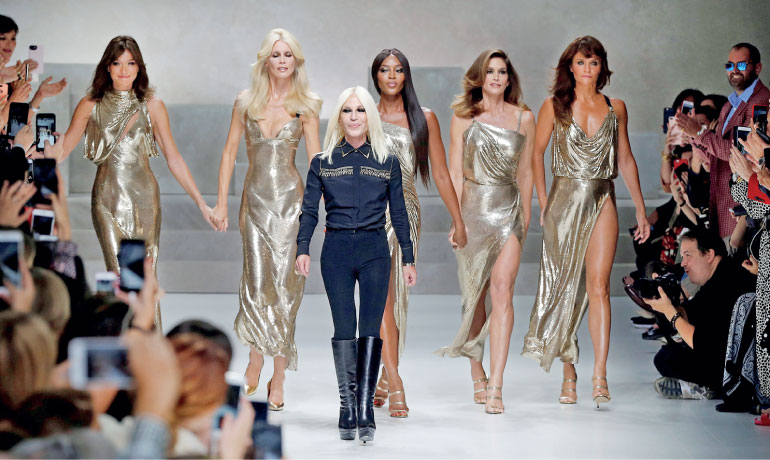 Italian designer Donatella Versace (3L) acknowledges the applause with former top models Carla Bruni (L), Claudia Schiffer, Naomi Campbell, Cindy Crawford and Helena Christensen (R) at the end of Versace Spring/Summer 2018 show at the Milan Fashion Week in Milan, Italy, September 22, 2017 – REUTERS/File photo
MILAN (Reuters): Italian fashion house Versace and handbag and accessories maker Furla said they would stop using real fur in their creations, joining a growing list of luxury labels turning their backs on the fur industry.

Fashion houses around the world are bowing to pressure and using alternatives to real fur amid pressure from animal rights groups and changing tastes of younger customers, who are increasingly aware of the environmental issues linked with the clothes they buy.

Donatella Versace, the artistic director and vice-president of Versace, said that she did not want to kill animals to make fashion and that it "it doesn't feel right", speaking in an interview with The Economist's 1843 magazine.

People for the Ethical Treatment of Animals' (PETA) Senior Vice President Dan Mathews said in an emailed statement that it was "a major turning point in the campaign for compassionate fashion", adding that he looked forward to seeing a "leather-free Versace next". The animal rights group recently campaigned at the Pyeongchang Winter games for an end to the fur trade.

Furla on Thursday committed to replacing all fur with faux-fur for both menswear and womenswear starting from its Cruise 2019 collection.

Italian fashion group Gucci, part of Paris-based luxury conglomerate Kering, said in October it would stop using fur in its designs from its spring and summer 2018 collection joining Armani, Hugo Boss, Tommy Hilfiger, Calvin Klein and multi-brand online luxury retailer Yoox Net-A-Porter.

British designer Stella McCartney has long followed a so-called "vegetarian" philosophy, shunning not only fur, but also leather and feathers.