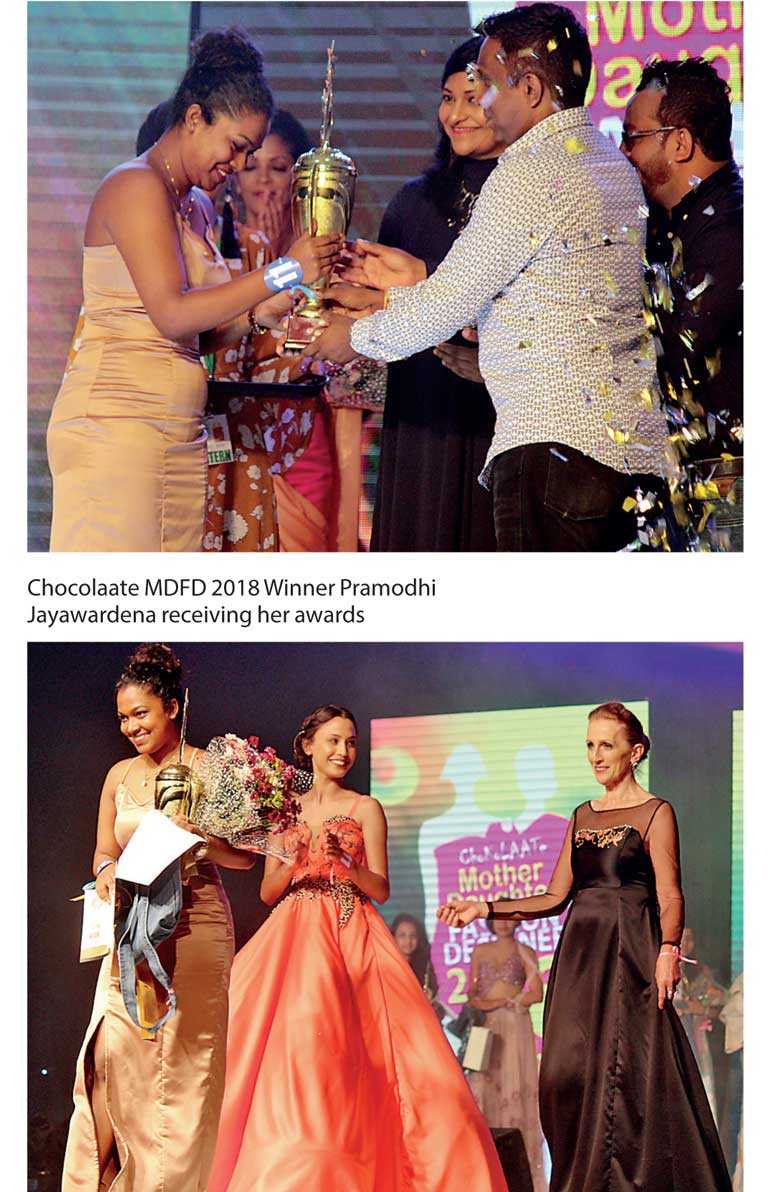 By Divya Thotawatte

Bringing out the local fashion talent Chocolaate Mother Daughter Fashion Designer contest 2018 in association with LiCC Jeans was held last weekend at the Sri Lanka Exhibition and Convention Centre (SLECC).

"What we need is to create a platform for young designers who can actually bring recognition to the country. Because what we realise is there is so much talent out there and we had a great response this time. We actually did something different where we went to all the design schools and we presented to them and we actually came across way more talent than what we usually come across," said Chocolaate Managing Editor Michelle Gunasekera.

Chocolaate MDFD 2018 was held for the ninth consecutive year and this year 15 contestants including two young men were able to make it for the finale. The contestants showcased their outfits designed for a mother and daughter duo in three segments casual, sports and evening wear.

Anne Nissanka, a student of the University of Moratuwa displayed her designs which were inspired by the layers, lines and features of a mushroom. Mithini Wathsala representing AMDT was inspired by the golden age of couture featuring red and white in her designs. Damsha Jayasundera's collection was based on pastel shades inspired by a morning at the beach. Ayodya De Alwis also displayed her creations which were inspired by the simplicity of the Japanese culture. Charu Liyanage of Raffles Institute had her designs based on the vibrancy of orchids. Fellow Raffles student Pramodhi Jayawardena used oranges combined with black and beige to bring out the beauty of nature.

Naveena Mary of LIFT used red stripes to bring out the essence of a woman in a painting titled "Hidden Hurdle". Senushi Fonseka whose collection titled "Allure" was also inspired by orchids. Sanju Uralagamage had her designs uniquely based on an octopus and Nipuni Jayamanna's designs were based on the gothic architecture. Raffles Design Institute's Pavithra Pradeep collection was based on surfing and the ocean while Nabeela Yaseel used pearls and fur to recreate the dandelion flower. Thamya Rajapakse also used pastels for her fashion pieces to create a vintage tea party.

Out of the two male designers, Hashan Madushanka used the intricate details of Egyptian culture for his designs while Sithum Udara was inspired by the blue hues of the sky and the sea for his creations.

Pramodhi Jayawardena won the Chocolaate MDFD 2018 with Senushi Fonseka and Sanju Uralagamage as the first and second runners-up. The casual wear and evening wear segment were both won by Pramodhi Jayawardena while the sportswear segment was won by Senushi Fonseka. Most Popular Designer award was given to Thamya Rajapakse and Chocolaate Choice Award was won by Naveena Mary who represented LIFT. The Pulse Choice Award was won by Nabeela Yaseel.

The judging panel consisted of Odel Department Stores Former Owner Otara Gunawardene, Cotton Collection and Leather Collection brands Custodian Nilufer Anverally, High Fashion Label Radisi Owner Rajini De Silva, Fashion Label Meraki Creator Sharmila Ruberu, Mrs Sri Lanka International 2015 and Fashion Designer Chandi Delwala, and Miss Sri Lanka for Miss Intercontinental 2006 and Miss Sri Lanka for Miss World 2006 Daniele Kerkoven.

Additionally Graduation Collections of design schools such as AACS, University of Moratuwa, Open University and Raffles Design Institute were showcased.

The real-life mother daughter duos who walked the ramp were choreographed by Rozanne Diasz while the hair and makeup were done by Salon by Chrissy Rozairo.