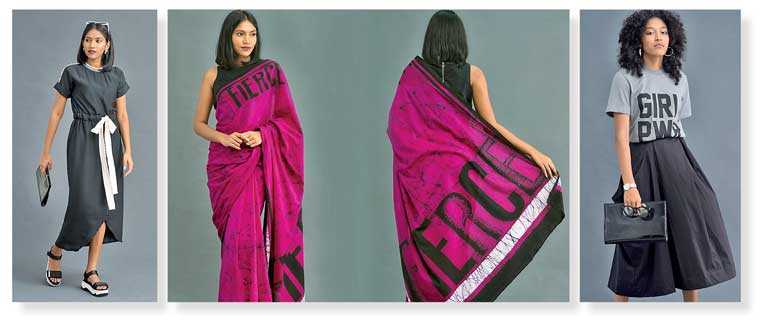 Fashionmarket.lk draws new parallels between their movement-in-the-making #WearYourSuperpower and today's working female to encourage more women to command the right visual image at work
Behind every successful man is a woman; behind every successful woman is an intelligently crafted wardrobe. To the powerful working woman of the 21st century, fashion is not a vanity purchase or an afterthought: it is a tool with transcending powers that plays at many levels, triggering subliminal cues on social hierarchies, professional competence, intelligence, reliability, strength, and charisma.

Advocating this strong relevance of fashion to professional success, the online fashion retailer Fashionmarket.lk has been behind several noteworthy campaigns that link women, style, and their professional lives. The e-tailer recently announced a fresh movement to draw the focus back towards the conversation, backed with a stellar line-up of unusual clothing that speaks with women to redefine the way they dress at work.

Wearing your

superpower to work

"What we do is not the usual kind of clothing that you have to fit into boxes like workwear, dress-up or casual. The idea is to facilitate a new understanding of what it means to dress as a professional by paying closer attention to your own personality, instead of allowing stereotypical rules for 'workwear' govern your personal expression," said Linda Speldewinde, the Founder and visionary behind Fashionmarket.lk. "This way, each woman is encouraged to think of what she brings to the workplace uniquely, as an extension of her own personality and skills."

The new collection by Fashionmarket.lk includes a rather unusual line-up of clothing with statement T-shirts, batik sarees, and shift dresses that carry contemporary elements like typography and affirmations that encourage female power. It speaks to the female professional directly, and encourages her to be bold about her femininity and charge ahead at work knowing how being a woman can propel her forward too, instead of only holding back.

Coding dress codes versus decoding personalities

"We want women at work to know and remember that feminine attributes like empathy, intuition, multitasking, etc., are highly valued by the business world today and that it is worth celebrating. On its surface, this is the encouragement that this collection gives the wearer, at an emotional level," said Natalie Goonetilleke, the designer behind the newest 'Fearless Femme' Girl Power edit by Urban Island and Urban Drape on www.fashionmarket.lk.

Goonetilleke further stated that using modern interpretations of professionalism at work can go a long way in expressing confidence and creative thinking: "If you think about it, there is an obvious difference in the way you would perceive a professional woman would wear a graphic t-shirt paired with a well-tailored jacket and a woman who would wear a traditional blouse under her work jacket. The first speaks for an independent thinker who has the creativity and the intelligence to reinterpret social norms while the latter simply follows rules.

"So, this is why we are inviting professional women to rethink their work wardrobes—like bold sarees with standout prints or weaves that speak volumes beyond your everyday work saree with dainty florals; or to consider a well-crafted shift dress that sends subliminal messages about consideration for quality and contemporary thinking, opposed to a typical work shirt and pencil skirt ensemble; the idea is that even a suitable t-shirt can be a statement of your values or your creativity in expressing yourself. These are all ways in which you can take your work image to the next level."

Movement-in-the-making

#WearYourSuperpower is being carried forward with this fresh movement: "#WearYourSuperpower was first visited as part of our Women's Day 2018 campaign. But, the idea of 'wearing your superpower' which ties down to sharing your best self and being confident about it, is one of the most central elements to us as a retailer, which is why we revisit the idea throughout the year with fresh energy and perspective. It's about discovering female style identities and fostering a deeper connection with fashion which has always been in our DNA."

This freshly-energised movement will also place a special importance in culturally rooted fashion elements such as the saree, because culture is such an essential facet of personal representation. Culturally associated fashion like sarees have a special place in our style philosophy because they convey the message 'I am confident enough to wear what represents me and a modern version of my culture'. We find that this balance between modernity and cultural relevance is the key to creating the kind of fashion that makes the contemporary Sri Lankan female professional find real meaning in her workwear options.

Paradigm shift

for Sri Lankan female professionals

This predominantly online movement has seen many of the loyal buyers of Fashionmarket.lk come out in celebration with their own #WearYourSuperpower stories, giving rise to a wave of inspiration and interest among working women in several corporate circles, who are beginning to realise how much impact their work wardrobe has on a day to day basis.

The strategic minds behind Fashionmarket.lk, the Managing Director Lin Gong-Deutschmann, talked about how their ideology encourages women to look within themselves for motivation and reflect their powerful selves. This also guides the retailer's product proposition and how fashion reflects personal meaning, cultural relevance, fulfilment, daily inspiration, etc. She also stressed on how important it is for women to challenge the stereotypical representations of the working woman that do not match her multi-layered talent, charisma, and intellect.

"Every woman has her own style to lead, to decide, to disagree and to succeed. Fashion is that simple yet powerful tool which you can use to express yourself—to stand out, to make a statement, to feel good and to show who you truly are. Wear your superpower each day." The newly-launched collections can be discovered online on www.fashionmarket.lk or at their Phygital Store at 33S: 33, R A De Mel Mawatha, Colombo 4 (next to AOD). 011 450 1570. #WearYourSuperpower movement can be followed online through the hashtag on Facebook and Instagram.