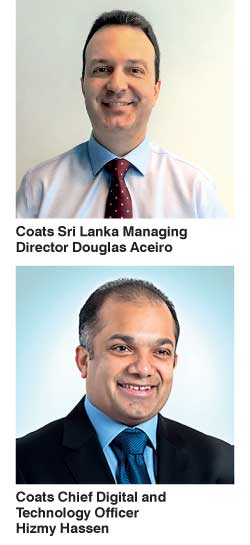 Coats Chief Digital and Technology Officer Hizmy Hassen to speak at South Asian Apparel Leadership Forum at MBFW on digital strategy and creative disruptive business models
Pioneering fashion value chain leader and the world's leading industrial thread maker, Coats, announced its support for the Mercedes-Benz Fashion Week 2017 Sri Lanka, which is the first of its kind on the island.

Coats' contribution to Mercedes-Benz Fashion Week includes knowledge sharing at the South Asian Apparel Leadership Forum, where Hizmy Hassen, Chief Digital and Technology Officer at Coats, will present his insights on the important transitioning from the industrial age to the digital age from the perspective of an industrial company that is successfully adapting to the digital era.

This session is expected to inspire the local apparel industry to reach for greater speed, material innovation and energy through the effective use of technology.

The South Asian Apparel Leadership Forum will take place on 28 October at the Mercedes-Benz Fashion Week 2017 at Mercedes-Benz Centre for Excellence Dimo 800, Colombo.

Coats' support for Mercedes-Benz Fashion Week is rooted in a seven-year-old partnership between the company and the Lankan apparel industry, which aims to move design and innovation forward to establish Sri Lanka's fashion leadership role in the region and funnel a larger amount of the resulting economic gain.

As part of this partnership, Coats has lent its support to the fashion industry through various initiatives. Supporting young design talent by recognising them with the Coats award; collaborating with upcoming fashion designers for ground-breaking creativity such as the glow-in-the-dark handloom collection made by Nithya brand using Coats thread; and helping rural artisans by providing high quality yarn in the Island Craft project to revitalise traditional textile with contemporary design are just some examples of Coats' continuing support to the fashion and apparel industry.

Among its notable contributions is the annual contribution of new knowledge and insight from Coats' executive team who have a wealth of ideas and experiences to contribute; previous years' speakers included Coats Group Chief Executive Paul Forman and Coats President of Apparel and Footwear Adrian Elliott. This year Coats Chief Digital and Technology Officer Hizmy Hassen will share his views, ideas, insight and experience on transitioning industrial operations to the digital realm.

Hassen, who is a seasoned expert on using digital for manufacturing operations, brings learnings from a mega company that has nimbly shifted strategies through two-and-a-half centuries as it transformed from the industrial to the digital age.

Many still believe that the current interest in digital innovation is just a phase, and that once it passes, everything will resolve to be 'normal' again. However, the world has become digitally connected to the point of no return, which means that fashion (or any other) manufacturers can no longer afford to merely be impressed or wait in hope of industrial innovations.

Hassen's session will begin with this insight and go on to cover what this means to the realities of fashion manufacturers and value chain businesses. For example, speed—the Holy Grail for the leaders of large fashion companies—is no longer a nice-to-have, but an essential capability enabled by digital technology, just as digitally-powered manufacturing processes, customer experiences and efficient ways of working across global organisations and teams.

Many digital experts like Hassen believe that if creating a platform for digital evolution is not among a CEO's top two priorities over the next two to three years, that company runs the risk of becoming redundant. Companies that want to succeed in the future must master the radical digital transition headed our way by opening themselves to a journey that will change their organisation models beyond recognition— the alternative being a catastrophic loss of market share and profitability.

In Sri Lanka, the major apparel industry players are digitally equipped and are keen to invest in expanding it further into the digital realm. Among more small to medium scale manufacturers there is still a surprising amount of digitisation to take place. In either case, the magnitude of this digital challenge often seems overwhelming, but it is not impossible.

Hassen's session will discuss this process, and what it means to disrupt the operational and business model of manufacturing companies, to labour, energy, speed, finances, profits and more importantly, to mindsets and attitudes of both employees and leaders.

Whether you are industry professionals in management, production, sourcing, design, tech or merchandising, an independent fashion designer, fashion entrepreneur or investor, this session by Hizmy Hassen at the South Asian Apparel Leadership Forum promises to inspire and challenge your take on the business of fashion.

The eighth South Asian Apparel Leadership Forum will be held in partnership with Coats, as part of Mercedes-Benz Fashion Week Sri Lanka, 28 November at Mercedes-Benz centre-Dimo 800, Colombo.