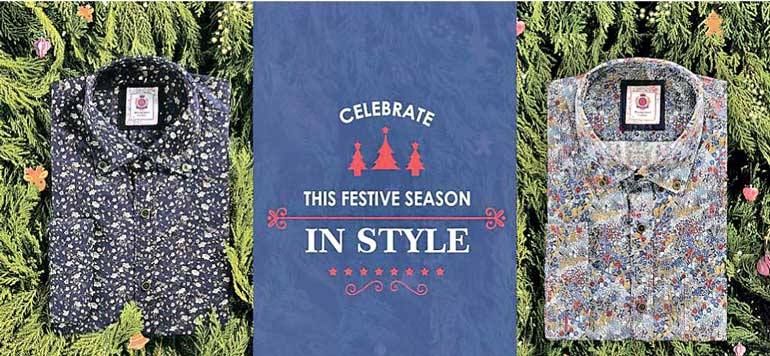 Hameedia, Sri Lanka's leading menswear specialist offers a shopping bonanza promotion for its customers to make the upcoming Christmas season truly special.

A host of offers are available to the discerning man who is looking to upgrade his wardrobe for the season until 31 December or until stocks last. These include an array of deals for credit/debit card holders from leading banks and the chance to win gift vouchers each time you shop at any one of the Hameedia stores island-wide. Hameedia is also your one-stop shop for your gifting needs for the men in your life, with options ranging from office clothing to formal wear to accessories and shoes.

All roads will lead to Hameedia this season as the leading brand has stocked up on its latest stunning collection for men which reflects the latest trends for males from international catwalks.

Every purchase of Rs. 7,500 entitles customers to a voucher worth Rs. 500. In addition to this purchases exceeding Rs. 7,500 will get an additional Rs. 500 for each Rs. 2,500 spent over and above. Customers will be able to select from a wide range of exclusive party and office wear to usher in the Christmas spirit.

Commenting on this exciting Christmas promotion, Fouzul Hameed – Managing Director of Hameedia said, "Christmas is the season for indulgence and for giving – and keeping this in mind, we at Hameedia are showcasing an impressive collection of clothing and accessories for men that will make them stand out in a crowd. Our collection is also ideal for gifting! Hameedia understand the aspirations of its customers during the festive season and we have pulled out all the stops to ensure a trendy selection and exciting offers are in store for our valued customers. Our team at Hameedia, would also like to take this opportunity to wish everyone celebrating Christmas, all the very best for the season."

Hameedia renowned for showcasing the best of its menswear collections during Christmas and New Year season, provides modern and trendy attire for gents. The seasonal collection includes latest fashion trends and sophisticated and chic collections filled with staples and essentials as well as accessories made from the finest materials, that all featured an array of designs and prints.

The Christmas collection is available at all Hameedia showrooms throughout the portfolio of LeBond, Envoy and FH brands, which are made from the finest high quality fabrics. Staying up-to-date with trends in the men's fashion industry, Hameedia features a collection of stunning men's evening wear, made from handloom and power loom fabrics, casual shirts made from printed cotton and linen fabrics, along with a range of shirts in multiple colours and styles, featuring both button down collars and slim collars.

Aside from the Christmas special offer, customers can also purchase other high quality clothing items from Hameedia's casual brands; Envoy Sport, Envoy Linen Club, LB Sport, LB Leisure, Lee, Wrangler and many more.

From its inception, in 1949, Hameedia has cemented its place as the preferred menswear specialist in Sri Lanka with its world-class quality, custom tailoring and ready-made clothing. The company continues to make its presence felt locally and internationally with 25 outlets across Sri Lanka and stores in the Seychelles, Maldives and Australia respectively. Along with its own branded clothing and accessories which includes FH, Envoy, Le Bond and Signature, Hameedia also showcases international brands such as Raymond, Lee and Adidas.