At the graduate exhibition showcase 'Reveal 2017' opening doors to an incredible future for design in Sri Lank
Industry heavyweights, leading organisations and big brands gathered to employ the latest cohort of professionally qualified designers in fashion design, graphic design, interior design and motion graphics and animation design, to lead creative innovation for their businesses at AOD's REVEAL last Friday.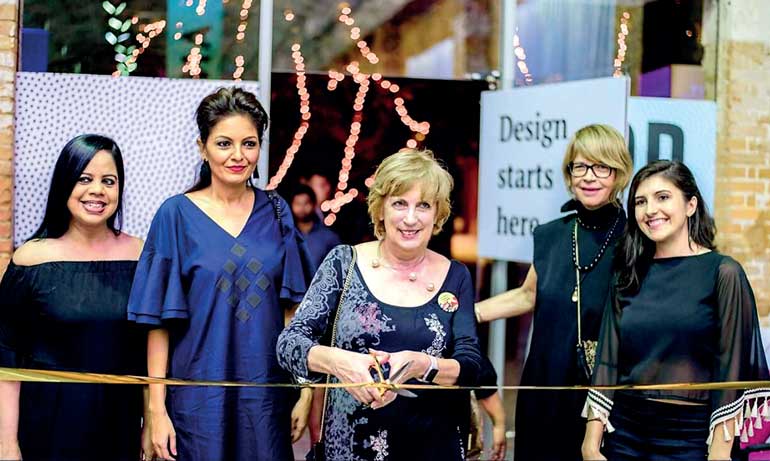 Chief Guest, British Council Country Director Gill Caldicott declaring the exhibition open
If the heads of 10 blue chip companies were asked what they would want to bring into their businesses within the next decade, more than half would include 'innovation' among their mentions. Consumer product brands, services, sourcers, makers and manufacturers alike are calling out for innovation and the types of professionals who can deliver it. Innovation requires creative thinking, forethought and empathy. In other words, 'design'.

As 'design' takes the centrestage as the new hero of the business world, heralding innovation, bringing in fresh competitive edge and value creation, it is clearly one of the most sought after skills by industries today. This is partly the reason why the class of 2017 of professionally qualified AOD graduate designers was welcomed with great enthusiasm by the business world.



AOD is a dynamic force in Sri Lankan design, and has long harboured a reputation for producing the finest graduate talent that not only meets academic international standards, but also has the know-how to successfully collaborate with local industry counterparts. Therefore, the releasing of a fresh group of design graduates from AOD comes as welcome news for the business world.

Allowing these design-hungry businesses to scout for the right kind of talent and recruit them, AOD hosted a special industry-only viewing night for REVEAL with Chief Guest, British Council Country Director Gill Caldicott, gracing the occasion. It featured the work of design graduates who have successfully completed degrees in BA (Hons) Fashion, Graphic design (branding and visual communication related), Motion Graphics and Animation and Interior design. The dedicated Industry Viewing event for this exhibition attracted a powerful audience of business leaders, HR and creative heads from a wide spectrum of industries from apparel, travel, hospitality, interior architecture, advertising, marketing and promotions to television and media.

These industry power players were keen to interact with young design graduates, witness their creativity and innovation capabilities, and discover firsthand the kind of design talent that promises to push their business to the next level. The event was held at the Trace Expert City in Colombo 10, last Friday (24 Nov) and became an effective hotspot for linking up businesses to fresh graduate design talent.

The Industry Viewing of AOD's REVEAL was especially curated in a way that enabled businesses from mega scale corporations to small and medium businesses, young brands and even individual entrepreneur led operations, to discover graduate talent that matches them, through projects and work samples that mirrored individual graduate specialisations. In addition to making it easier for businesses to find the right designer, REVEAL 2017 also incorporated a series of industry awards that recognise traits and strengths that businesses would value in a designer.

Awarded in collaboration with AOD's industry partners, the awards highlighted graduates who performed exceptionally well in certain areas such as the most imaginative solution in graphic design, best storytelling in animation, Innovation in hand-woven textiles for fashion design and the sustainable award in interior design. This included Leo Burnett, Balmond Studio, Arimac/Idea Hell, Brandix's TeeJay, MAS, Hirdaramani, Anim8, Colombo Design Studio, Dentsu Grant Group, We Are Designers, Mooniak Studio, Arimac, Ideas Shell, Ad Share, SHIFT, CDS, Coats Thread, True Digital Printing, PR, Nor Lanka, Emerald Shirts, Vogue Tex, JAT Holdings, A+ and Raux Brothers.

REVEAL 2017's Industry Viewing provided a unique opportunity for businesses and organisations to handpick fresh design graduates who will take their brand or business to the next level. The event featured close to a hundred young professionals and their best works, produced as part of the internationally relevant curriculum that AOD maintains in partnership with Northumbria University UK. A vast majority of these young graduates have already been employed by the business world, while AOD's active Job Placement Centre will be linking up all graduates from the class of 2017 to matching businesses within the next two months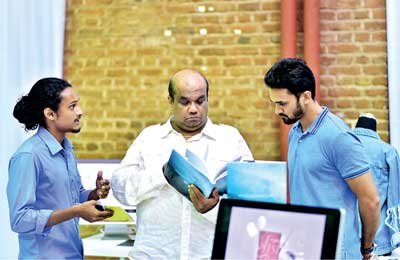 .

AOD is visionary institute that pioneered the professional design sector in Sri Lanka, trusted by industry for professionalising the design talent in the country in partnership with Northumbria University UK, recognised by the University Grants Commission Sri Lanka. AOD presents complete UK design degrees with Northumbria University in Fashion, Graphic Design, Interior Design, Fashion Marketing as well as Motion Graphics and Animation Design as 100% internal Degrees that can be fully completed in Sri Lanka.

For free design career counselling, or to understand more about studying Fashion, Fashion Marketing, Interior Design Studies, Graphic Design and Motion Graphics and Animation Design with 100% internal design degrees from Northumbria University UK, reach AOD on 0775727772, 011 5867772, email info@aod.lk or walk in between 9 a.m. and 5 p.m. Monday to Friday – AOD, 29, Lauries Road, Colombo 4. www.aod.lk