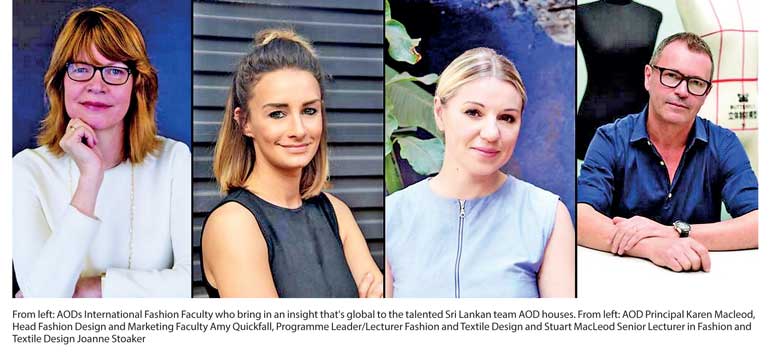 AOD contributes specialised knowledge in fashion marketing and business to champion the fashion industry
Fashion, Sri Lanka's power industry, is changing. With major shifts in tech, social values, consumer needs, available material resources, politics and economics affecting and creating a new retail world, with it the types of professional roles that are most valued by the fashion industry are changing.

While fashion production and merchandising managers and sourcing specialists dominated the trade in the last few decades, the next two decades in fashion belong to a new breed of professionals. Preparing to supply fashion professionals for this new future, Sri Lanka's most business-relevant fashion and design educator, AOD, has launched a degree course that helps students look at the business of fashion in a much deeper and broader sense.

Titled 'Fashion Design and Marketing', this award-winning degree by Northumbria University UK walks students through current metrics of the fashion business through commercial and creative analytical approaches.

Conducting this unique degree in Sri Lanka and heading this program is AOD Fashion Marketing Faculty Head Amy Quickfall along with AOD International Fashion Faculty's Karen MacLeod, Principal AOD, Stuart MacLeod – Senior Lecturer in Fashion and Textile Design and Joanne Stoaker – Program Leader/Lecturer Fashion and Textile Design who bring in an insight that's global to the talented Sri Lankan team AOD houses.
New power role career

prospects in future fashion
In the past, when it came to jobs in the fashion industry, there were only a few power roles; these included merchandisers, designers, buyers, production managers etc. The last decade has been major in terms of fashion industry evolution.

Emerging trends such as the fashion retail store evolving into a digital space, changing consumer preferences, the call for radical transparency, etc. have seriously shifted companies' priorities and also the kind of professionals they are looking for. There is an entirely new set of power roles in fashion today.

The future of fashion belongs to careers that demand for an exciting mix of technology, creativity and education. For example, personal stylists are now considered the super-brokers of the fashion business. 3D printing no longer even the future of fashion, but today's reality of fashion production; and also the bridge between creativity and technology, making 3D printing design engineers so relevant right now.

Another huge role in the business today is the fashion brand journalist; with the content marketing industry booming, brand journalism as a career has been on the rise for the past years to become incredibly powerful today. It is a role that mixes in content curation, marketing and journalism in one. But, there's many more that combine very interesting skills and education backgrounds such as psychology and fashion consumer analytics, textile and technology, sustainability and fashion, style and brand communication, etc.

This means that you don't need to be the traditional 'creative type' who wants a career as a designer or shy away from fashion if your dream is to be an upper tier manager, CEO or even an entrepreneur leading your own business. The fashion business has changed drastically, and it's presenting some of the best jobs out there.

The good news is that, anticipating all this, AOD is presenting an award-winning, internationally recognised fashion marketing and design degree in partnership with Northumbria University UK. And, it can be fully completed in Sri Lanka!
Knowledge and skill set
The program gives insight into everything relevant from fashion consumer trends, market movements and specialised knowledge on design and material tech, etc. It taps into everything from creative and strategic thinking to public relations, influencer marketing, experiential marketing, digital marketing, content marketing and demographic specific strategies.

As for who it would suit – young business, management and marketing brains who love fashion and even students in general management, business strategy and marketing who wish to fine-tune their skills, focus their thinking and streamline their knowledge to get into the business they want to be in, and also those who want to lead their way as fashion entrepreneurs.
Industry opportunities
Although the domestic fashion market in Sri Lanka is quite young, the fashion manufacturing industry is a mature one with incredible opportunities for those who want to seize the future. The graduates of this program especially have access to fantastic opportunities from AOD's network such as Mercedes-Benz Fashion Week Sri Lanka which is one mega platform and AOD's other brainchild www.fashionmarket.lk that presents a powerful online retail portal that reaches consumers worldwide. It's a very well thought out plan for learning for industry or launching your own business. It's the must-have fashion qualification of the future!

AOD's BA (Hons) Fashion Marketing and Design degree at AOD is structured to lead management, marketing and business students towards specialising in and championing the fashion industry. The fashion education at AOD steps away from the common take on fashion that involves drawing dresses and coming up with new styles off a catalogue.

The newly-launched Northumbria UK Fashion Marketing and Design degree at AOD is setup to engage students in all aspects of fashion marketing studies, from forecasting, market research, fashion graphics, illustration, styling to promotional techniques and fashion media. This program gives an overview into Fashion business and how to drive with creativity. For those big dreamers with big ideas and entrepreneurial dreams, the course also grooms students on concept generation and understanding brand messages to design for market needs.

To find out more about how AOD educates, promotes and facilitates Fashion Business initiatives and to follow 100% internal Fashion Design and Marketing program from Northumbria University UK, reach AOD. The 2017 enrolments for AOD's Northumbria University UK degree in fashion marketing and design are open this September. For more details and inquiries, reach AOD on 011 5867772/07757277772 or visit AOD at 29, Lauries Road, Colombo 04 on weekdays.