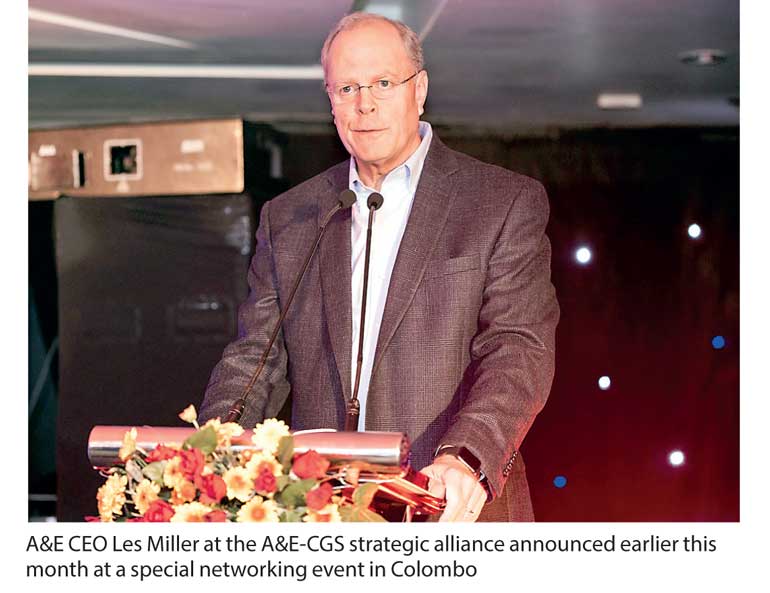 A&E, a global leader in premium quality industrial and consumer sewing thread, embroidery thread and technical textiles, announced this month its strategic alliance with CGS, a provider of business applications, enterprise learning and outsourcing services, to improve productivity, quality and employee motivation within manufacturing operations.

A&E has long been committed to assisting with the challenges global apparel manufacturers face each day and is proud to be a part of a collaborative effort with CGS that addresses these challenges.

The alliance was announced earlier this month at a special networking event in Colombo, Sri Lanka, attended by; manufacturing industry leaders; Paul Magel, President, Business Applications and Technology Outsourcing division at CGS; A&E CEO, Les Miller; along with many officials and stakeholders of A&E Lanka, a fully owned A&E subsidiary.

Many sewn products manufacturers today are challenged to improve productivity and efficiency in order to reduce throughput time and production costs and at the same time to also improve quality and reduce work in process inventory levels. CGS's BlueCherry Shop Floor Control provides powerful tools that automate the collection and reporting of production, enabling real-time shop floor visibility and control, improving factory operations and productivity while reducing costs.

Since its first real-time installation in 1984, hundreds of thousands of BlueCherry Shop Floor Control terminals have been installed, enabling apparel companies to achieve a return on investment (ROI) in just 6-12 months.

"Sri Lanka's apparel manufacturing facilities are among the most sophisticated in the world," said Miller. "These world-class operators have the ability to further enhance production efficiency through the use of A&E's premium sewing thread and CGS's real-time technology in BlueCherry Shop Floor Control."

Magel added, "We are delighted A&E is committed to the marketplace in the advancement of improved manufacturing operations and productivity. CGS is looking forward to building a strong relationship with A&E in the Sri Lanka market."

With a reputation of over 125 years, A&E is the largest US manufacturer and the world's second-largest manufacturer and distributor of premium quality industrial and consumer sewing thread, embroidery thread and technical textiles.

Through its global network, A&E's products are manufactured in 23 countries, distributed in 50 countries and sold in over 100 countries. A&E owns or operates 27 manufacturing facilities and employs over 10,000 associates around the world directly or in partnership with joint venture partners. For more information on A&E and its global capabilities, please visit www.amefird.com.

For nearly 35 years, CGS has enabled global enterprises, regional companies and government agencies to drive breakthrough performance through business applications, enterprise learning and outsourcing services.

CGS is wholly focused on creating comprehensive solutions that meet clients' complex, multi-dimensional needs and support clients' most fundamental business activities. Headquartered in New York City, CGS has offices across North America, South America, Europe, the Middle East and Asia. For more information, please visit www.cgsinc.com.