Schoolchildren surrounding the Homagama Green City, participating at the tree planting event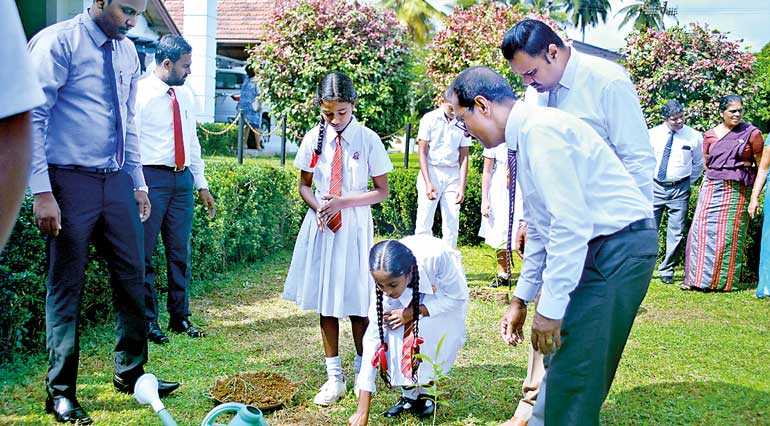 BAM Green Managing Director Hemantha Munasinghe and General Manager/Head of Marketing Dinesh Jayarathne planting a Mee tree
---
BAM Green, the most reputed solar and renewable energy company in Sri Lanka, in operation for more than nine years, wholly committed to developing and providing renewable energy related services for Sri Lanka, donated 2,000 Mee Trees to the Homagama Green City project as a joint project with The Bamunuarachchi Foundation. Another 3,000 trees to be donated and planted in properties owned by the BAM Holdings and its subsidiaries.

The ceremony welcomed over 2,000 participants and is the first project instigated and executed by BAM Green and The Bamunuarachchi Foundation for 2020, to promote sustainability through-out Sri Lanka, in an effort to move towards a new decade, with a new vision. In addition, all partic-ipants were gifted a complimentary biodegradable bag named the 'Haritha Bag'.

BAM Green selected the Mee Tree due to its ability to grow to approximately 20 meters in height and that they are predominantly found in a mixed deciduous forest. In addition, each part of this native tree is used as a versatile resource for skin care, cooking oil, detergents, fertiliser, alcohol, food as well as herbal medicines. The properties of the tree allow for chemical absorption from the soil and works to double the creation of oxygen. It is considered holy by many tribal communi-ties because of its usefulness.

Forging forward with the vision to become a leading Engineering, Procurement and Constructing (EPC) contractor in Sri Lanka for utility scale renewable energy projects. Offering the latest tech-nologies to provide a value for money product, BAM Green has passed many milestones in the re-newable energy sector of the country, such as installing the very first Solar Net Metering system in the country; the very first Net Plus system; the very first Hybrid project; installing the most number of large scale projects; and contributing nearly 15 Megawatts to the national grid.

BAM Green provides the world's best quality photovoltaic solar panels and inverters and provides energy solutions such as on grid, off grid and hybrid renewable energy systems, standalone light-ing systems for both domestic and industrial sectors, changing the industry within Sri Lanka, sub-stantially. BAM Green Ltd. Managing Director Hemantha Munasinghe noted, "BAM Green hopes to use the latest technology including artificial intelligence (AI) to provide the best solutions for the upcom-ing year. These technological improvements shall be introduced to the company in terms of providing accurate and punctual service facilities to our existing customers. Together with the re-duction of the carbon footprint (CO2) through renewable energy, we hope to focus more on waste to energy in 2020, particularly on waste management procedures and to build a greener and cleaner environment. We shall put our maximum effort to initiate this diversity in the near future, providing a practical and reliable solution for waste management."

"BAM Green prioritises sustainability and the use of renewable energy. As the pioneers of the in-dustry, we continue to successfully secure the trust of our valued customers by delivering unique, quality products and services. As we look to 2020, BAM Green is expected to introduce cutting-edge renewable energy solutions to the market. It is indeed a blessing that we are backed by BAM Holdings, one of the most reputed and reliable organisations in the country, since the beginning of this journey towards clean energy," BAM Green Ltd. General Manager/Head of Marketing Dinesh Jayarathne said.