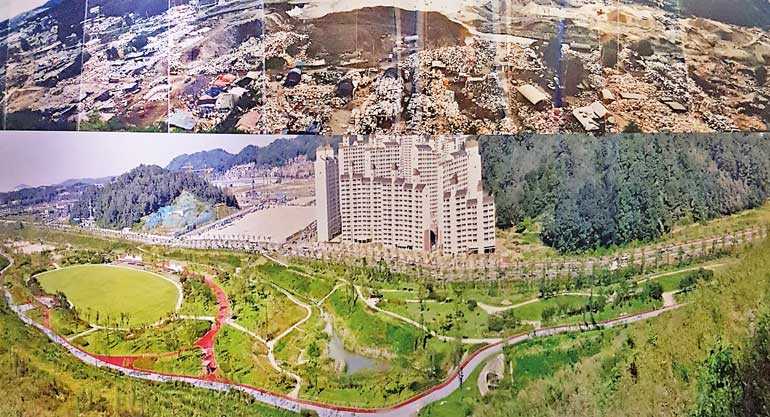 By Nisthar Cassim

Waste is a global problem with many countries especially developing nations continuing to grapple with finding the right solution. Industrious South Korea which too faced many challenges in dealing with its waste once upon a time has transformed to a successful model for waste management which developing countries can emulate.

On an invitation from the Korean Culture and Information Service (KOCIS), the Daily FT recently had the opportunity to learn about how Seoul has successfully implemented a well-planned, executed and monitored multi-pronged waste management solution.

Korea has the biggest rate of per capita garbage production in the world (2.3 kg/person) with city Seoul generating over 40,000 tons of waste per day including nearly 10,000 tons of domestic waste per day with each person contributing 1 kilo daily.

Seoul has a population of nearly 10 million with a per capita income of $43,000.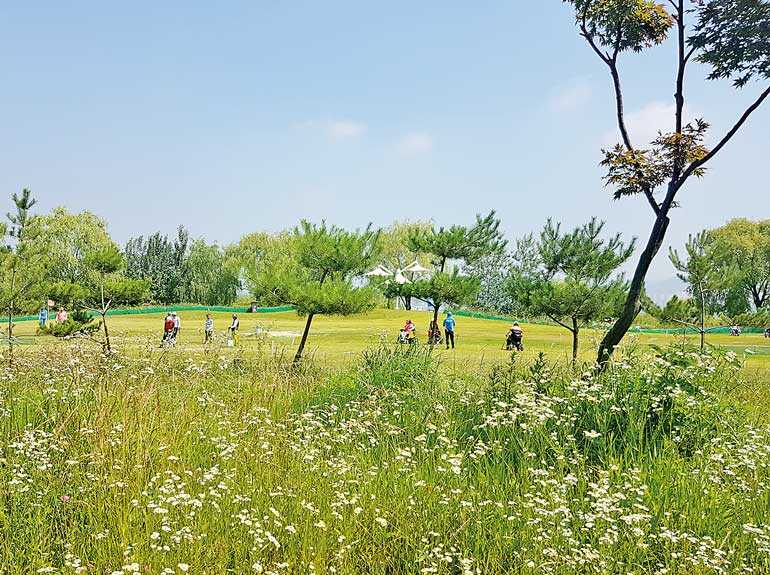 The Seoul Metropolitan City has been leading the way in South Korea's overall nationwide efforts in waste management. Waste to energy is a cornerstone of this strategy but the city's Sudokwon Landfill Site (which is said to be the world's largest) defies anyone's imagination of how such a facility or location can be transformed to a picturesque tourist site and an ecological park. 'Waste to energy, Landfill to Dream Park' theme of the Sudokwon Landfill Site Management Corporation (SLC) is not just a nice slogan but a living example of what countries or cities can do if there is clear vision and sincere commitment to deal with waste.

The waste problem faced by Seoul was serious and growing. For example way back in 1980s, the city was generating nearly 30,000 tons of waste daily. This was the by-product of a rapidly industrialising city. In 1978, Nanjido, an island on a branch of the Han River of Seoul, Korea was chosen as the city's official dump site for its easy accessibility and distance from the downtown Seoul.

As per Korean language the word Nanjido means an island of abundant orchids and gromwells offering beauty, but it turned out to be the place for trash in plenty. The waste was used to be dumped at Nanjido a landfill occupying 2.7 million square metres for 15 years turned out to be the place for mountainous garbage rising a staggering 98 metres akin to Sri Lanka's Meethotamulla. Nanjido was a thriving place for scavengers trying to find a livelihood out of trash. The Nanjido site was so hazardous there had been several fires and the overall danger and resultant pollution forced the closure of the site.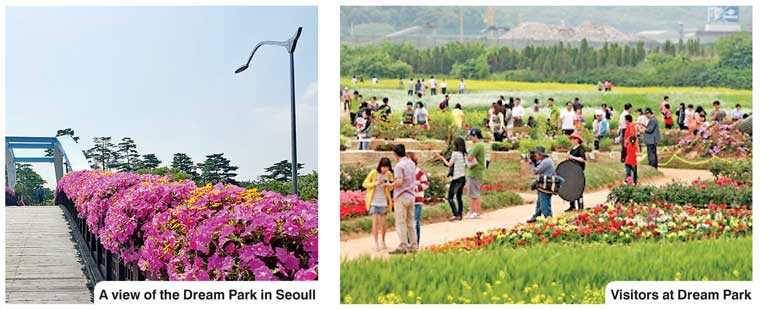 Master plan for pollution control and landfill recovery

In the early 1990s the city administration came up with a master plan for pollution control and landfill recovery project leading to the Nanjido Landfill Improvement Plan. A permanent solution was also warranted as Seoul was to host the 2002 Soccer World Cup.

The project consisted of four major components: Gas treatment to collect and dispose of the poisonous gases; leachate treatment to erect leachate vertical barriers and purify the contained water; slop stabilisation to management the environment around the landfill; and a top soil covering to protect the top of the landfill with soil, thereby creating an environment for grasses to flourish. As the waste decays, poisonous gases such as methane and carbonic acid gas are generated. These gases not only pollute the air but may also catch fire or explore. To collect the gas the authorities set up 106 landfill gas extraction wells and the extracted gases are transported through a gas collection pipe and utilised as an energy source for heating and cooling houses and the World Cup stadium nearby.

Today the whole area of 2.8 million square meters has been transformed into five different theme parks, welcoming 9.8 million visitors every year. The five parks are equipped with conservation facilities for further revival of diversified ecological system. It also has a golf course for differently-abled, camping sites and a popular venue for open-air weddings.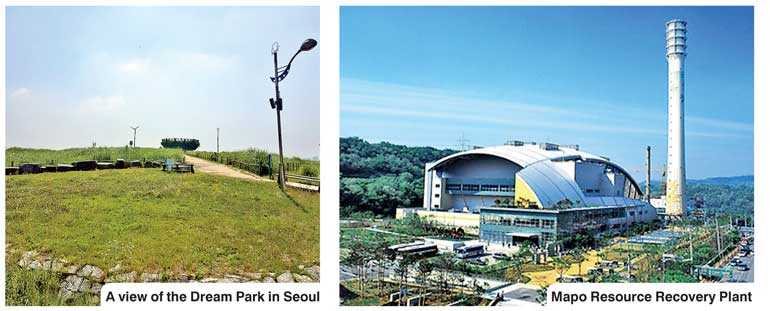 Indeed Nanjido is an exemplary environmentally friendly town where human and nature co-habit in harmony.

Given its success the Sudokwon Landfill Site and Ecological Park have become a case study for other countries and their municipalities. The Seoul Metropolitan Government has provided technical knowledge to all those who are keen to learn and implement some of the measures in their home countries.

The Seoul city also another waste management facility called the Mapo Resource Recovery Plant which incinerates 200,000 tons of waste per annum.

The facility was created in 2005 after prolonged use of landfills made it necessary to incinerate garbage waste in the northwest region of Seoul. Wasted generated in Seoul is safely incinerated at high temperatures and recycled thermal energy is captured and recycled for various services including district heating, and creating a clean and comfortable environment. It also monitors the status of the emitted pollutants 24x7 and is open to the public through the electronic panel.

The Mapo Resource Recovery plant consists of Incinerator (it utilises a high quality industrial grade incinerator capable of handling waste reliably and in an efficient manner), Waste heat boiler (capable of recycling the high temperature gases that are produced from the incinerator into a high-pressure steam (208.9, 18kg/cm2), Semi-dry reactor (acts as a filtration system removing HCI and SO2 in the combustion gas, which tend to accumulate lime slurry. The reactor is also equipped to remove primary heavy metals by adsorption and condensation), Bag filter (a system that remove the primary dioxin with approximately 99% removal of dust, heavy metals, and acidic gasses.

An activated carbon adsorption process performs a secondary removal), SCR catalyst tower (for the removal of NO2 and other secondary dioxins with a catalytic layer by an ammonia reduction reaction), Regulation filters (Second-order filter which is an activated carbon dioxin filtration system acts as a secondary adsorption process of slaked lime spray, and heavy metals after the SCR catalyst tower) and Steam Turbine generator (Steam generated by the incineration of waste is recycled into a generator and utilised as power becomes more needed while surplus power is captured and sold to the Korea electric power corporation).

Converting 200,000 tons of waste to energy is equivalent to providing 41,000 barrel of crude oil energy 13,000 ton of greenhouse gases and planting 47 million trees according to Mapo officials.

Through concerted and well planned initiatives and policies, Seoul has reduced amount of buried waste by 94% over the past two decades and recycling has been doubled.
---
Volume-based waste fee system
In 1995 the Korean Government implemented a "volume-based waste fee system' nationwide that imposes feed based on the amount of discharged waste in order to reduce waste and promote recycling.

The system requires the use of designated bin bags that care categorised into bags for general waste, recycles and public waste. The size of the bags varies from 3 litres to 100 litres and the price also differs according to regions.

Once domestic waste discharged from households or commercial buildings is disposed in a government-issued trash bag and kept at a place and time designated by the district, a cleaning service agency collect and transports the wastes for incineration or landfill.

The Seoul Metropolitan Government works with the public cleaning service agencies that are in charge of road cleaning and private sector cleaning service agencies that collect and transport recyclables and general waste discharged in volume-based disposal bags.

Seoul residents are required to sort out their wastes properly since over 50% of the waste disposed in government-issued garbage bags are recyclable items. Each district monitors the status of garbage disposal and recycling, imposing fines of up to 1 million KRW for violations of the garbage disposal guidelines.