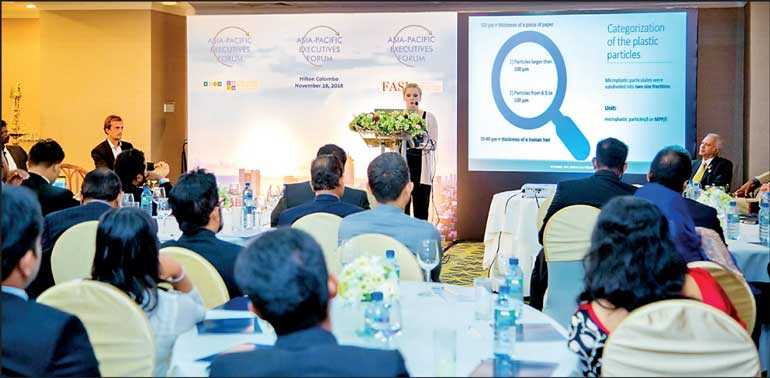 Elina Gansweith is addressing at the Asia-Pacific Executives Forum at Hilton Colombo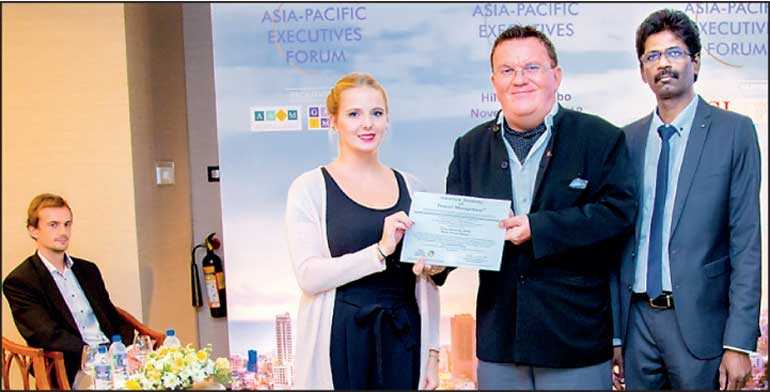 Elina Gansweith is awarded 'Master Project Manager' Certification from Colorado, USA based American Academy of Project Management (AAPM) for her works on 'Micro Plastic in Bottled Drinking Water'; she receives her certification from Dr. Dietmar Doering, Founder/CEO of the AGSEP and Rajkumar Kanagasingam, Representative for AAPM in Sri Lanka and The Maldives
---
By Elina Gansweith
My works on this subject is based on the research of 'Synthetic Polymer Contamination in Bottled Water' undertaken by three scholars attached to State University of New York at Fredonia.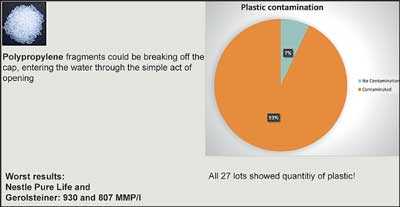 Plastic is defined as any synthetic or semi-synthetic polymer with thermo-plastic or thermo-set properties, which may be synthesised from hydrocarbon or biomass raw materials.

Plastics production has been increased since its inception at consumer usage level, from 1 million tons in 1945 to over 300 million tons in 2014.

Plastic is light-weight and durable and resistant to breakage and biodegradation.

It is composed of hydrocarbon chains to a large extent. It lacks double bonds or other functional groups which facilitates its stability to its molecules. Because of its synthetic nature, most of the living microorganisms are unable to consume it as a food source.

Thus while plastic will break into smaller and smaller particles via photo-oxidative mechanisms, the fundamental molecular structures of the material change very little throughout that process.

Plastics become micro plastics become nano plastics, but they are all plastics, just of increasingly smaller size, allowing them to be more easily ingested and perhaps even cross the gastrointestinal tract to be transported throughout a living organism.

The rise in plastics manufacture has started to pollute oceans, and later inland lakes and seas, rivers, wetlands and affected every other species, plankton to whales. This has led more researchers to investigate various consumables for the presence of plastic; fish, mussels, beer and sea salt are among them.

The three scholars selected for their research process total 259 bottles of water from 11 brands across 27 different lots purchased from 19 locations in nine countries.

Sample lots were procured from five continents considering the size of the national packaged drinking water market (China, USA, Brazil, India, Indonesia, Mexico), and high per capita consumption of packaged drinking water (Lebanon, Mexico, Thailand, USA).

Leading international brands in this study included Aquafina, Dasani, Evian, Nestle Pure Life, and San Pellegrino.

Leading national brands included Aqua (Indonesia), Bisleri (India), Epura (Mexico), Gerolsteiner (Germany), Minalba (Brazil) and Wahaha (China).

They analysed micro plastic contamination using a Nile Red stain, which adsorbs to polymeric material and fluoresces under specific wavelengths of incident light.

Of the 259 total bottles analysed, 93% showed signs of micro plastics.

Infrared analysis of particles greater than 100 micrometres in size confirmed micro plastic identity and found polypropylene to be the most common (54%) polymeric material, consistent with a common plastic employed to manufacture bottle caps.

Smaller particles (6.5-100 micrometres) could not be analysed for polymer identification given the analytical limits of the lab. While these smaller particles could not be spectroscopically confirmed as plastic, Nile Red adsorbs to hydrophobic ('water-fearing') materials, which are not reasonably expected to be naturally found within bottled water.

The FTIR analysis of larger (>100 um particles) fluorescing particles, all of which were confirmed to be polymeric, provides additional support of the selective binding of NR to micro plastic particles within the samples.

They have concluded with prior studies of other researchers that at least part of the micro plastic contamination is arising from the packaging material and/or the bottling process itself.
(The writer is a German university intern attached to AGSEP and undertaking 'Micro Plastic in Bottled Drinking Water' as her internship.)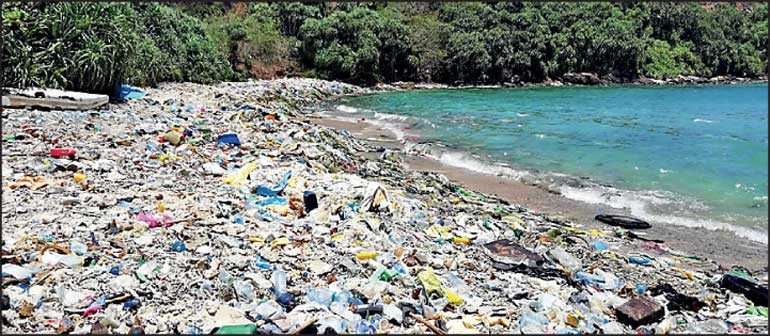 Polluted beach in Kudawella, directly next to the tourist attraction Hummanaya Blowhole – Pix by Elina Gansweith on 6 September