The team behind the Badagamuwa Environmental Information Centre project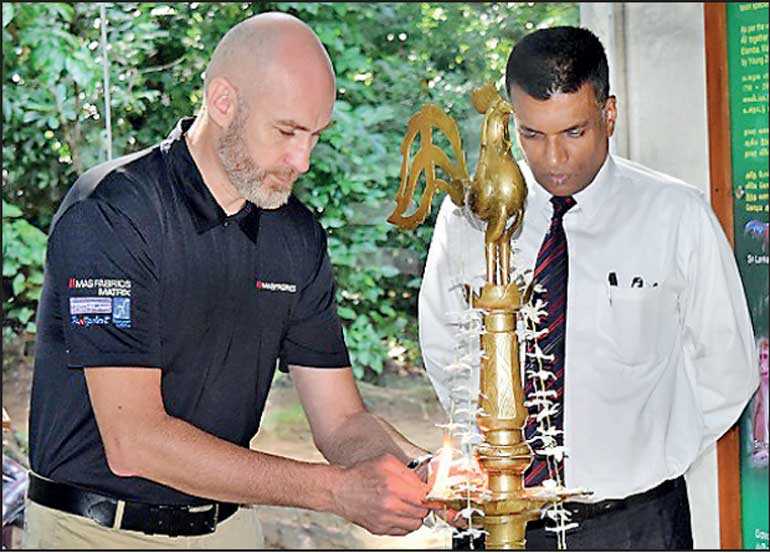 MAS Fabrics Matrix CEO Ivan Brown lighting the traditional oil lamp at the opening ceremony of the facility
---
Aims to create awareness of native ecosystem among students, locals and foreign tourists
MAS Fabrics, the globally lauded end-to-end supply chain operation of MAS Holdings, ceremoniously opened the refurbished Badagamuwa Environmental Information Centre to the public as means to create more awareness on the unique biodiversity of the Badagamuwa Conservation Forest located in Kurunegala.

This project was carried out in partnership with the Forest Conservation Department. The ceremony was held under the patronage of Forest Conservator General Anura Sathurusinghe and MAS Fabrics Matrix CEO Ivan Brown.

MAS Fabrics outfitted the Information Centre with a model of the forest along with information boards, leaflets and images in order to disseminate insightful knowledge on the history, ecosystem services, forest policies and objectives of the forest among school children as well as local and foreign tourists.

The Centre, considered a vital resource for school children to expand their knowledge on natural forest habitat and best practices in conservation, now offers an engaging educational program curated by MAS Fabrics along with the provision of all required display material, furniture, hand-outs together with water, electricity and sanitary facilities.

The University of Peradeniya too, extended their support to the cause by conducting a comprehensive biodiversity survey and providing herbarium sheets of preserved plant specimens to the list of available resources at the Information Centre.

MAS Fabrics partnered with the Forest Department of Sri Lanka in 2017 to address the rapid degradation of the 202-hectare Badagamuwa Conservation Forest, steering an environmental sustainability drive to revive the ecosystem that has suffered decades of pollution, poaching, deforestation and loss of habitat to rapidly expanding human settlements. MAS Fabrics has initiated a five-year plan to restore the forest back to its natural habitat through reforestation of native species, eradication of invading creepers, and dissemination of knowledge.

Sri Lanka's forest cover is rapidly declining by 8,000 hectares per year, mainly due to deforestation and human intervention. As an environmentally conscious Group that has spearheaded numerous initiatives to establish environmental sustainability, MAS Holdings aims to replace habitats by 100 times the space they occupy, which is approximately 25,000 acres of land by 2025.