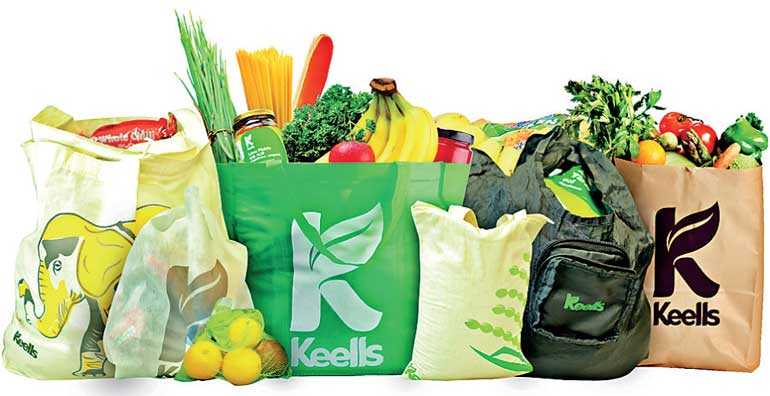 ---
Overall single use polythene bag usage to be reduced by 35%
Keells pledged in July 2019 to reduce by 50% single use polythene bags by 2025
Positive results during last six months; more than 50,000 Keells customers bringing their own bags
New in Jan 2020: Compostable bags in the fresh vegetable and fruit department; bags that can be reused to purchase essentials like rice and dhal; Bring Your Own Packaging (BYOP) now extended for bakery items
Transparent progress tracker set up at selected stores giving customers visibility on progress of the pledge
Keells with these initiatives becomes most environment friendly large-scale supermarket chain in Sri Lanka
Keells became the first retailer in Sri Lanka to make a bold commitment in July 2019, to embark on a journey to reduce 50% of the single use plastic bags and in-store prepared food packaging by 2025.

Several initiatives were implemented and has resulted in more than 50,000 customers bringing their own bags to stores and a significant number of customers bringing their own containers for fish and meat items.

These encouraging improvements together with the positive feedback that customers continuously give, has supported Keells to now move to the second phase of this journey.

The community boards at Keells stores has an update on the progress that Keells has made from July 2019, including the initiatives that have now been implemented giving customers visibility on the progress.

Latest introductions include compostable bags for the vegetable and fruit section in addition to meats and seafood which will reduce the usage of single use polythene bags significantly by bringing the total conversion of polythene to compostable bags to a 35%. The concept of Bringing Your Own Packaging (BYOP) has now being extended for bakery items from fish and meat which was introduced in July 2019.

New reusable cloth bags to carry essentials such as rice, dhal and green gram along with a convenient foldable bag named the 'wallet bag' for groceries and household items now offer customers more ways to reduce polythene.

Keells will continue to offer a Rs. 4 discount for each reusable bag which is reused when shopping to reward customers for actively partnering with Keells. Continuous training for the Keells team is also part of a larger plan to ensure to strive and change behaviours and take all stakeholders along on this journey.

This initiative is also being driven at a corporate level on how the team members can reassess current work routines to reduce the use of single use polythene/plastics.

"One of such ideas came to life when the festive décor at all Keells Stores during December 2019, was made of out of environmentally-friendly material," said Keells Head of Marketing Nilusha Fernando.

She also said: "This sparked the team to also venture into reducing the use of plastics in promotional material used at stores switching to 'cardboard corrugate material' instead of plastic corrugate. This initiative will provide a significant reduction in usage of plastic by 765kg per month."

"We at Keells are truly committed towards reducing the usage of single use polythene at stores and are looking at new initiatives to reduce our plastic footprint. This puzzle that is plastic can only be solved with all stakeholders coming together to solve it. Certain areas of finding alternatives to reduce the usage of plastic has been difficult than others, but we will strive to move ahead on this journey we embarked upon," said John Keells Group President Retail Charitha Subasinghe.

"We thank our valuable customers for their continuous feedback and encouragement and look forward to more customers and partners joining us in our journey to bring '#togetherwecan' reduction in single use plastic and make it a reality by 2025."

The Keells supermarket chain currently has 106 stores, and is a subsidiary of John Keells Holdings PLC (JKH), Sri Lanka's largest listed conglomerate in the Colombo Stock Exchange operating over 70 companies in seven diverse industry sectors and in 2020 John Keells Group celebrates 150 years being in business and contributing to the Sri Lankan economy and development of the country.

JKH provides employment to over 14,000 persons and has been ranked as Sri Lanka's 'Most Respected Entity' for the last 14 years by LMD Magazine. Whilst being a full member of the World Economic Forum and a Member of the UN Global Compact, the Group drives its vision of "empowering the nation for tomorrow," through the John Keells Foundation and through the social entrepreneurship initiative, 'Plasticcycle' is a catalyst in scientifically reducing plastic pollution in Sri Lanka.