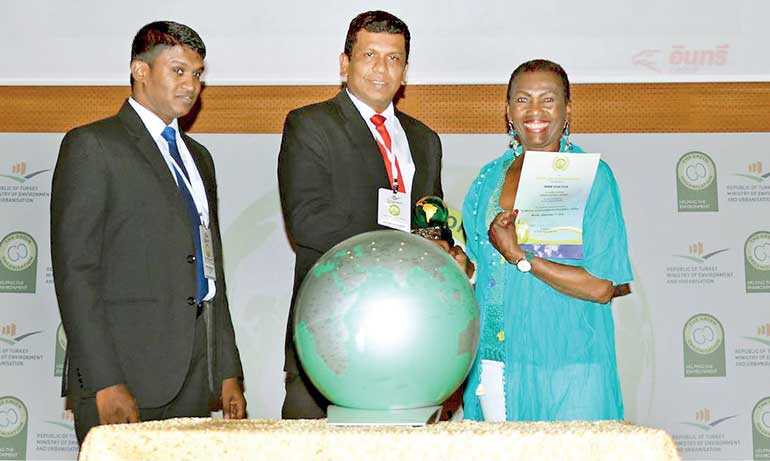 The Green Organization Head of International Communications Louise Rose-Hazell presenting the green award to INSEE Ecocycle (Lanka) Director Sanjeewa Chulakumara and INSEE Ecocycle (Lanka) Health and Safety, Environment and Stakeholder Relations Manager Kirama Chandrakumara
INSEE Ecocycle has clinched a coveted accolade at the Green World Award, the annual international campaigns to recognise, reward and promote environmental best practices around the world. The award ceremony was held on 17 September in Ankara, Turkey.

The award recognised INSEE Ecocycle, founded in 2003 on the need to produce, through a strategic waste management operation, through cement kiln co-processing most accepted technology in the world.

The Green World Awards are fundamental to The Green Organization's philosophy of helping others to help the environment. The prestigious awards ceremony is held in a different country every year – raising awareness and involvement around the globe. It began in London, followed by winners from around the world attending events in New Zealand, South Korea and Dubai. This year it was held in Ankara. The journey continues, and every carbon footprint caused by winners and their guests is offset by the planting of trees in co-operation with Green Earth Appeal and the United Nations.

Launched in 1994 by The Green Organization, the award has become well-established as one of the most popular environmental campaigns in the world. Now extended to Green World Awards – the biggest environmental awards campaign on Earth, the award receives entries from governments, ministries and regional authorities as well as companies, organisations and communities across the private and public sectors.

INSEE Ecocycle is the only comprehensive industrial waste management solutions provider in Sri Lanka led by a team of highly competent experts in the field, and has carried out complete waste destruction ,utilising the internationally benchmarked and proven 'Co-processing' technology of treating waste in cement kilns. INSEE Ecocycle disposes hazardous waste at a destruction efficiency rate of 99.9999999%.

The technology is approved and endorsed by international institutions such as the World Health Organization, Deutsche Gesellschaft für Internationale Zusammenarbeit GmbH, the Basel Convention and the Stockholm Convention as well as local government agencies such as the Central Environment Authority and the Ministry of Environment and Mahaweli Development. Capable of reaching an annual capacity of 100,000 MT, INSEE Ecocycle provides environment friendly solutions to over 600 industrial organisations in managing hazardous waste, including government institutions in Sri Lanka.

To date the company has eliminated over 600,000 MT of industrial waste with a continuous investment of Rs. 1.9 billion over a period of 15 years. The initiative has culminated into the first and largest safe disposal of a socially harmful substance conducted in Sri Lanka in January 2018, contributing as a responsible corporate citizen towards the presidential mandate of building a drug-free nation.

INSEE Ecocycle introduced 'co-processing' to Sri Lanka – an innovative use of waste as raw material, or as a source of energy to replace natural mineral resources and fossil fuels in industrial processes. The use of cement kilns for the combustion of hazardous waste results in no environmental liability, and ensures the continuous monitoring of emission levels along with the cement manufacturing operation.

INSEE Ecocycle helps public and private organisations across Sri Lanka meet their environmental goals through industry leading sustainable waste solutions. Equally important, INSEE Ecocycle today makes a far greater contribution to the national waste management crisis in Sri Lanka as a responsible corporate citizen. Some of the key national level waste management solutions carried out by INSEE Ecocycle includes Safe disposal solution for cocaine for first time in Sri Lanka.

INSEE Ecocycle is aiming to expand beyond cement kilns namely 'INSEE Ecocycle Environment Solutions' includes services such as, laboratory services, training and consultancy, industrial cleaning, specialised logistics service, environmental remediation, emergency response services, e-waste disposal and many more.