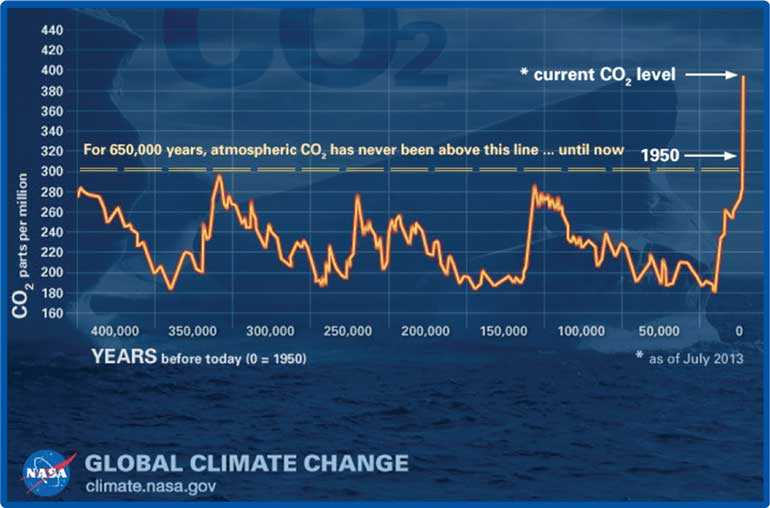 By a Special Correspondent

Last month Costa Rica became the first nation on the planet to commit to banning fossil fuels entirely by 2021.1 The declaration comes after running on 100% renewable electricity for more than 300 days in 2017.2 This is real-world proof that the energy transition predicted in the newly-released Bloomberg New Energy Outlook3 is not just possible, it is gaining momentum. Bloomberg New Energy Finance (BNEF) shows that solar and wind will easily provide 48% of the world's energy by 2050, which is a conservative estimate given their analysis excludes the impact carbon pricing and taxes will have on relative energy costs and the pace of the transition.

Notably, BNEF also found that even this large of a shift will be insufficient to keep global temperature rises below 2℃. 2℃ is the maximum temperature increase society can allow,4 and the Paris Agreement5 baseline, if we want to avoid the world becoming "ungovernable,"6 as indicated by former NASA climate research head James Hansen, or "hell on earth,"7 as described by Dr. Jeremy Leggett.

The fact is, despite the efforts of some in the energy industry to obfuscate the facts,8 and after significant debate and research,9 there is a viable approach10 to keeping temperatures below a 2℃increase. This approach relies on established technologies, not those that will almost certainly never live up to their hype.11 Simply put, our best, and perhaps only, option is to follow Costa Rica's lead, transition to 100% renewable energy and eliminate fossil fuels entirely across all sectors as quickly as possible. A transition to 100% renewable energy will:
Cost approximately $ 100 trillion at 2015 prices and take until 2050 to complete, an average of $ 3.1 trillion per year between now and 2050.12
Eliminate the $ 5.3 trillion annual fossil fuel subsidies13 at 2015 prices to the fossil fuel companies once completed.
Therefore result in a net savings to society of more than $2.2 trillion per year, with savings likely to be higher as renewable energy prices are falling significantly faster than inflation and will most likely continue to do so.14
Rely on intermittent renewable energy sources such as solar and wind backed up by dispatchable sources of electricity such as batteries, hydro, and geothermal; this new paradigm will replace the old model of baseload and peaker plants.15
Save at least 4.2 million lives per year,16 and improve health for the 91% of the world's population currently breathing air which exceeds the WHO safety guidelines.
Require funding not just from traditional sources but utilise new approaches and financial tools to improve project bankability and tap the broader capital markets.17
Require everyone to drive electric cars, which are already cost-competitive with internal combustion engines,18 and may be the only cars available by 204019 or 2050.20
Require shipping and aviation to switch to hydrogen fuel cells21 or batteries;22 a shift that is already starting.
Require industry to shift exclusively to electricity-based manufacturing using technologies such as 3-D printing,23 and electric arc24 and induction furnaces.25
If we accomplish all of this, we have a good chance of beating the 2℃target. If we also restore the planet's natural carbon sinks by replanting26 the three trillion trees we've chopped down,27 and we change our diets,28 then we may even be able to return our air quality and temperatures to the levels that existed for the last 650,000 years.29

If you want to do your part to help accelerate the transition you can join the Solution's Project,30 The Climate Reality Project,31 RE100,32 or Go 100%,33 and buy electric for your next car. You can also learn more by reading the sources linked to throughout this and my previous articles.34 Get informed, then get busy. We have a lot of work to do.


(The writer can be reached via info@carbonnegative.energy.)


Footnotes
https://www.independent.co.uk/environment/costa-rica-fossil-fuels-ban-president-carlos-alvarado-climate-change-global-warming-a8344541.html



https://www.ecowatch.com/costa-rica-renewables-2511342138.html
https://about.bnef.com/new-energy-outlook/
https://www.ipcc.ch/report/ar5/
https://treaties.un.org/doc/Treaties/2016/02/20160215%2006-03%20PM/Ch_XXVII-7-d.pdf
https://futurism.com/former-nasa-climate-chief-warns-that-earth-could-become-practically-ungovernable/



https://medium.com/insurge-intelligence/global-civilisation-to-descend-into-hell-on-earth-unless-we-choose-a-new-paradigm-e516811317a4
https://www.ucsusa.org/global-warming/fossil-fuel-companies-knew-about-global-warming
https://s3.amazonaws.com/takeshape-api.prod.assets/1f1d0876-be74-4b33-99c8-6ac93f1d70db/dev/1483d453-2c78-4c90-bf19-955ffba62cc4/Article-Brown-RSER.pdf



https://www.leonardodicaprio.org/the-benefits-of-139-countries-switching-to-100-renewable-energy-by-2050/



https://www.ecowatch.com/costa-rica-renewables-2511342138.html
http://web.stanford.edu/group/efmh/jacobson/Articles/I/CountriesWWS.pdf
https://www.sciencedirect.com/science/article/pii/S0305750X16304867
https://about.bnef.com/new-energy-outlook/



http://ceem.unsw.edu.au/sites/default/files/documents/100pc%20RE%20-%20Research%20Summary-2016-03-02a.pdf
http://www.who.int/airpollution/en/
https://www.linkedin.com/pulse/how-finance-us100-trillion-renewable-energy-investment-michael-grimm


http://news.mit.edu/2016/study-finds-low-emissions-vehicles-less-expensive-overall-0927
https://news.nationalgeographic.com/2017/09/electric-cars-replace-gasoline-engines-2040/
https://www.shell.com/promos/an-overview-of-sky/_jcr_content.stream/1529671502852/c8215c99a134133c7ce287e1b2ad39e2bca600109552dd03dea22b6014ea7288/sky-scenarios-leaflet.pdf
https://www.marineinsight.com/green-shipping/top-5-zero-emission-ship-concepts/
https://www.independent.co.uk/travel/news-and-advice/electric-planes-aircraft-rolls-royce-airbus-siemens-easyjet-2027-hybrid-a8079841.html


https://www.economist.com/leaders/2017/06/29/3d-printers-will-change-manufacturing
https://www.azom.com/article.aspx?ArticleID=12054
http://www.atlasfdry.com/inductionfurnaces.html
https://www.weforum.org/agenda/2017/06/drones-plant-100000-trees-a-day
https://www.nature.com/articles/nature14967
https://www.ucdavis.edu/news/diet-helps-fight-climate-change/
https://climate.nasa.gov/evidence/
http://thesolutionsproject.org/
https://www.climaterealityproject.org/
http://www.go100percent.org/cms/
https://www.linkedin.com/pulse/carbon-negative-under-decade-bust-how-why-michael-grimm
https://medium.com/@CarbonNegative/the-new-energy-paradigm-and-beating-climate-change-in-1-page-b51f8c7589eb