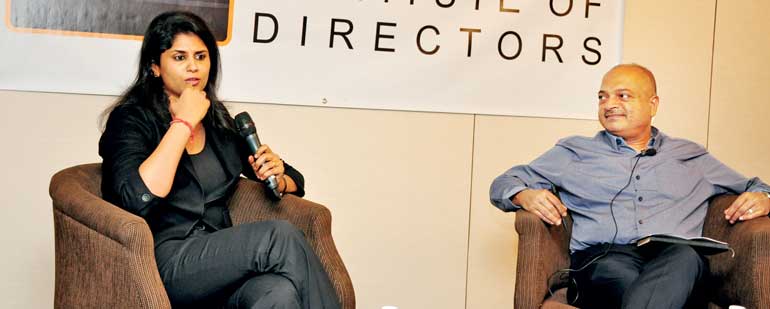 Forbes' magazine's 2017 list of 30 under 30 in Asia and Universal Sportsbiz founder Anjana Reddy at the Sri Lanka Institute of Directors (SLID) Power Evening/Fireside Chat with host Daily FT Editor Nisthar Cassim
"Success is the result of perfection, hard work, learning from failure, loyalty and persistence" – Colin Powell – which is exactly what Anjana Reddy has done within a short span of time and this achievement recognised by being named in the Forbes' magazine's 2017 list of 30 under 30 in Asia.

A fourth generation female entrepreneur, Anjana ventured out of the family business and founded Universal Sportsbiz Pvt Ltd (USPL) to bring together sports and fashion in a unique way to successfully build three great celebrity-endorsed brands Collectabillia, Wrogn and Imara. Her brands sell in more than 70 stores, as well as on e-commerce platforms like Myntra.

Anjana shared her journey with the Sri Lanka Institute of Directors (SLID) at a Power Evening/Fireside Chat sponsored by Sunshine Holdings. She was interviewed by senior journalist and Editor of the Daily FT Nisthar Cassim who skilfully navigated the discussion to gain insight to her amazing story.

As the old saying goes, "If it were easy – everyone would do it." SLID Chairman Preethi Jayawardena shared in his introduction, that her entrepreneurial flair was first seen when she was still in school where she set up a table to sell books at a parent teacher meeting.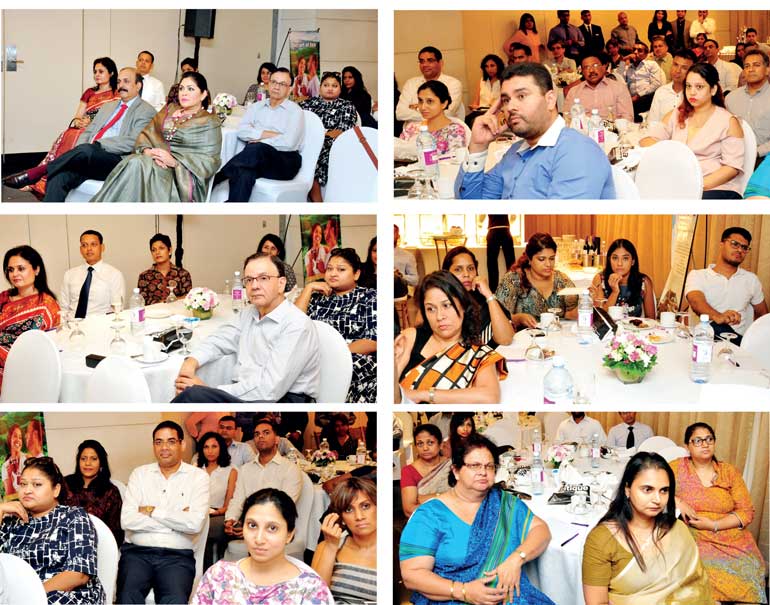 Do your own thing

When she completed her post graduate studies in 2011, Anjana had a couple of career choices available. She could join her family's media business, take up a corporate job in the US or venture out on her own. She chose to do the most difficult of all things, which was to become an entrepreneur and to stand on her own two feet without taking the easy way out and relying on the backing of her family. She did it her own way on her terms. She shared the fact that her mother was an entrepreneur herself who is a source of inspiration and influence.

Interestingly, Anjana, a former national badminton player in India, conceived this idea around sports memorabilia while in college. In her final year in college, she founded 'Collectabillia' where she sourced sports products and paraphernalia owned by super stars. She was obsessed with building a brand and worked only with the best sporting names.


Don't give up on your dreams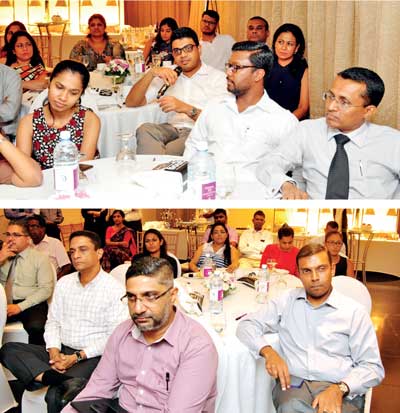 She shared her story about how at the beginning when she approached investors they were sceptical about her plans, her young age and her ability to achieve the ideas that she had. They wanted to know who she was going to sign up as the face of the brand. Without hesitation she audaciously named Sachin Tendulkar although she did not know him personally or have any links to him. She had set herself a tall goal and was determined to make it a reality.

At that time Sachin Tendulkar was still playing actively and had limited time to discuss commercial opportunities. Besides, he already had a plethora of existing brand commitments that kept him busy. After over a year of getting the answer 'no' her perseverance paid dividends when he finally agreed to meet her. A chance seating on a flight heading back to the US she sat next to a common friend, whose daughter had played badminton with her, who agreed to put her in touch with him. He believed in her idea and was also an investor in her first round of funding. Later Accel Partners, a US based venture capital firm which has invested in companies like Facebook, Flipkart and Angry Birds, invested in her company.


Making the right decision at the right time

She was forthright and open about the challenges and failures that she faced. One of the biggest challenges she faced was when with the World Cup in 2015 she was licensed to manufacture and sell cellphone, tablet and laptop covers featuring Lionel Messi. Although at the time it looked as if it was a great venture the idea tanked as it did not take off as envisaged and Anjana was faced with a tough decision to make.


Whatever you do, be different!

This is when her next idea came about. She had noticed that celebrity endorsed branded apparel were selling well and that in India there was a gap in the 16-35 age fashion category at an affordable price. Anjana made a quick decision to turnaround the company by launching two brands: 'Imara' for women and 'Wrogn' for men. Her goal is to build an Indian brand that is global.


Taking risks

Her biggest risk was to sign up Virat Koli as the brand ambassador for 'Wrogn' when he was going through a tough time in his career. Even Virat himself was not sure of signing up with a brand called Wrogn but Anjana's persistence convinced him to sign up. With her out of the box thinking she has made a positive connection with a word that is negative "Two rights make a wrong". The risk paid off when Virat's career took off and the brand became successful.


Nothing comes easy

Her success is due to her hard work. She works 18 hours a day, loves cars, cares for eight dogs and builds Lego sets to ease her mind after a hard day's work. She admits that she doesn't have time to have an active social life but she has a close circle of six childhood friends who she spends time with. She is down to earth and when you meet her you would not be able to tell that she runs a successful business. Her tenacity to succeed is what has made her successful. As she says, "Be really passionate about what you do. Gender doesn't matter, it is what you bring to the table."

The closing remarks were delivered by SLID CEO Chamind- de Silva who thanked the Event Gold sponsor Sunshine Holdings, SLID's annual corporate partners Janashakthi Insurance, IronOne Technologies, Pyramid Wilmar, Stafford Motors, annual print media partner Wijeya Newspapers, Anjana, Nisthar and the participants for attending the event. The evening concluded with a drinks reception.

Pix by Lasantha Kumara