Forbes 30 Under 30 Anjana Reddy inspires with her success at 'Young, bold and daring – the spirit of young entrepreneurs for a country enriched' forum
By Shannon Jayawardena

The 28 year old talented young entrepreneur Anjana Reddy who earlier this year was listed under 'Forbes 30 under 30' gave out an inspirational keynote at the recently held 'Young, bold and daring – the spirit of young entrepreneurs for a country enriched' discussion forum. Not only is she young, bold and daring but owns an Indian Rupees 61 crore business which is on the edge of becoming one of INRs. 100 crore by the end of this year.

The National Human Resources Development Council of Sri Lanka kicked off the discussion forum and workshop last week with the aim of aspiring young entrepreneurs, the way young Reddy is currently doing so herself.

Universal Sportsbiz Ltd. (USPL) Founder Anjana Reddy, the budding young business woman who owns the brands Collectabillia, Imara and Wrogn together with Virat Kholi, Shraddha Kapoor and Kriti Sanon as her brand ambassadors shared with the audience some great insights on how to run a smooth and successful company at such a young age.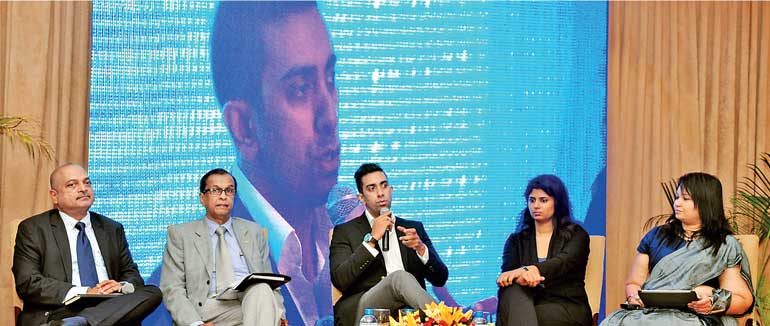 Spa Ceylon Director Shalin Balasuriya addresses the forum. Others from left are Editor in Chief Daily FT Nisthar Cassim, BMICH Director/CEO Sunil Dissanayake, Universal Sportsbiz Managing Director Anjana Reddy and Moderator National Human Resources Development Council Chairperson Chiranthi Cooray
Speaking about her story of success, she stated, "India being such a large country and cricket being religion I thought why anyone didn't do it. So that's how it started. I gave myself a task which has now become our company's mission. When it comes to fashion we won't make it easy for foreign brands to dominate our domestic market. We will put up a fight by creating good product, at great price by working with the best class people."

"However the important thing was funding, I didn't want to go back to my family for funding but luckily because I did my Masters in Finance it quickly helped. I think India also was opening up at the right moment you had the success story of flipkart which was doing phenomenally well on Amazon. The market had opened up for something called venture capitalism so all you needed was a good idea, a strong backing in terms of your will to deliberate and a solid business plan to execute and I think we had those three" said Reddy emphasising on the fact that education too was important to success.

Starting one's own business will always be tough. There are culture critics and moral police who have opinions on every method and approach that you choose to take. Addressing this issue Reddy said, "In terms of culture I think India is an extremely open liberal country with just pockets of it that gets blown out of proportion. That is why I can do the crazy things that I do. So you have to do what you want and live in your own way."

She also stated that "the last time I was here we were shooting with Virat Kholi and the idea is to get at least one or all three of the brands in to the Sri Lankan market. I've had the good fortune of working with a lot of Sri Lankans in the past. We've interacted with Sangakkara, Muttiah Muralitharan and different roles. "Thereby Reddy focuses on spreading her brand globally as well as collaborating with the Sri Lankan fashion industry which is blooming and growing rapidly.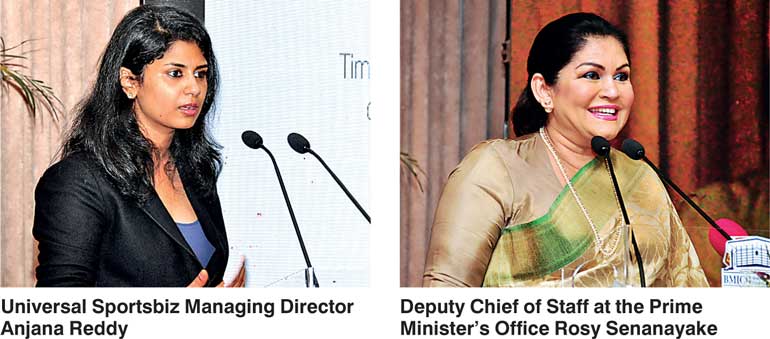 "The idea was to come and launch into this market and explore this market be it through joint venture or investments of our own. We're more than happy to invest in Sri Lanka. I think it is booming and very different from what it was and I hopefully get the opportunity to launch here" she further added.

Prime Minister's Office Deputy Chief of Staff Rosy Senanayake who was also present at the event addressed Anjana by saying, "I commend you for your achievements at such a young age to have reached heights most youngsters would want to reach."

She further added, "Talking about young entrepreneurs and talking about women since I am a women activist I would love to talk about the positive side of women in Sri Lanka. Gender indicators with regards to education and health will top the list in this region as we've done marvellously well."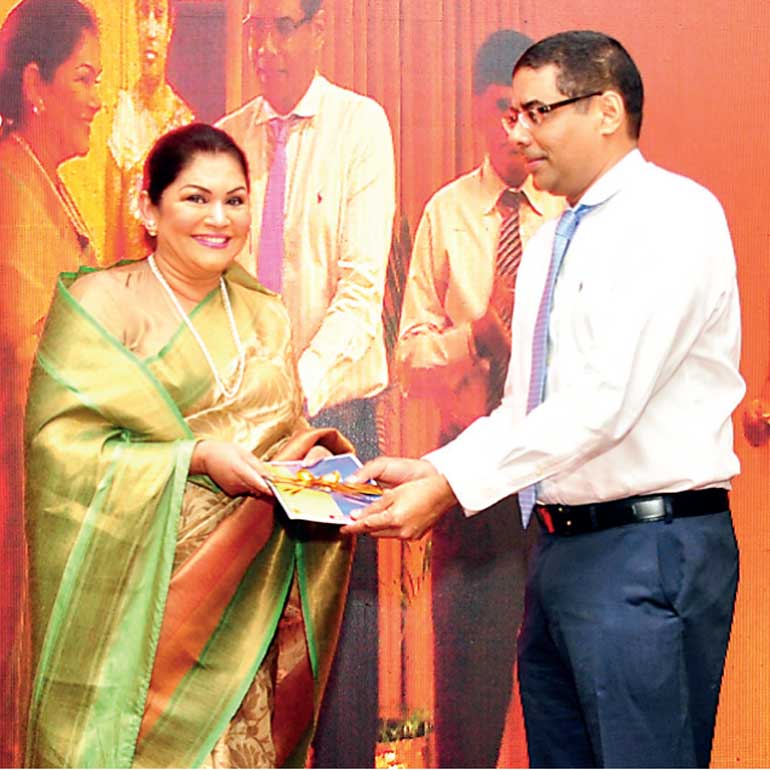 The report report on gender and women's participation compiled by the National Human Resource Council was released at the BMICH on Thursday. NHRDC Chairman Dinesh Weerakkody presented the first copy to Deputy Chief of Staff to the Prime Minister Rosy Senanayake
Sri Lanka thereby is doing tremendously well in the business industry and holds many successful entrepreneurs, hence is home to many world recognised company owners. Spa Ceylon Director and Co-founder Shalin Balasuriya being one of so was a panellist alongside Anjana Reddy, BMICH Director Sunil Dissanayake, the country's leading business paper Daily Financial Times Editor in Chief Nisthar Cassim together with the National Human Resources Development Council Chairperson Chiranthi Cooray as moderator.

Speaking on the industry perspective of the country Shalin Balasuriya said, "Spa Ceylon has been in the market for a little over eight years and now we're in 12 countries with over 60 locations and the brand is growing rapidly, so we've proved that it can be done. What we did is go out there and create new identities for products from countries you won't expect. To change the perception we need to really spend time creating the brand." Balasuriya further speaking about the challenges, policy makers and the role they play said "yes we need the political backing but if we wait for it we're going to miss the bus. Let's as a private sector go out there and come together as industries and business communities and really go out and push our brands and create our own infrastructure. If the policy makers aren't doing enough let's get together and push them to do more."

On the other hand speaking on the country's perspective Cassim emphasised, "We know there is a lot of activity focused on the start-ups and entrepreneurship. I think the Government is also talking about entrepreneurship hence there are more organised efforts to champion young start-ups, but I like to see more action, more decision being made."

"While the existing businesses have various issues the start-ups look up to many successful entrepreneurs to lay their ground work on feeling inspired by them, however when these role models don't really speak on the positives or fail to do well the young budding entrepreneurs tend to get discouraged to take up the challenge," Cassim added.

"In terms of entrepreneurship I think there are a lot of people working in the industry specially hospitality who would like, given they have some capital to shift out to set up their own operations. I think what's lacking is the knowledge on how to become entrepreneurs. We need to start in the long term with the Government's vision at the school level itself," stated Dissanayake.

Dissanayake also said that based on a study done supported by the National Resources Development Council, primarily focused on the formal sector it was proved that looking at the informal sector there are lot of opportunities for people to set up their own businesses. He also added that the Sri Lanka Tourism Development Authority is just about to set of registering this informal sector.

Thereby the forum highlighted on the many issues that young entrepreneurs face and shared wholesome advice on how to face the challenges despite all hardships. Hence 'Young, bold and daring – the spirit of young entrepreneurs for a country enriched' hopes to enhance and encourage the young to pursue their dreams and carry out successful businesses of their own.

Pix by Lasantha Kumara