Colombo School of Business and Management (CSBM) together with Women's International Foundation (WIF) is organising the fourth chapter of ICSE 2019; 'International Conference on Women Entrepreneurship' as a two full-day conference to be held on 3 and 4 December at the Marino Beach Hotel, Colombo-3.

ICSE 2019 is one of the first conferences of its kind; a multi-disciplinary international conference with research papers presented in a multilingual platform. The conference is organised as a knowledge bridging forum in the practice of theoretic application. The conference is looked at as a window of opportunity to present individual research within a unique forum and network with local experts and those from across the globe.

This conference is initiated and led by CSBM, a veteran business school in Sri Lanka run by a combined structure of corporate leaders and celebrated academics aimed at promoting a culture of leadership and entrepreneurship locally and regionally.

Established as the 'Business School for the Nation', CSBM is the crowned leader in Executive Education and Consultancy support for corporate, business, community and public establishments. Colombo School of Business and Management is a registered certificate awarding institution under the Tertiary and Vocational Education Commission of Sri Lanka (TVE) (Amendment) Act No. 50 of 1999 and comply with the Sri Lanka Qualification Framework (SLQF).

Along with CSBM, the conference is also presented by the Women's International Foundation (WIF) which is a social enterprise establishment set out to promote the advancement and wellbeing of women through empowerment.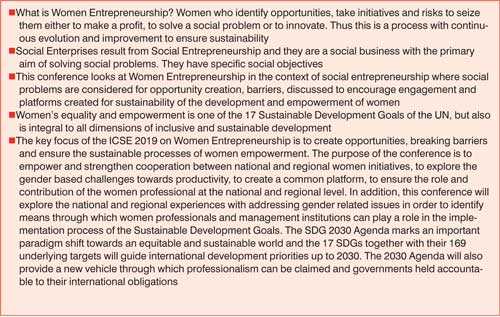 WIF is a result of CSBM's initiative to promote social enterprises in Sri Lanka and takes a strategic approach to empowerment which focuses on three pillars of economic, social and personal empowerment of women. Around the three pillars are the supporting pillars of women leadership development programs and the fight against violence/harassment against women. Thus WIF takes a holistic approach to the development of women locally and regionally.

This year's conference is structured on three pillars of creating opportunities, breaking barriers and sustaining development for women entrepreneurs which are discussed through seven forums of, Women Leadership Forum, Business Development Forum, Women Financial Forum, Women Technological Forum, Women Empowerment Forum, Women Partnership Forum and Women and Policy Forum.

The conference aims at creating an entrepreneurial culture in Sri Lanka and to facilitate the women entrepreneurs be economically empowered and socially connected.

A unique feature of the conference is the 'Story Telling' Forum which will feature small and medium scale women entrepreneurs who have started small and up-scaled their businesses as success stories who will present their stories in the form of mini case studies with learnings for aspiring women entrepreneurs. Also the conference features 40 celebrated entrepreneurs and veteran professionals who will share their stories and knowledge of wisdom.

Thereby this International Conference on Women Entrepreneurship is an ideal platform to be inspired and be network to build connectivity and is targeted at women running a business and wanting to upscale or having a business idea and wanting to convert to an enterprise or wanting to enhance development and sustainability of their current businesses.

Also part of the conference is the 'Women Entrepreneurship Award' which gives the women entrepreneurs running businesses to tell their stories, to be recognised and to inspire a generation. The nominations and registrations for the award are now open and interested parties are encouraged to apply.

The awards are presented under five categories of Micro and Small scale enterprises, Medium scale enterprises, Large scale enterprises, Innovative enterprises and Social enterprises. The eligibility criteria and the award applications can be found by visiting csbm.edu.lk/icse or wifoundation.org.

The research partner for the award is Survey Research Lanka (SRL) which is a veteran, locally grown research firm with an expertise running over two decades which is also an extended research and media support arm of the Colombo School of Business and Management. The assurance partner for the award is KPMG which is an international audit firm with experience and expertise with similar endeavours at both local and international level.

US Ambassador to Sri Lanka and Maldives Alaina B. Teplitz is expected to grace the conference as the Chief Guest and Netherlands Ambassador to Sri Lanka Tanja Gonggrijp will be the Chief Guest for 'Women Entrepreneurship Awards' ceremony. The Chair of the Conference will be Senior Economist and CSBM Business School Chair and Head Prof. Ranjith Bandara. Export Development Board Chairperson and Chief Executive Indira Malwatte and Board of Investments Director-General Champika Malalgoda will grace the occasion as the guests of honours.

CSBM together with Women's International Foundation (WIF) partners with the Ministry of Women and Child Affairs, Women's Bureau of Sri Lanka, BOI Sri Lanka, Women's Chamber of Industry and Commerce, Smallholder Agribusiness Partnership (SAP) Programme under the President's Secretariat and the National Secretariat for Non-Government Organisations in presenting this year's conference. Other than the above both corporate sector organisations and international organisations are partnered with the organisers in championing a culture of women entrepreneurship in Sri Lanka.

CSBM and WIF invite interested women entrepreneurs and aspiring entrepreneurs to participate at the two-day conference to learn, to network and to share knowledge. Also encouraged are the deserving women entrepreneurs to apply for the award be recognised and to explore development opportunities.

For further details visit csbm.edu.lk/icse or wifoundation.org.