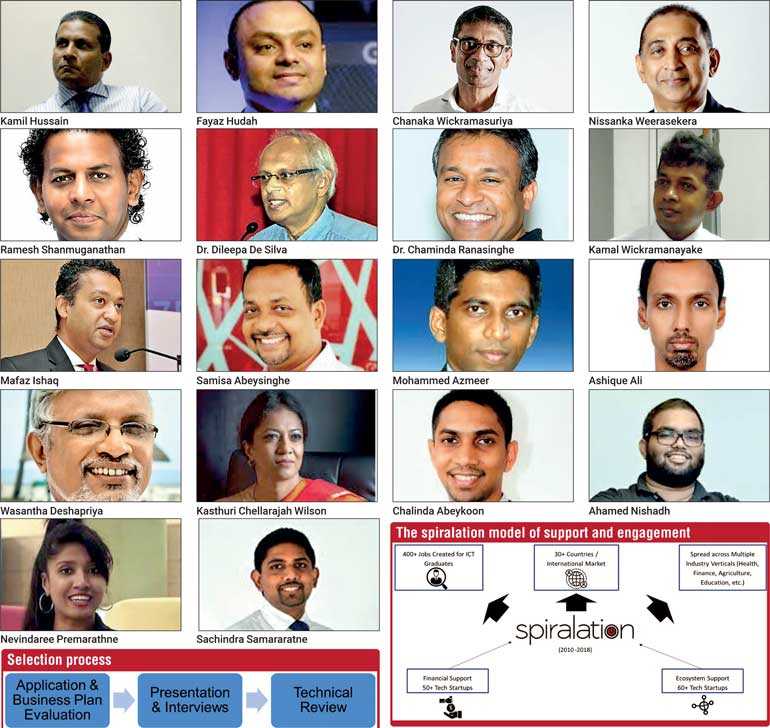 ---
spiralation was the first technology accelerator in Sri Lanka. It provided funding as a grant, so without equity and a copious amount of support through the various training programs and opportunity to learn, network and grow for tech startups in the country. spiralation stands for "spiral of innovation," a term

coined by Fayaz Hudah, its founder.
The back story
From 2004, ICTA was implementing a series of programs to support and grow the IT/BPO sector in Sri Lanka through various incentive programs with funding from the World Bank. These included everything from training company employees and paying for companies to get various certifications to helping companies develop business overseas.

One such program was called 'Innovation Grants,' which was aimed at commercialising innovations that were mainly coming out of research institutions and universities although it was not restricted by design. This program was a failure for a number of reasons.

Fayaz says: "I had this dream of doing things like Richard Branson from my school days. I decided to change the innovation grants program to support new technology startups. As it served a much-felt need in the market but was incomplete in its design to deliver on expectations."
The challenges in getting started
All of this started at the time when the term "startup" was not heard of in Sri Lanka. The IT/BPO industry was not supportive as they felt the rise of startups would draw away employees from their companies and threaten their business model of renting employees for overseas companies and keeping a margin.

Much has changed since then, but this was when things were quite different. The only program that came close to spiralation was a business plan competition organised by the British Council limited to local university graduates. The Software Exporters' Association later joined this program.

The World Bank, which funded ICTA programs, didn't want this program to be implemented as it was uncomfortable with the high risk of spending money on companies that had a very high probability of failure. Despite these challenges, the internals managed to convince the management and eventually the stakeholders by insisted on getting the program implanted as they saw the future.

spiralation is born

On 31 July 2010 at Taj Samudra, spiralation was launched. Startup Chile started later in 2010 and today is one of the best program in LATAM and 500 Startups which is global now. John Davies, Global Vice President, Intel Corporation, was the Chief Guest. It was launched with the support of 20+ partner organisations including IIT Madras, Boston University, banks, universities, technology MNCs, chambers of commerce, professional organisations, etc.

spiralation has had a long association with the Global Entrepreneurship Network (GEN) and the 1st GEN branded event was held in 2012 at the Peradeniya University with participants from Colombo, Jaffna and Kandy. One of the early hackathons at the time to be held for a full three days straight for 54 hours.

The whole experience is fondly remembered by the participants who booked a special train cabin on a train to Kandy, which had a derailment halfway and managed to get them to even make an unscheduled stop at the Peradeniya University train stop.
spiralation introduced many firsts to SL startup ecosystem
Hackathon – the first 54-hour coding and pitching which is now commonly practiced
Term sheet – although it provided grants, it was disbursed on milestones like a term sheet
Minimum Viable Product (MVP) – throw away or further develop, initially getting this fail fast concept instilled required a huge shift in mindset
Accelerators – the term incubator was already known as ConceptNursery Incubator was operating at the time. But Accelerators was not known.
Bean bags as work spaces
It's okay to fail – the need to embrace risk if we want to create something totally new
The program exposed local startups to international markets and startup events. Market exposure is key if one wants to build product for any market. Having the first hand international market exposure is the reason why returning foreign graduates or migrants are considered desirable as for international business. But with the right exposure even local talent can do the same. spiralation teams were given that first such exposure at NASSCOM Emerge Forum in June 2011, India.

Since its companies were more aligned to Western markets, spiralation provided the platform for companies like Arimac, SilverLeap, Mogo and PayMedia to exhibit and attend 4YFN (4 Years From Now) event in Barcelona for the first time which is held in parallel to Mobile World Congress (MWC), the global mobile industry annual must attend event. This has been repeated since.
Microsoft BizSpark
Building quality technology products costs money because the technology infrastructure is expensive, which a startup can ill afford. Identifying this, the spiralation team worked with Microsoft to bring this program to Sri Lanka. This was done even before it was made available to India when the program was only available in the US and Europe. This initiative with Microsoft gave their enterprise grade products free of cost to selected startups under the spiralation program. They also provided free training.
Sustaining the early troubles
Statistically 95% of the startups fail within the first two to three years.
Surviving the early days is crucial to learn, pivot and achieve greatness.
Recognising this, in the early days of spiralation, small government projects worth Rs. 5 m or less were made available exclusively for spiralation companies.
This was very controvertible within ICTA and the extended stakeholders' community. But it persevered.
spiralation's progress since 2010
Started on 31 July 2010
70 startups supported to date creating 400+ jobs
Four to six month program
Includes funding, mentoring, training through workshops and market access
Initially a grant of Rs. 500,000 per startup was provided based on milestones (term sheet). Later increased to Rs. 750,000 and then to Rs. 1 m. Now Rs. 1,500,000 is provided.
In exchange for no equity
What is spiralation?
spiralation trainings:
Business model canvas development
Security essentials
Legal essentials
Finance and accounting
Marketing
Effective pitching
UI/UX
Test automation
Project management
Digital marketing
Identifying investor mindset
spiralation scope:

The program by design was focused on developing certain types of companies which ideally accrue intellectual property. Hence companies who are aligned to such goals or have such potential are preferred. These include:
Software innovations
Mobile/web apps
Hardware innovations
Robotics
IoT
spiralation evaluation process:

Given the great benefits the program provides at no cost to the accepted companies the selection process is quite intense.
Mentors and judges:
The value of the investments made by the Government is amplified by the efforts put in by the mentors and judges who have shared their valuable time willingly. Fayaz says: "I think this is priceless and has been a key reason for the program's success. Being able to attract such personality to support at the right time and providing them with the right brief to fit each company, has been the real game changer which I think is still hard for many to replicate."

Some of them include the who's who of the business, technology and professional fields in the country:
Fayaz Hudah
Kamil Hussain
Kasthuri Sellarajah
Chanaka Wickramasuriya
Nissanka Weerasekera
Dr. Chaminda Ranasinghe
Dr. Dileepa De Silava
Ramesh Shanmuganathan
Kamal Wickramanayake
Samisa Abeysinghe
Anushka Wijesinghe
Prema Cooray
Bradley Emerson
Sujith Christy
Indaka Raigama
Reeza Zarook
Chalinda Abeykoon
Azmeer Mohamed
Failan Saleem
Mafaz Ishaq
Wasantha Deshapriya
The evolution of the team that handled the spiralation program:
Fayaz Hudah – Founder, Spiralation:
Fayaz developed the concept of the first accelerator in Sri Lanka and secured the funding to get the program off the ground. Later designed and developed programs for universities and corporates.
He is a consultant to INGOs and the Government in innovation commercialisation.
He has co-founded startups in Sri Lanka and Singapore. Built and exited businesses
He is currently working on the next level accelerator and seed investment fund.
Chalinda Abeykoon
Started at ICTA straight out of university and contributed to the program as the first project manager of Spiralation. He worked on many aspects to implement the program and executed many programs.
He was picked by Brandix when it wanted to start its innovation program, Disrupt Unlimited.
He later became the CEO of Crowd Island, the first equity crowd founding platform in Sri Lanka.
Ahamed Nishadh
Ahamed took over from Chalinda to implement the program.
Co-founder of Disrupt Asia Conference and Startup Festival
He is now the Tech for Development Lead at Citra Labs of UNDP
Nevindaree Premarathne
Took over from Ahamed and leads the efforts now including playing a pivotal role in organising the latest Disrupt Asia Conference and the spiralation programs. The ICTA private sector team which all of these programs come under is currently led by Sachindra Samararatne.
Disrupt Asia Conference and Startup Festival
Ahamed Nishadh from ICTA and Kanishka Weeramunda from PayMedia founded the Disrupt Asia Conference and Startup Festival which has been successfully hosted twice now.

The program now organises the above event, which is now at an international scale with the participation of everyone from unicorn founders and global accelerator program managers.


See https://www.disruptasia.today/.