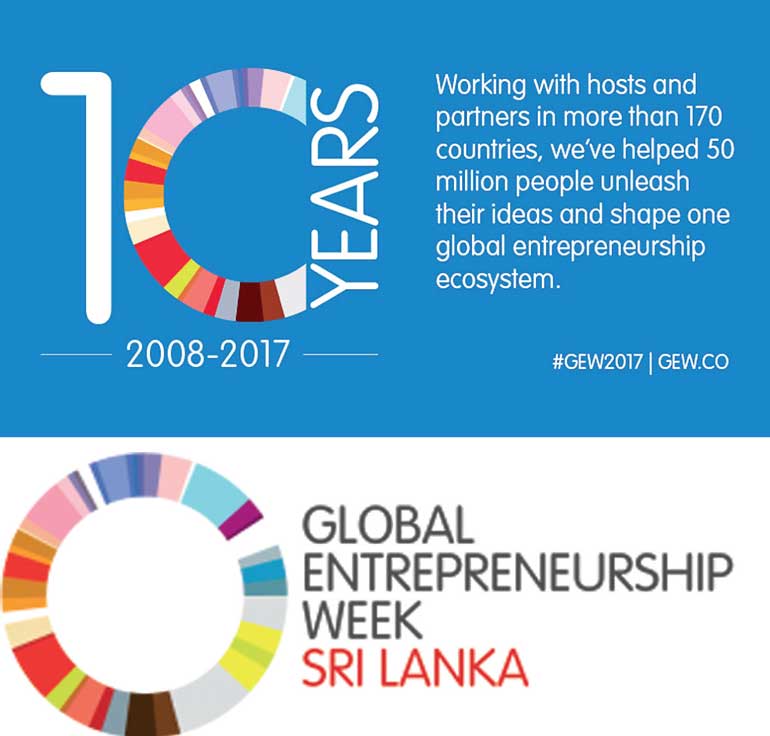 GEW 2017 is celebrating 10 years of unleashing ideas and creating one global entrepreneurship ecosystem through its events and activities. Since it launched in 2008, GEW has grown to engage nearly 10 million people each year in more than 170 countries. During one week each November, thousands of events and competitions throughout the world inspire millions to engage in entrepreneurial activity while connecting them to potential collaborators, mentors and investors.

Powered by the Kauffman Foundation for Entrepreneurship of the USA, this initiative is supported by dozens of world leaders and a network of 20,000 partner organisations, hosting 35,000 events, with 10-million participants. GEW 2017 will be held throughout the world from 13-19 November.

Here are top 10 reasons why you or your organisation should participate in GEW 2017:

1. Raise awareness of entrepreneurship and the role startups + entrepreneurs play in strengthening the economy.

2. Improve your skills, from pitching to preparing and strengthening your business plan.

3. Network with like-minded individuals, who can help you start and scale your venture.

4. Celebrate local startups to inspire others to follow in their footsteps.

5. Learn about your ecosystem, and how you can help encourage economic development and stability.

6. Join a global network of entrepreneurs, investors, policymakers and researchers around the world.

7. Participate in experiential learning opportunities simultaneously with nearly 10 million people in 170 different countries.

8. Share your startup story with not only your local community, but with the world using #GEW2017 and telling us about your GEW experiences.

9. Develop a supportive startup culture and help build an entrepreneurial mindset in your community.

10. Reach + engage new audiences by organising an event during GEW in your community.

In a Sri Lankan context there are at least two important additions to this list:

1. Many people believe that working for the Government is the best way of earning a livelihood. They do not believe in the private sector and entrepreneurship. We need to celebrate entrepreneurship and promote an Entrepreneurial Culture that will in turn create sustainable private sector jobs and livelihoods.

2. Many Small and Medium Entrepreneurs in Sri Lanka do not have a proper business plan, their priority is to avoid paying Government Taxes. Therefore, they remain informal – below the radar, and do not plan to formalise and scale up. This situation is also magnified due to barriers in formalising an enterprise that has been informal for a while – due to back taxes and penalties levied on defaulted statutory payments such as income taxes and EPF/ETF (employee entitlements).

Here's how to get involved!

It all starts by joining GEN – the Global Entrepreneurship Network.

Step 1: Create Your GEN Profile at https://ghttps://g https://g englobal.org/srienglobal.org/sri englobal.org/sri englobal.org/srienglobal.org/srienglobal.org/sri englobal.org/sri -lanka lankalanka

Be sure to fill out the fields in 'additional information' – the more information you provide, the more you will be able to engage with the GEN community and stay up-to-date on the GEW activities happening simultaneously around the world.

Step 2: Organise an Event or Activity

Inspire your local entrepreneurial community to engage in events and activities, while connecting them to potential collaborators, mentors and even investors. By organising an event or activity during GEW in your local area, you will help strengthen your local startup ecosystem while being part of a global movement celebrated in more than 170 countries.

What counts as an event or activity? Just about anything.

Startup pitch competitions. Entrepreneurship film festivals. Hack-a-thons. Speaker series. Policy roundtables. Research summit. Hands-on workshops. GEW events and activities span the entire entrepreneurial ecosystem. This November, organise or find an event in your area.

Be sure to add your event to the GEW website to let the world know what you are doing. You will be able to track your country's #GEW2017 events and even see which countries host the most activities each year.

Once you have completed your GEN profile, look for the 'Create Events' button on the gew.co homepage.

Step 3: Find an Event or Activity

Tens of thousands of events, activities and competitions take place during Global Entrepreneurship Week each year. You can search the GEW database for events, activities and competitions around the world. Look for the 'Find Events' button on the gew.co homepage.

Step 4: Engage

You can connect with other #GEW2017 participants and organisers through the Global Entrepreneurship Network platform by directly messaging the individual.

Send a message: When you know you want to connect with a member, click the Message button on their profile page. You will be able to send them a message through the GEN system. Messages you receive from other members can be found on your profile page on the Message tab.

Share your story: They also want to hear from you this GEW! Tell them what activities you are excited about, and what impact the celebration has had on your community and your country. They want to share your entrepreneurial spirit and the excitement of #GEW2017 with their network. Fill out this form to share your experiences: #GEW2017 Survey.

Step 5: Join the Conversation

Stay plugged in to Global Entrepreneurship Week and GEN news through their social media channels Facebook, Twitter and Instagram, and use the hashtag #GEW2017 and #GEW10years to be a part of the discussion.
Why Global Entrepreneurship
Week matters:

1. The Opportunity Gap: When you travel around the world, it is clear that talent is distributed pretty evenly. People are smart, ambitious, and creative in cities, villages, and everything in between. At the same time, the opportunities to use those talents just don't exist for many. I think this is one of the most important injustices for us to recognise and redress to build a healthier, more equitable 21st century. GEW's focus on global entrepreneurship is a great way to highlight that, brilliant ideas and great organisations can come from anyone, anywhere.

2. Sense of Common Purpose: Entrepreneurs often feel a tension between the desire for creative freedom and the desire to be a part of something larger than themselves and their companies. Worldwide events like GEW have the potential to speak to that second desire, and in the process pull people out of themselves, even if just for a minute to discover new partners and new inspiration.

3. Aspirational Model: Who young people look at and celebrate can make a significant difference in how they behave and what they aspire to become. Highlighting not just entrepreneurs, but peer entrepreneurs, has an immense validating power.

4. The Youth Bulge: Predictions of escalating unemployment among youth in developing nations; Job creation just isn't keeping pace with growth among the under-30 population, particularly in the Middle East, Africa and Asia. For the most part, these regions don't have the same kind of entrepreneurial support systems enjoyed by developed nations. They also don't have consistent access to quality education, so employability becomes a greater issue, especially at the bottom of the pyramid. Helping youth understand the basic tenets of running your own business is a great start. Global Entrepreneurship Week does that, and provides models and idea exchanges to motivate budding entrepreneurs.

5. It is more than just a week: Global Entrepreneurship Week is an opportunity to showcase and celebrate all the amazing work that goes on year-round. Their partners (the wonderful organisations that run activities during the Week) use Global Entrepreneurship Week to launch something new, showcase their projects, or just generally raise the profile of entrepreneurship in their locality. They do this because we all recognise that entrepreneurship is a force for good. It can lift people out of poverty, enable people to take control of their own lives, or simply turn their passions into profit. Activities range from enterprise competitions to talks from local role models to large scale conferences.

GEW also highlights an important fact, that the world today is globally networked. Therefore, collaboration is more important than competition. Inclusivity is more important than exclusivity.

For more information, please contact: Suresh D. de Mel – sureshdemel@yahoo.com,

+94 71 222 1888, https://genglobal.org/sri-lanka.
Richard Branson to open Global Entrepreneurship Week at launch of GEN startup campus in Johannesburg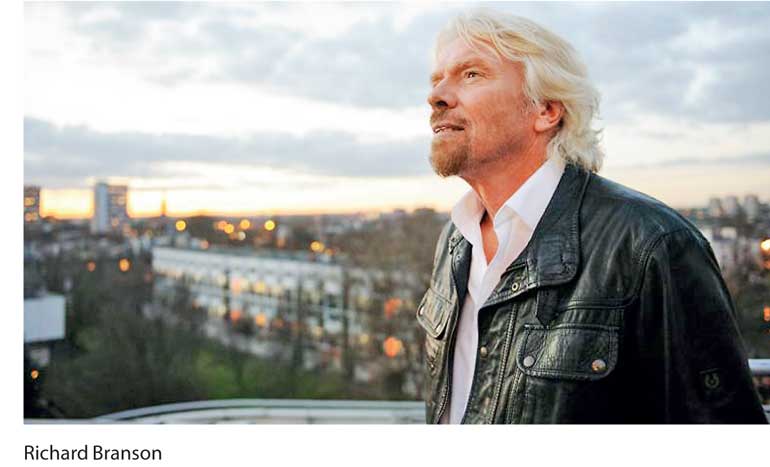 JOHANNESBURG: Sir Richard Branson, Virgin Group founder, will officially open the 10th anniversary celebration of Global Entrepreneurship Week by participating in the launch of a new startup campus in Johannesburg, South Africa.

The campus, 22 on Sloane, is the first one opened by the Global Entrepreneurship Network – offering direct and virtual support services to entrepreneurs throughout Africa as well as access to an international network of mentors, investors and entrepreneurial support organisations.

"Entrepreneurs are the life blood of any economy. They are disruptors and innovators who shape our world for the better. This campus launch is going to help to create a new generation of entrepreneurs who will improve peoples' lives across the continent," said Branson.

Joining Branson at the launch event are: Jonathan Ortmans, president of the Global Entrepreneurship Network; David Makhura, Premier of Gauteng Province; Lindiwe Zulu, South African Minister of Small Business Development; and Tokozile Xasa, South African Minister of Tourism along with several African Ministers, captains of industry from leading South African and African business networks and promising startups.

The launch event on 10 November signals the opening of Global Entrepreneurship Week – an effort to help anyone, anywhere start and scale a new business. For one week each November, roughly 10 million participants take part in 35,000 events, activities and competitions in more than 165 countries around the world.

"In the first 10 years of celebrating Global Entrepreneurship Week, we learned a great deal about the potential of entrepreneurs and the ability of our societies to work together and create great value," said Ortmans. "Through broad support from the government of South Africa and the rest of the African continent as well as private sector leaders, 22 on Sloane will shape a community of promising entrepreneurs and connect them to the resources they need to succeed."

Short-listed applicants for a 12-month residency at the startup campus, will pitch at competitions during Global Entrepreneurship Week to secure a final slot at 22 on Sloane.

Branson has been an active supporter of Global Entrepreneurship Week since the initiative began in 2008 – filming videos, speaking at events, gracing the cover of publications and even hosting a GEW startup competition winner on his privately owned Necker Island in the British Virgin Islands.