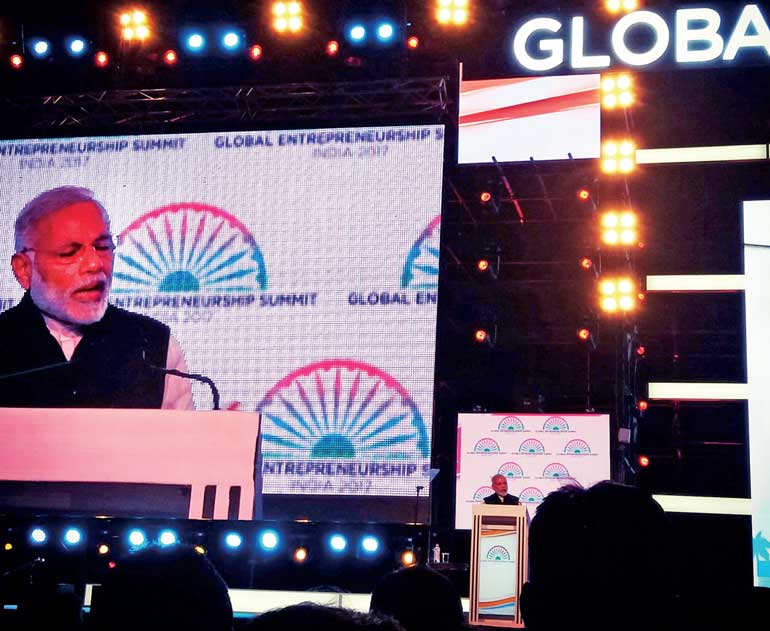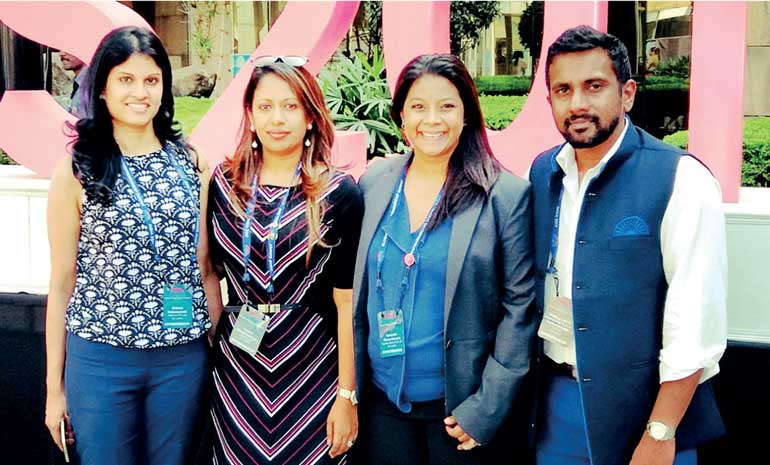 By Lahiru Pathmalal

An impressive 1,500 investors and entrepreneurs from across the world attended the Global Entrepreneurship Summit (GES) that took place in Hyderabad, India from 28 to 30 November. The event was organised by both the US and Indian governments. I was lucky and privileged to have been picked to travel with six other Sri Lankans to attend this year's event.

This was the eighth such summit to be held. This year's GES highlighted the theme 'Women First, Prosperity for All', and will focus on supporting women entrepreneurs and fostering economic growth globally. Ivanka Trump from the United States delegation and Indian Prime Minister Narendra Modi from the Government of India headlined the event.

Here are some of the key themes discussed and some lessons that Sri Lanka could learn:
Utilising and empowering women, who do so much

for our economy
Women's participation in the economic sphere was a key element of discussion during the Summit. Prime Minister Modi mentioned in his opening remarks that more than 50% of the attendees are women. While Sri Lanka's economy depends on the blood, sweat and tears of women; employed as migrant workers, and in the tea and garment industries, their presence in leadership roles in the corporate world is beyond lacking. Sri Lanka has dropped from 100 in 2016 to 109 in 2017 on the World Economic Forum's Gender Gap Index. More will have to be done in order to make sure that women are empowered, to break in to the boys club of the corporate world.

We should be doing this not out of any obligation but because it's the right thing to do, both for our nation& bottom lines. Most of our neighbours have now understood this, and are putting together the best possible teams of both women and men to win at the work place, and if we as a nation do not take the right steps in this direction we will surely loose out in this fast paced, innovative world.
Trade liberalisation
India is doing a great deal to open up their economy. The theme for India has been for some time, 'Start-Up India' which means it understands at a policy level the true value of competition and building global brands.

In Lanka some large businesses cower behind protectionist trade restrictions so they do not have to face more competition. The Government has taken some steps in this direction to liberalise the economy, but more has to be done. This will lead to the consumers of Sri Lanka having much more choice, and eventually Sri Lankan businesses being more competitive. Increase in competitiveness will also lead to companies that are globally competitive and pertinent, not just addressing the local market.
Technology adaptation
Sri Lanka adopts technology at a snail's space. What was made apparent to me at GES was how quickly we will get left behind if a business does not think in terms of technology and innovate. I believe that most businesses in the island are uncompetitive, and have carried out 'business as usual' for the last few decades (there are of course notable expectations). The price of these practices has meant the consumer paying a much larger price at the cashier, and us having an ever shrinking export basket. Laws in terms of import restrictions have largely protected these business interests by using high tariffs. The answer is to understand and adopt technology to make systems better, and more efficient, to work towards becoming internationally and nationally competitive.
Fin-tech industry
India is doing a great deal of work to go digital. Like Sri Lanka, in India most transactions are done using cash and this has a large cost. It costs the country in terms of the black economy and corruption that it enables.

Furthermore, using cash is very expensive (indirect costs such as printing, storage, distribution, etc.) and using cash also takes a lot of time. Regulators need to do more to deregulate the financial industry. Only then will banks will face enough competition from fin-tech startups to force them to innovate, digitising the economy in the process. We have to also start exploring how blockchain technology can increase efficiencies in the financial sector.
Summary
We have to shed our insecurities and compete in global markets by building innovative Sri Lankan companies. We have done this in the past and there is no reason why we can't multiply the few successes we already have. We should also look at India as a big opportunity, all too often we see India as a threat and this is not the correct way to view things. It's a huge market that Lankans should take advantage of, by both importing products and exporting. It also has a great advantage in terms of human capital, which we should look in to exploiting.

I firmly believe that by embracing technology, change and opening up we can build a very strong economy that will show promise for the next generations to come.

(The writer is the Co-Founder and CEO of Takas.lk. The views shared on this piece are his own and do not necessarily reflect the views of the organisation.)