The Global Entrepreneurship Network (GEN) operates a platform of projects and programs in 170 countries aimed at making it easier for anyone, anywhere to start and scale a business.

By fostering deeper cross border collaboration and initiatives between entrepreneurs, investors, researchers, policymakers and entrepreneurial support organisations, GEN works to fuel healthier start and scale ecosystems that create more jobs, educate individuals, accelerate innovation and strengthen economic growth.



GEN's comprehensive global footprint of national operations and global verticals in policy, research and programs ensures members have uncommon access to the most relevant knowledge, networks, communities and programs relative to size of economy, maturity of ecosystem, language, culture, geography and more.

GEN helps celebrate, understand, support and connect entrepreneurs and those who champion them.

Celebrate: The world needs entrepreneurs – the doers and makers of things – but not all ecosystems enjoy the entrepreneurial culture that is prevalent in startup hubs like Silicon Valley, Singapore and Sao Paolo.

Through Global Entrepreneurship Week (GEW), GEN celebrates the successes and impact of entrepreneurs in an effort to help break down cultural barriers and reach new audiences, expanding the number of people who at some point in their life consider trying their hand at birthing the new and becoming an entrepreneur.

Understand: There is increasing demand for evidence-based public policies and programs that accelerate growth. While government, corporate and education institution leaders have become eager champions with resources, they require better data, research and analysis about entrepreneurship barriers, needs and opportunities and which program interventions and policies to address them are proven to have maximize impact. Through the Global Entrepreneurship Research Network (GERN) and GEN's Startup Nations policymaker network, GEN helps identify and crowdsource best-in-class policies and public programs that help entrepreneurs thrive.

Support: Through efforts such as the Global Business Angels Network, Global Enterprise Registration, Startup Huddle, GEN Starters Club, Startup Open and other programs, GEN offers programs and resources intended to help smooth the path to market for founder teams and provide entrepreneurs at all stages with the support necessary to reach the next level.

Connect: GEN helps break down siloes and enhance collaboration among entrepreneurs, investors, policymakers, researchers and startup community leaders through its virtual platforms and numerous live events, including its Global Entrepreneurship Congress (GEC) and GEC+ series, the annual Startup Nations Summit, global annual meetings of its vertical communities and by co-hosting other events across the globe.

Benefits to Sri Lankan entrepreneurs: There are valuable opportunities for Sri Lankans to enhance their knowledge, share information, network with entrepreneurs around the world and get access to support organisations. GEN provides a virtual platform that is easily accessible to entrepreneurs and is free.

GEN Sri Lanka is currently formed by: The Ministry of Skills Development and Vocational Training, Vocational Training Authority (VTA), National School of Business Management (NSBM) Green University, Employers Federation of Ceylon (EFC), Federation of Information Technology Sri Lanka (FITIS), South Eastern University of Sri Lanka (SEUSL), Hambantota District Chamber of Commerce (HDCC), The Business for Peace Alliance (BPA) Network, Association of Small and Medium Enterprises in Tourism Sri Lanka (ASMET), Business Hubs Sri Lanka, Rainbow Resources Lanka, and Daily FT

Entrepreneurs and support organisations are invited to join and expand GEN Sri Lanka, to create a globally networked Sri Lankan entrepreneurial ecosystem. For more information on GEN Sri Lanka and #GEW2017 please see, https://genglobal.org/sri-lanka and/or contact, sureshdemel@yahoo.com.
SEUSL celebrates #GEW2017 with an expert discussion on 'Optimising Entrepreneurship for Better Organisational Performance'
The Southeastern University of Sri Lanka (SEUSL) celebrates Global Entrepreneurship Week 2017 (#GEW2017) with a discussion on 'Optimising Entrepreneurship for Better Organisational Performance'.

The discussion will be held today, 15 November, at the FIA Auditorium, South Eastern University of Sri Lanka, from 10:30 a.m. to 12 noon.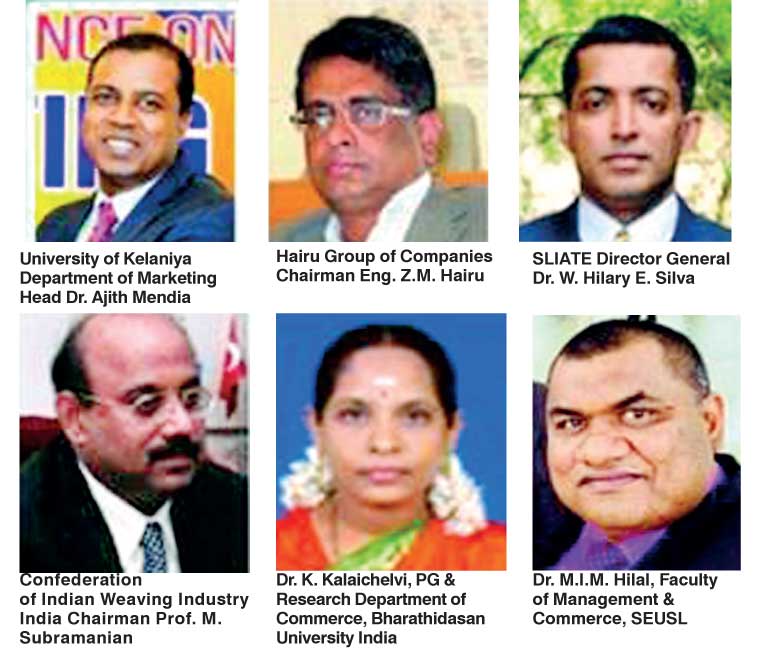 The members of the expert discussion are University of Kelaniya Department of Marketing Head Dr. Ajith Mendia, Hairu Group of Companies Chairman Eng. Z.M. Hairu, SLIATE Director General Dr. W. Hilary E. Silva, Confederation of Indian Weaving Industry India Chairman Prof. M. Subramanian and Dr. K. Kalaichelvi, PG & Research Department of Commerce, Bharathidasan University India, moderated by Dr. M.I.M. Hilal, from the Faculty of Management & Commerce, SEUSL.

SEUSL also joins the Global Entrepreneurship Network (GEN) Sri Lanka, to support building a Sri Lankan Entrepreneurial Ecosystem. Building one global, entrepreneurial ecosystem, GEN connects entrepreneurs, investors, researchers, educators, policy makers and more in an ecosystem that currently spans 170 countries.

For more information on the Global Entrepreneurship Week, contact sureshdemel@yahoo.com or browse https://genglobal.org/sri-lanka.