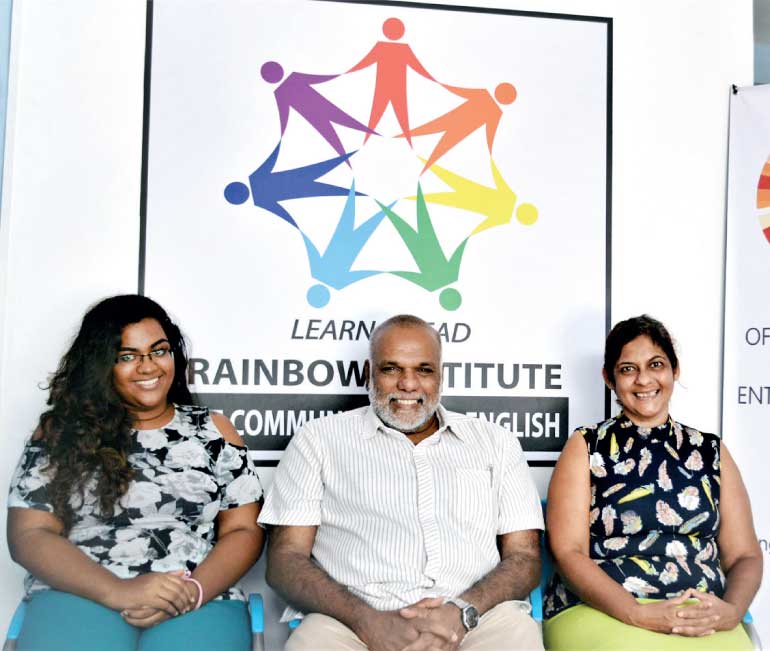 Rainbow Institute Academic Affairs Co-Founder and Director Mahishka Samarasinghe, GEN Sri Lanka Representative Suresh de Mel and Rainbow Institute Co-Founder and Executive Director Manique Mendis
Rainbow Institute celebrates Global Entrepreneurship Week; joins GEN Sri Lanka to support SMEs and startups
To help startups in Sri Lanka to accelerate growth and make an impact, Rainbow Institute launched a Training Programme on Entrepreneurship, on Monday, 13 November, and marked the first event on the first day of Global Entrepreneurship Week in Sri Lanka – #GEW2017.

Suresh De Mel, the Sri Lankan representative of the Global Entrepreneurship Network – GEN Sri Lanka and the Global Entrepreneurship Week – GEW, explained about this world renowned network for entrepreneurship and the significance of networking and celebrating entrepreneurship.

GEN operates a platform of projects and programs in 170 countries aimed at making it easier for anyone, anywhere to start and scale a business.
Benefits for Sri Lankan entrepreneurs

De Mel was optimistic on the potential of GEN to Sri Lankan entrepreneurs, especially start-ups and SMEs.

"There are valuable opportunities for Sri Lankans to enhance their knowledge, share information, network with entrepreneurs around the world and get access to support organisations. GEN provides a virtual platform that is easily accessible to entrepreneurs," he stated.
Networking, knowledge sharing and training

Having forged a partnership with GEN Sri Lanka, Rainbow Institute is planning a series of knowledge sharing and networking events and short term and long term training programs, including an internationally accredited Diploma in Entrepreneurship, to strengthen entrepreneurs and start- ups.

Rainbow Institute has established itself as a centre for excellence in communication and English. It is a preparation centre for Cambridge English and an educational service provider in Sri Lanka for the Government of USA. It counts a host of top companies in Sri Lanka amongst its clientele for corporate training. With its head office based in Colombo, Rainbow Institute has centres in seven other districts in Sri Lanka as well.
Follow-up event

Rainbow Institute together with GEN Sri Lanka will be hosting a knowledge sharing and networking evening for Start-ups and SMEs on Thursday, 23 November, at the Rainbow Institute premises, at 28, School Lane Colpetty, from 5:30 p.m. to 8 p.m.

During this event, the participants will be introduced to the Global Entrepreneurship Network. A highlight of the

evening will be a panel discussion with young entrepreneurs who have achieved great heights during a relatively short duration and a presentation on sustainability of business organisations in the modern era.

The agenda for the GEN networking and knowledge sharing evening is as follows:

5:30 p.m.: Registration and welcome drinks

5:45 p.m.: Welcome Address and Introduction to GEN – by GEN Sri Lanka Representative Suresh de Mel

6 p.m.: Presentation on 'Sustainability for Sri Lankan Business and Global Trends' by Adeesha Perera, Manager Sustainability, NTB Bank (former Aitken Spence)

6:20 p.m.: Panel discussion on 'Challenges and Success Stories of Young Sri Lankan Entrepreneurs' featuring Vasana Wickramasena – Founder and Executive Director, CICRA Holdings (Cyber Security); Mahishka Samarasinghe – Co-Founder and Director, Academic Affairs – Rainbow Institute (Training and Consultancy , Social Enterprise); Harindra Fonseka – Founder/CEO of Gudppl (Winner of Best Start-Up of 2016 by Infotec); Prageeth Thoradeniya – Founder of The Shed, a mixed martial arts training facility and also Co-Founder of Damini Project, which trains women in self-defence for free. The discussion will be moderated by Dileepa Samarasinghe, Manager, Sustainability, Pan Asia Bank.

7:15 p.m.: Self introduction by participants and discussion

8 p.m.: Conclusion by moderator

8:05 p.m.: Networking and refreshments

Invitations are available. Participation at this event is free of charge and strictly on invitation only. A limited number of invitations are available and can be obtained on a first come, first serve basis by calling Rainbow Institute (Jessica) on Tel 0114848724 or 0772594437.