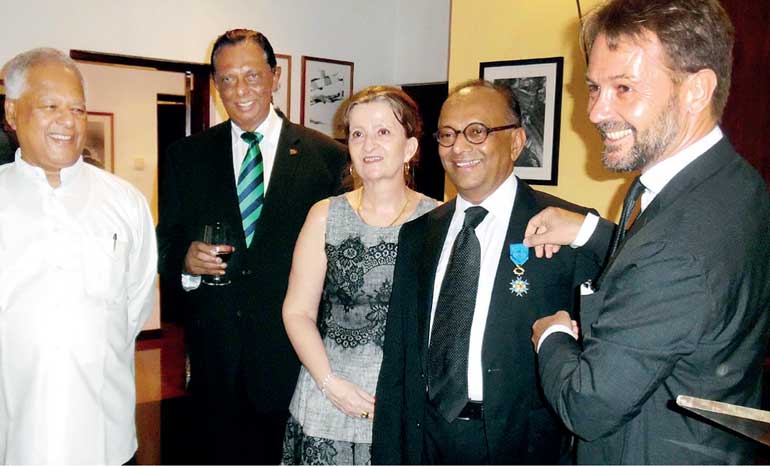 The Embassy of France to Sri Lanka and the Maldives has the honour to bestow the honorary distinction of Officier de l'Ordre National du Mérite, onto M. Chandra Wickramasinghe. The ceremony will be held at the Résidence de France, on Thursday 16 November.

L'Ordre National du Mérite is a French order of merit with membership awarded by the President of the French Republic, founded on 3 December 1963 by President Charles de Gaulle. The National Order of Merit is one of the highest national honours in France. Its purpose is to reward 'distinguished merit' and encourage the lifeblood of the country.

Wickramasinghe's expertise in the field of tourism makes him one of the most eminent personalities in the sector. He has three and a half decades of experience in the tourism industry and his concepts of eco-cultural tourism and Ayurveda have gained much popularity in Sri Lanka. Being one of the leading inbound operators on the French market, he contributed to strengthen the economic and cultural ties, as well as mutual understanding between France and Sri Lanka.

Furthermore, he has done a remarkable work by including sustainable development matters and environment protection in his hospitality activities.

He also contributed to charity actions, by helping local communities after the 2004 tsunami, and by contributing to local education.

In 1982 he formed the travel agency Connaissance de Ceylan to fulfil a much-felt need in the industry. Knowing French language was an advantage and he had a significant opening into the French market. Despite instability during the latter part of the 1980s and early 1990s, he managed with success to develop his activity. He now runs a dozen hotels in Sri Lanka, created the group Theme Resorts & Spas and still owns the agency Connaissance de Ceylan.

Beyond his tourism activities in Sri Lanka focused on French and Francophone audience for 30 years, he also is a founder of the Alliance Française de Kotte in Colombo and he has been its President from the beginning in 2010 till 2017. His commitment with the Alliance, this flagship institution of French Education and Culture, has been significant and contributed to its recent development. Furthermore he has been a sponsor of French cultural events.

Wickramasinghe, has won many awards: in 1999, he was Sri Lankan Entrepreneur of the Year, he won the National Silver Award presented by Sri Lankan Federation of Chambers of Commerce and Industry and he received several awards for hotels. He has been selected for the 'Business Today Passionate 2017' segment for his exceptional contribution to Sri Lanka Tourism.