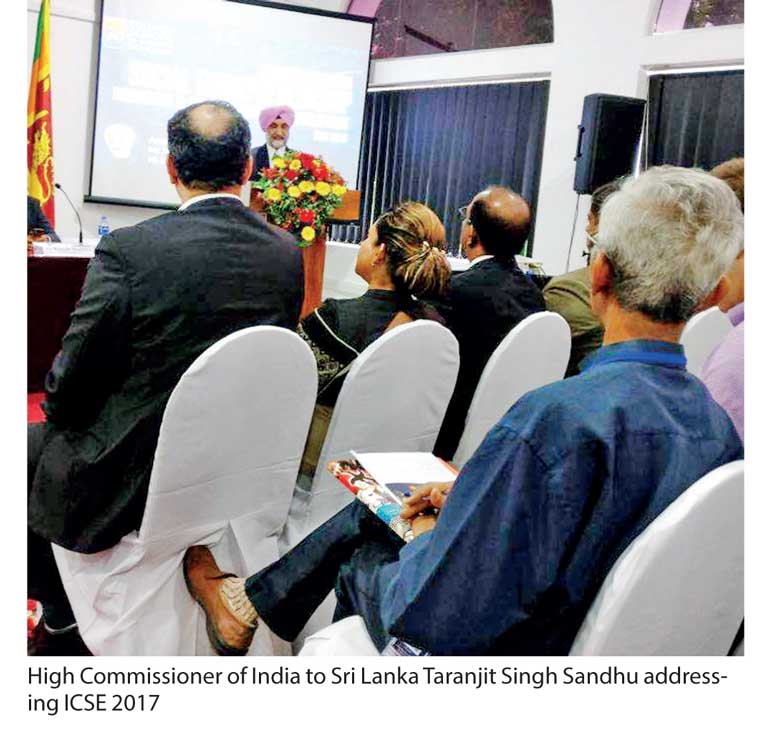 The Colombo School of Business and Management (CSBM) organised the Second International Conference on Social Entrepreneurship – Innovations in Social Enterprise for Development (ICSE 2017) on 1 December at the Sri Lanka Foundation Institute.

The Conference Partners were the Asian Institute of Technology (AIT), Bangkok and the Colombo Plan. High Commissioner of India to Sri Lanka Taranjit Singh Sandhu was the Chief Guest at ICSE 2017.

Kinley Dorji - Secretary General, Colombo Plan; Dian Gomes - Chairman, Colombo School of Business and Management; Prof. Ranjith Bandara - Head, Colombo School of Business and Management; Dr. Faiz Shah - Director, Yunus Centre, Asian Institute of Technology, Bangkok and Channa De Silva - Chairman, Sarvodaya Development Finance Ltd, Sri Lanka were also present at the inaugural session.

The conference concluded on 2 December.

In his inaugural address, Sandhu spoke about the multiple initiatives and policy measures instituted by the Indian Government to foster a culture of innovation and entrepreneurship in India. He added that Sri Lanka also has a strong tradition of innovation and that there was a lot that both countries could learn from each other.

He also spoke about technology as a great leveller and how a social entrepreneur had the potential to offer small solutions to big problems. He noted that innovation and entrepreneurship were critical for development, not just because they enhance productivity but they also address social issues in a novel manner.

He urged Sri Lankan youth to make use of the varied learning opportunities provided by the Indian Government under the Indian Technical and Economic Cooperation (ITEC) program, various scholarship programs and the S&T research innovation program.