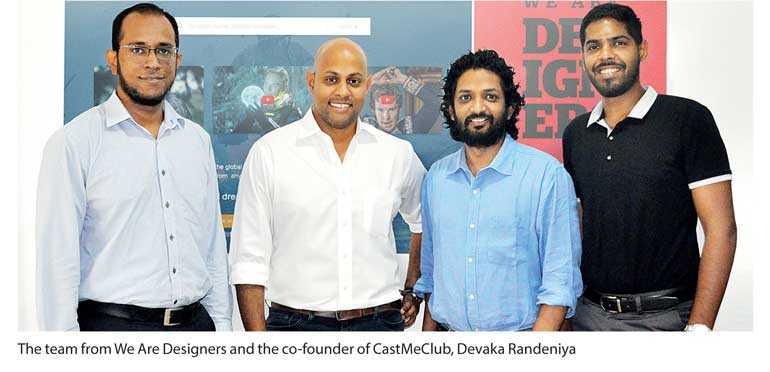 We Are Designers (www.wearedesigners.net), a 360-degree full service digital agency based in Colombo, established a partnership with CastMeClub (www.castmeclub.com), a social platform which allows established and aspiring actors pathways to opportunities on the global stage.

The site, founded by US based Sri Lankan entrepreneurs Devaka Randeniya and Shauna Sinnathamby, was recently launched to provide actors and performing artists with valuable opportunities in the global entertainment industry. "Our basic ingredient is simple; we wanted to create a platform and space for actors to be selected based solely on their talent," explains co-founder Shauna.

"Today, aspiring and established actors face various challenges in the industry. Our aim is to break through those barriers to create equal opportunities for actors, and provide a diverse base for casting agents and directors in the entertainment industry seeking fresh talent."

CastMeClub's host of online features include online demo reels, public casting calls and an unbiased discovery service, and also provides value additions such as offering expert-training programs and networking events for its members. Visitors to the site can simply create a free public profile showcasing their portfolio highlighting their credentials and skills. Actors and artists on the network can gain more exposure while receiving feedback and recommendations from their peers as well as casting directors and other industry experts.

CastMeClub creates opportunities for its users by allowing casting directors and the community to post casting calls for a particular role, workshops and training programs. "We want the platform to eventually evolve into a community that helps performance artists to improve and grow," says Devaka.

"We envision that CastMeClub goes beyond being just a space for artists to showcase and find work, but also a space to engage the global entertainment community and receive valuable feedback from accomplished artists from around the world". He further added, "Our collaboration with the team at We Are Designers has been instrumental in bringing our vision to life, and we look forward to seeing CastMeClub reach new heights through this partnership."

We Are Designers involvement in this global project

We Are Designers (WAD), a 360-degree full service digital agency which has been in the industry for 13 years, is the design and development partner of this platform. The platform is hosted on the Amazon Web Services (AWS) cloud giving the platform ample room for growth and evolution. The front end has been developed using AngularJS and is powered by MongoDB. WAD was responsible for conceptualising CastMeClubs user journey, user experience and interface design (UI/UX) as well as the implementation of the platform's functionality.

"CastMeClub had several unique challenges. It is a social community platform that caters to a non-tech audience while still needing to be usable and intuitive. A lot of effort and collaboration went into the design with great insights offered by Devaka and Shauna throughout the process," states WAD Founder Joe Lenora. WAD Chief Executive Officer Mafaz Ifharm says that the company is excited to see the platform grow and launch the careers of talented artists across the world.